Today is Thursday and my column was due on Tuesday. With all of the Water Festival revelry this week, I'm having a tough time actually getting anything accomplished. Still, we do have to eat, don't we? The big question at our house lately is, "What do you want for supper?"
I I could eat pizza or tacos almost every night. But, out of devout love for my husband, I've been trying to feed us a semi-healthy meal, at least once a day. The temperature is crazy-Lowcountry-hot these days, but the grill is still my favorite summer kitchen. It must be in my genes. My brother, Ray Jr., and my Daddy, Ray Sr., used to grill chicken in the heat of the summer. Truth be told, my brother did the actual grilling and Daddy, the grilling instructor, primarily helped with the eating. The two of them had a very politically incorrect name for the barbeque sauce that they concocted. I've altered the name and the ingredients a bit, but you'll get the general idea. It's super easy and delicious. Best thing is, the ingredients are pantry staples. The original recipe was made with a base of Kraft BBQ sauce, Heinz 57, ketchup, white vinegar and salt and pepper. My version is a bit zestier, switching the base to Heinz 57 and substituting buffalo wing sauce for the vinegar. Grilled vegetables are also excellent summertime fare. Just about any veggie can be brushed with a bit of olive oil, seasoned with salt and pepper and grilled to perfection. It's what you do with the finished product that's really fun. Grilled corn on the cob is always tasty, but grilled corn off the cob combined with lime and cilantro is even tastier. The same goes for grilled asparagus. I'm sharing two of my favorite grilled vegetable recipes. While dessert isn't grilled, it's delicious and easy and is just as good cold out of the fridge the next day as it it straight out of the oven. Perfect end for a summer supper.
Ray-Ray's Redneck BBQ Sauce (above)
2/3 cup Heinz 57 Sauce
½ cup Kraft BBQ Sauce
1/3 cup buffalo wing sauce
2 tablespoons ketchup
Combine all ingredients in a medium bowl. Use when grilling chicken or pork. Makes 1½ cups. Refrigerate any unused sauce.

Mexican Cilantro Lime Corn Crema
5 ears fresh corn on the cob, husks and silk removed
Olive oil
Salt and pepper
Chili powder
5 tablespoons butter, melted
¼ cup fresh lime juice
1 bunch fresh cilantro, chopped
1 cup queso fresco (Mexican crumbling cheese) or grated parmesan cheese
Mexican hot sauce or Tabasco sauce
Sour cream
Fresh lime slices
Brush corn with olive oil. Season with salt, pepper and chili powder. Grill corn until kernels are tender. Remove kernels from cobs and place in a large bowl. Pour melted butter and lime juice over warm corn. Mix well to combine. Add chopped cilantro and queso fresco. Season with hot sauce. Top individual servings of corn with sour cream and a sprinkle of chili powder. Serve with slices of fresh lime. Serves 8.
Grilled Asparagus with Orange Zest
1 bunch of asparagus (thick stems preferred)
Olive oil
Sea salt
Freshly ground black pepper
2 eggs, boiled and chopped
Juice of 1 orange
Zest of 1 orange
1 tablespoon extra-virgin olive oil
Brush asparagus with olive oil. Season with salt and pepper. Grill over medium heat until tender. Boil 2 large eggs, peel, chop and set aside. In a small bowl combine juice of 1 orange with 1 tablespoon extra-virgin olive oil. Drizzle mixture over grilled asparagus. Top with chopped boiled eggs and orange zest. Serves 4.

Peach Tarts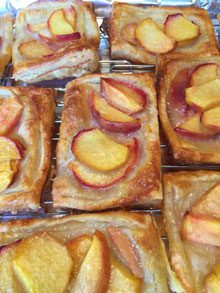 1 (17.3 ounce) package puff pastry, thawed in refrigerator
6 tablespoon sugar, divided
4 medium ripe peaches, sliced
4 tablespoons cold butter, cut into very small pieces
1egg, beaten
Preheat oven to 400 degrees. Cover a large baking sheet with aluminum foil. Spray with cooking spray. Unfold thawed puff pastry and cut each sheet into 6 pieces. Score each piece of pastry ½ inch from the edges to help the sides rise. Place pastries on prepared baking sheet. Sprinkle 2 tablespoons of sugar evenly over the 12 tarts. Place sliced peaches on the pastries, inside of the scored edges. Sprinkle remaining 4 tablespoons of sugar evenly over the peaches. Dot the tarts with pieces of butter. Brush the edges of the tarts with beaten egg. Bake in preheated oven for 30 to 35 minutes, until tarts are golden brown and the side of the tarts have risen. Do not open the door during baking. Remove hot tarts from baking sheet and cool on baking racks. Serve hot or cold. Makes 12.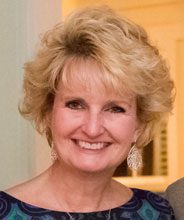 The writer owns Catering by Debbi Covington and is the author of two cookbooks, Gold Medal Winner of the Benjamin Franklin Award, Celebrate Everything! and Dining Under the Carolina Moon. Debbi's website address is www.cateringbydebbicovington.com. She may be reached at 525-0350 or by email at dbc@cateringbydebbicovington.com.