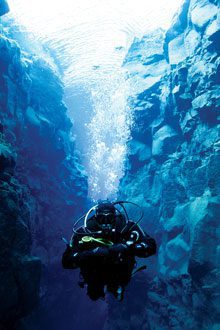 Legendary Explorer & Discoverer of Titanic to Visit the Lowcountry:
A conversation with Dr. Robert Ballard
By Mark Shaffer
Photos provided by National Geographic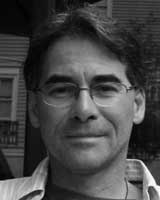 "Space, the final frontier."
It's been half a century since Capt. James T. Kirk's first words introduced the world to Star Trek. The Starship Enterprise continues to explore strange new worlds and captivate the imagination of a new generation. But even before the Enterprise began its fictional exploration of uncharted outer space, an ambitious young marine scientist had already embarked on a mission to lift the veil of Earth's inner space.
 
Dr. Robert Ballard began his remarkable career exploring the ocean's depths aboard the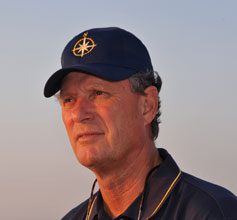 HOV (human occupied vehicle) Alvin out of Woods Hole Oceanographic Institution. Ballard refers to his time aboard the deep-sea sub as "riding the elevator." Each dive to Alvin's maximum depth of around 4500 feet meant a frigid, cramped 12-hour roundtrip. The payoff was measured in precious minutes at the bottom of the sea.
From the moment he was introduced to Capt. Nemo in Jules Verne's 20,000 Leagues Under The Sea as a kid, Ballard dreamed of prowling the deep in an undersea vehicle of his own. Alvin was his first "Nautilus." For more than five decades Ballard has spearheaded expeditions that have yielded historic discoveries like the hydrothermal vents in the Galápagos Rift and submarine volcanoes on the Pacific Rise. And then there are the shipwrecks. From ancient mariners in the Mediterranean and Dead Seas, to John Kennedy's PT-109 and the Nazi supership Bismarck to the most legendary shipwreck of all: the R.M.S.Titanic.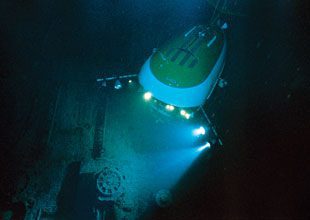 His state-of-the-art research vessel Nautilis may be named after Nemo's submarine, but it is the intrepid Captain of the Enterprise he most resembles in conversation – at least over a satelite hook up from 3000 miles away. And at a youthful 74 years of age with 150 expeditions to his credit, it's a safe bet that Bob Ballard has boldly gone where no man has gone before more often than anyone else. Ever.
This fall Ballard visits the Lowcountry as guest of honor for the Port Royal Sound Foundation's second annual Night on the Sound event. I recently sat down with PRSF Marketing Director Alicia Taylor in her office to talk to the world's most famous explorer.
Ballard, aboard the Nautilus off the California Coast, calls in via satelite phone as we pull up a live feed of the ship online at nautiluslive.org. As we begin the conversation the ROV (remote operated vehicle) Hercules is being prepped on deck for a dive into a deepwater canyon off Point Conception near Santa Barbara.

Robert Ballard: Are you on the quad feed?
Alicia Taylor: Yes we are. We can see the crew working.
RB: Good. That's going out live to millions all over the planet.
Mark Shaffer: What's the objective today?
RB: We've been at sea for months, now. Generally it's six months at sea and during that time we'll do ten or more distinct expeditions. This one is being done with the Channel Islands National Marine Sanctuary. California has a lot of marine sanctuaries running along its coast, sort of the underwater Yellowstone Parks of America. There's about thirteen of them and we have a cooperative program with them so we have a team from the Sanctuary office who have very specific goals they want us to achieve. Most of that is going into the deep parts of the sanctuary where they've never been. A lot of the Sanctuary program works in the shallow waters, but they don't have the assests and ability to go down thousands and thousands of feet.
The first thing we're doing is making maps. On the bottom of the Nautilus we have a very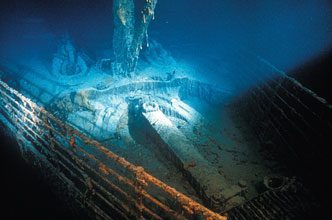 sophisticated mapping system that can make extremely detailed bathometric maps. We did that all last night and then we met this morning and we have a lot of people who are participating online. So we have many more people taking part in the expedition via telepresence as we beam hi-def images in very high bandwidth off the ship. We have a place back at my center in the Graduate School of Oceanography in Rhode Island called the Inner Space Center. It's sort of like Houston. It's a command center and from this we're able to put it on Internet 2, level 3 which is very, very high bandwidth so we can send them the high definition images and they can participate in the programs.
MS: The technology you have at your disposal now, you pushed this boundary. How has it changed since your days aboard ALVIN?
RB: (Laughs) It's like going from two cans and a string. It's sort of like in the movie Avatar when [paralyzed war vetern] Jake transfers into his Na'vi body. Do you remember the first thing he does when he realizes he's not in his own body? He got up and ran. And everyone runs after him and they ask him why he ran. He says, "I wanted to feel the wind in my face again." The point being he didn't care that he was in a big blue alien body with funny ears and a tail, he had legs. 95% of the human race lives on less than 5% of the planet. We've evolved ourselves into a corner. We can't live on the moon and there are no humans in outer space. But we can build our Na'vi. Ours is called Hercules and when it goes it takes our spirit with it. Because the spirit is indestructible and can move at the speed of light, we can beam anyone down to the bottom of the ocean.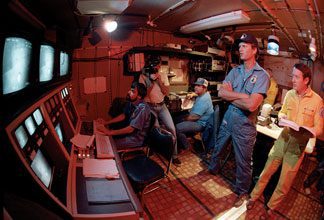 We're really going where no one has gone before. We don't know what we're going to encounter. But when we encounter something, the ship has very powerful thrusters and we can hover on the surface like a helicopter while the ROV's operate below. Right now we're hovering over this canyon and the ship is not moving more than a few feet because we have bow and stern thrusters. For this water depth, once Hercules is in it'll take about 45 minutes to get it down, but then we're going to spend all day down down there doing a walkabout. Scientists around the world can participate and so can kids.
Once the vehicles are in the water we got to Full Watch and we have an educator on each watch. You're watching the Quad Display and below that you'll see a question box. Typically during a season in the field we'll take and answer 50,000 questions from kids. We have teachers and students aboard, as well. So it's not just about the exploratory aspect, we're using this amazing technology to get kids – millions of kids – engaged in the game.
MS: You've also captured some amazing video.
RB: For example we ran into an adolescent sperm whale who came by and said "Hello."
MS: I've seen it. Amazing stuff.
RB: Yeah, you can hear the scientists on the feed and they're all cool up until that point talking science jargon. But the moment that whale shows up, the "Wows!" kick in. And that went viral. We had five million views. Yesterday I did a Facebook thing and had 65,000 people. So social media makes it possible for us to reach people and we can tell them when something exciting is happening. We can do a massive alert in a minute and they just spike on and watch what's happening. It's crazy.
So compared to Alvin? (Laughs again) We were in a can looking out of a little window all by our lonesome completely lost in the dark. No. This is way beyond being in a submarine.
MS: I know you grew up a huge Jules Verne fan and 20,000 Leagues Under the Sea is a favorite book. What would Nemo make of all this?
RB: (Laughs) Oh, he'd be sitting right next to me. We're trying to beat 20,000 leagues. A
league is three miles. It's what a Roman soldier walked in an hour. Twenty-thousand leagues is 60,000 miles and we're getting doggone close. We've been on the bottom now for eight years and we're going to pass [Nemo]. He'd love to have this technology (laughs) and as you know, we named the ship Nautilus. We're also exploring. Fifty percent of America is under water and we have better maps of Mars than half the United States, which is ridiculous.
When Jefferson acquired the Lousianna Purchase from Napoleon he doubled the size of America. When Reagan signed The Law of the Sea Convention, he doubled it again. So we're really the modern-day version of Louis & Clark. I've mandated that 55% of our Corps of Exploration will be women, so it's more like Lois & Clark. (Laughter)
It's all about inclusiveness and getting kids in the game because America has some very daunting challenges to maintain its position in the world and it's important that we have something between our ears. We're a star-based system. We have rock stars and star athletes. We want the kids who want to be the stars of science and technology, who want to go where no one has gone before.
To be continued . . .
Coming in the August 8th edition of Lowcountry Weekly & LowcountryWeekly.com:
The hunt for Titanic and how it began with a covert Cold War mission

Tracking the ancient mariners of Carthage and Rome by finding their "empties"
GET MORE
READ PART TWO OF THIS INTERVIEW
Follow Dr. Ballard's adventures aboard the Nautilus, watch the missions live and interact with the explorers at www.nautiluslive.org (also on Facebook & Twitter)
The 2nd Annual Port Royal Sound Foundation Night on the Sound is October 22.
For tickets and information visit www.portroyalsoundfoundation.org or call (843) 645-7774