You can't go wrong with fresh South Carolina tomatoes! The east coast of the Carolinas is the home of the most delicious and flavorful tomatoes that have ever been grown! Tomatoes are rich in vitamin C, are loaded with fiber, and are only about 35 calories each!  Tomatoes become more flavorful when they're allowed to ripen on the vine.  Green tomatoes will change color and soften, but the sugar, acid and aroma compounds are locked in once the fruit is picked. Choose local vine-ripened tomatoes because the less the tomatoes have to travel the more likely it is that they were picked ripe.  Fragrance is a better indicator of a good tomato than color. If the tomatoes smell fresh and tomato-y, they will taste that way.  Remember – never refrigerate fresh tomatoes. Cold temperatures make the flesh pulpy and destroy the flavor.  Always store fresh tomatoes at room temperature, stem up. When I was growing up, no Sunday dinner was complete without fresh, sliced tomatoes. Granny Baker used to peel her tomatoes, cut them into thick slices, and serve them with salt and pepper.  What I wouldn't give for one of those Sunday dinners!  (Photography by Susan DeLoach Photography)
Bruschetta
Traditionally, bruschetta is grilled and then rubbed with cloves of garlic before more toppings are added. If you have time to add the extra step, it's worth doing.
1 cup balsamic vinegar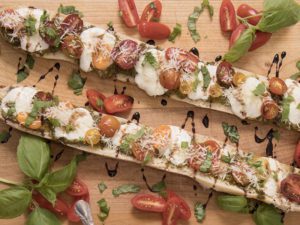 1 long baguette, halved lengthwise
1 (6-ounce) jar prepared pesto
1 ball fresh mozzarella cheese
1 cup cherry tomatoes, halved
Pour vinegar into a small saucepan and place over high heat. Bring to a boil. Reduce heat to low and simmer until the vinegar has reduced to 1/3 cup, about 15 minutes. Set balsamic reduction aside to cool. Spread both halves of bread with prepared pesto and place on a baking sheet. Top bread with pieces of cheese and tomato halves. Sprinkle with parmesan cheese. Bake in a preheated 400 degree oven until bread is heated through and cheese is melted, about 10 minutes. Drizzle with balsamic reduction before serving. Serves 4 to 6.
Ten Layer Garden Vegetable Salad
This heavenly salad is almost as pretty as it is scrumptious. It's healthy, too.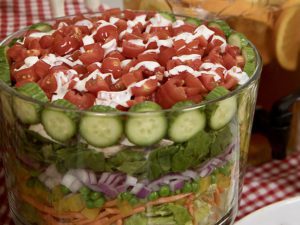 1 heart of romaine, chopped
1 medium yellow bell pepper, seeded and diced
1 cup frozen baby peas, thawed
½ cup roughly chopped red onion
3 ounces baby spinach, roughly chopped
1 (8-ounce) package sliced white mushrooms
1 English cucumber, sliced
In a clear glass bowl, layer salad ingredients in the order they're listed above. Serve with prepared ranch dressing on the side. Serves 10 to 12.

Grilled Eggplant with Tomato and Feta
Quick, easy and absolutely delicious!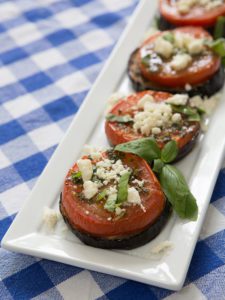 ½ cup extra-virgin olive oil, divided
Freshly ground black pepper
3 large tomatoes, to match the diameter of the eggplant
¼ cup crumbled feta cheese
Slice eggplant into ½-inch thick rounds. Brush each slice with olive oil and season with salt and pepper. Grill over medium-high heat for 2 to 3 minutes on each side. Place the basil leaves, lemon juice, garlic and remaining olive oil in a small food processor; blend until smooth. Preheat oven to 400 degrees. Lightly grease a baking pan with cooking spray. Arrange grilled eggplant rounds side by side. Spread ½ tablespoon of the basil-garlic mixture on top of each one. Cut the tomatoes into ¼-inch thick rounds. Top each slice of eggplant with a slice of tomato. Brush tomatoes with remaining basil-garlic mixture and bake for 15 to 20 minutes. Remove from oven and immediately top each stack with feta cheese. Garnish with fresh basil before serving. Serves 4.
The writer owns Catering by Debbi Covington and is the author of three cookbooks, Celebrate Beaufort, Celebrate Everything! and Dining Under the Carolina Moon. For more great recipes and to view her cooking demonstrations, visit and subscribe to Debbi's YouTube channel. Debbi's website address is www.cateringbydebbicovington.com. She may be reached at 843-525-0350 or by email at dbc@cateringbydebbicovington.com.