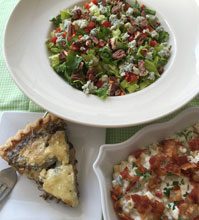 When I was growing up, my mother's go-to salad was a wedge of iceberg lettuce topped with a blob of chunky blue cheese dressing. She and Daddy scarfed it up like it was candy. I turned my nose up. What was the appeal of this stinky, gooey cheese stuff? Of course, I swore that I would never eat blue cheese.
And, once again I'm eating my words. I love blue cheese! I love blue cheese with so many things – on steaks, on salads, stuffed in mushrooms, melted over grilled vegetables, the options are endless. This week's recipes all feature blue cheese. You can choose your favorite variety. Personally, I like the stronger blues like gorgonzola. If you're not a huge fan, opt for a lighter Danish blue. I wish my parents were here to share in my change of heart. I still think it's a grownup acquired taste.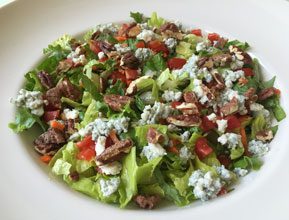 Chopped Blue Cheese Salad
For the cinnamon pecans:
1 pound pecan halves (about 4 cups)
¼ cup sugar
1 heaping teaspoon ground cinnamon
1 egg white, beaten
Preheat oven to 350 degrees. Line a baking sheet with aluminum foil. Combine sugar, cinnamon and egg white in a medium bowl. Add pecans and stir to coat thoroughly. Spread pecans evenly on prepared baking sheet. Bake in preheated oven for 25 to 30 minutes, tossing every 10 minutes, until pecans are crispy and dry. Cool completely. Store in an airtight container.
For the vinaigrette:
2 tablespoons champagne vinegar
1½ teaspoons Dijon mustard
6 tablespoons vegetable oil
1/8 teaspoon salt
Freshly ground black pepper
Whisk all ingredients together in a small bowl. Refrigerate any unused vinaigrette.
For the salad:
3 cups chopped hearts of romaine
3 cups chopped green leaf lettuce
1/3 cup finely chopped carrots
2 green onions, chopped
Grape tomatoes, diced
½ cup crumbled blue cheese
¼ cup chopped cinnamon pecans
In a large salad bowl, toss lettuces with carrots and green onion. Dress, to taste, with vinaigrette. Top with diced tomatoes, blue cheese and cinnamon pecans. Serves 4.
Blue Cheese Pasta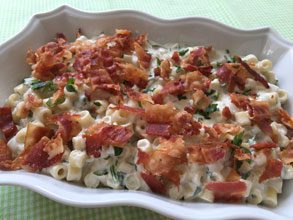 4 slices bacon
1 cup ditalini pasta
1 cup sour cream
½ cup crumbled blue cheese
¼ cup shredded sharp cheddar cheese
Dash garlic powder
2 tablespoons chopped fresh Italian parsley
Italian parsley, to garnish
Cook bacon until crispy, drain and crumble; set aside. Cook pasta according to package directions, drain, and pour into a medium bowl. In a small saucepan over medium-low heat, combine sour cream, blue cheese and cheddar cheese. Cook until cheese is melted and sauce is creamy. Season with garlic powder. Remove from heat and stir in Italian parsley. Pour sauce over drained pasta and toss well to combine. Top with crumbled bacon and additional parsley before serving. Serves 2.
Mushroom and Blue Cheese Quiche
2 deep dish frozen pie shells, thawed in the refrigerator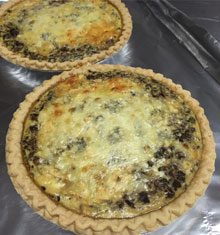 3 pounds mushrooms, chopped (about 4 cups cooked)
3 cloves garlic, chopped
Nutmeg
Salt
Black Pepper
1 (5-ounce) package shredded Swiss cheese (about 1¼ cups)
1 cup crumbled blue cheese
1/3 cup fresh chopped Italian parsley
6 large eggs, beaten
2 cups milk
Place thawed pie shells on a foil-lined baking sheet. Prick all over with the tines of a fork and par-bake in a preheated 400 degree oven for 10 minutes or until the crusts are lightly browned. Remove from oven and set aside to cool. Roughly chop mushrooms. In a large skillet, cook mushrooms with garlic. No not add oil. The mushrooms will sweat and make their own moisture. Season with nutmeg, salt and pepper. Remove mushrooms from skillet with a slotted spoon and divide evenly between the two pie crusts. In a medium bowl, mix cheeses, parsley, beaten eggs and milk. Season with salt and pepper. Pour cheese-egg mixture over the mushrooms in the pie crusts. Bake in a preheated 350 degree oven for 55-60 minutes, or until the centers are firm. Serves 12.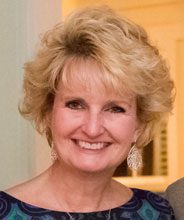 The writer owns Catering by Debbi Covington and is the author of two cookbooks, Gold Medal Winner of the Benjamin Franklin Award, Celebrate Everything! and Dining Under the Carolina Moon. Debbi's website address is www.cateringbydebbicovington.com. She may be reached at 525-0350 or by email at dbc@cateringbydebbicovington.com.