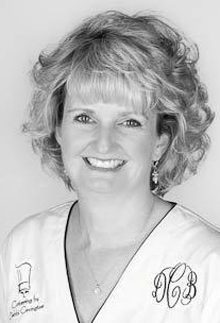 Just because Christmas is over and the decorations are all packed away doesn't mean the parties have to stop! January is a great month to host an intimate dinner party.  This week's menu features some perfect January supper foods. Invite a few of your favorite people over, crack open a bottle of wine and enjoy. Celebrate every moment of your life!
Tomato and Fennel Soup
1 fennel bulb, chopped
1 yellow onion, chopped
1 clove garlic, minced
¼ cup butter, melted
¼ teaspoon crushed red pepper
½ teaspoon anise seeds
¼ cup Marsala wine
¼ cup all-purpose flour
8 cups chicken stock
2 (15-ounce) cans diced tomatoes
¾ cup heavy cream
1 tablespoon sugar
1½ teaspoons salt
1 teaspoon ground black pepper
1 tablespoon chopped fresh basil
1 tablespoon chopped fresh oregano
Chopped fresh herbs, to garnish
Parmesan cheese, freshly grated, to garnish
Cook the fennel, onions and garlic in the butter in a saucepan until tender and translucent.  Add the crushed red pepper and anise seeds and saute for 1 minute.  Add the wine, stirring to deglaze the saucepan.  Cook until reduced by ¾. Add the flour and stir until smooth.  Cook for 1 minute, stirring constantly.  Whisk in the chicken stock and then add the tomatoes.  Simmer for 15 minutes, stirring frequently.  Remove from heat, cool slightly, and puree the mixture in a food processor.  Return mixture to the saucepan over medium heat and stir in cream, sugar, salt and pepper; heat through.  Finish with basil and oregano.  Ladle into soup bowls and garnish with chopped fresh herbs and grated Parmesan cheese.  Serves 6.
Wilted Spinach Salad
8 cups washed, stemmed baby spinach
2 cups sliced fresh mushrooms
4 slices bacon, diced
1 medium sweet onion, chopped (about ½ cup)
½ cup Dijon mustard
½ cup brown sugar
½ cup dry white wine
½ cup rice wine vinegar
4 hard-cooked eggs, chopped
In a large bowl, toss together spinach and mushrooms; set aside.  In a large skillet, cook the bacon oven medium heat for 3 minutes.  Add onion and cook until bacon is crisp and onion is tender. Add the mustard, brown sugar, wine and vinegar; bring to a boil.  Reduce heat and simmer, uncovered, about 5 minutes or until slightly thickened.  Remove from heat, cool for 5 minutes.  Pour dressing over spinach and mushrooms; toss until combined and spinach is wilted.  Add hard-cooked eggs; toss gently.  Serve immediately.  Serves 6.
Chicken Picata
4 boneless, skinless chicken breasts
Salt and pepper, to taste
1/3 cup all-purpose flour
2 tablespoons vegetable oil
1 garlic clove, minced
½ cup white wine
½ cup chicken stock
Juice of 1 lemon
2 tablespoons small capers, drained
3 tablespoons butter, softened
Sprinkle both sides of chicken breasts with salt and pepper.  Put the flour into a shallow dish.  Dredge chicken breasts in flour, coating well on both sides.  Shake to remove excess flour.  Heat oil in a large skillet over medium heat.  Saute chicken breasts until lightly browned on one side, turn and cook until second side is lightly browned.  Add garlic to pan and saute until soft.  Add wine and chicken stock.  Simmer until liquid reduces, about 5 to 7 minutes, or until chicken is cooked through.  (If liquid reduces too quickly before chicken is done, add a bit more wine or stock.)  Add lemon juice and capers.  Reduce briefly.  Remove chicken from pan and place on a serving dish.  Remove pan from heat and swirl in butter until it melts and thickens the sauce.  Spoon sauce over chicken and serve immediately.  Serves 4.
Warm Asparagus with Country Ham Vinaigrette
1 bunch fresh asparagus, washed and trimmed
1/3 cup olive oil
4 ounces finely diced country ham or smoked ham
¼ cup cider vinegar
1 tablespoon Dijon mustard
¼ teaspoon salt
½ teaspoon ground black pepper
Bring 1-inch of water to a boil in a saucepan fitted with a steamer.  Add the asparagus, cover with a tight-fitting lid and steam for 3 minutes, until barely crisp-tender.  Remove and set aside. Heat olive oil in a saute pan over medium-high heat.  Add the ham and cook until golden brown.  Stir in the remaining ingredients and bring to a simmer.  Divide the asparagus among 4 salad plates and top with the vinaigrette.  Serves 4.
Lemon Grits
3 cups water
1 cup quick-cooking grits
Salt
Freshly ground black pepper
Zest of 1 lemon
5 tablespoons fresh lemon juice
Butter
8 ounces mascarpone cheese
Bring the water to a boil in a saucepan.  Whisk in the grits gradually.  Cook over low heat for 15 to 20 minutes or until tender, stirring frequently.  Season lightly with salt and pepper. Stir in lemon zest, lemon juice butter and mascarpone cheese.  Serves 4.
Rustic Apple Tart
1 sheet frozen puff pastry, thawed in refrigerator
1 large egg, beaten
3 Granny Smith apples
1/3 cup sugar
2 tablespoons cold butter, cut into small cubes
3 tablespoons apple jelly
Preheat oven to 375 degrees.  Unfold the puff pastry onto a lightly greased baking sheet. Use a sharp knife to score a ½-inch border around the pastry; brush with beaten egg. Peel, core and slice the apples 1/4-inch thick.  Toss apples with sugar in a large bowl.  Place apples on pastry and dot with the butter.  Bake for 30 to 35 minutes or until apples are tender and pastry is golden.  In a small saucepan, heat the jelly until melted. Brush the tart with the warm jelly.  Serve warm or at room temperature.  Serves 6.
Bourbon Cappuccino
2 cups hot brewed coffee
2 tablespoons brown sugar
2 cups chocolate milk
2 tablespoons bourbon
Combine coffee and brown sugar, stirring until sugar dissolves. Stir in chocolate milk and bourbon; cover and chill. Serves 4.
The writer owns Catering by Debbi Covington and is the author of the cookbook, Dining Under the Carolina Moon. Debbi's website address is www.cateringbydebbicovington.com. She may be reached at 525-0350 or by email at debbic@cateringbydebbicovington.com.