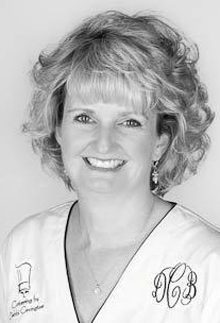 The words fresh and light perfectly describe the kind of innovative, delicious food that so many of us want to cook and eat today. We like peak-of-the season ingredients prepared in simple ways that best enhance their flavors.
Not so long ago, if friends said they were cooking and eating fresh and light food, we would automatically assume they were on a diet. I suspect that the majority of people do so for one simple reason – low-fat, high-quality foods, imaginatively prepared, taste great! Today, fresh and light are two of the adjectives used most often to praise the very best contemporary cooking. Fresh foods and light cooking go hand in hand. Together they offer not just a way to cook and eat but a way of life. The word fresh means in tune with the seasons. Every recipe this week features peak seasonal produce. Diets rich in fruits and vegetables are naturally healthy, providing plenty of nutrients with less fat and calories. Light cooking is distinguished by simple preparations that highlight the natural tastes, textures and colors of fresh vegetables and fruits, as well as good-quality sources of protein such as seafood, poultry and lean meats. Cooking methods are generally quick to help keep fresh flavors intact and require only a minimum of fat. Once you begin to explore the world of fresh ingredients and light cooking, enjoying colorful and flavorful dishes will become a habit and you will be on the path to a healthier lifestyle. I invite you to try these excellent recipes and discover that freshness and lightness are pleasures to be enjoyed.

Blueberry Limeade
2 cups blueberries, plus 8 berries
1 cup lime juice
1 lime, cut into 8 slices
½ cup honey
2 cups water
Ice cubes
In a blender, combine the 2 cups berries, lime juice and honey. Process to a smooth puree. Strain through a fine mesh sieve into a pitcher, pressing firmly against the solids with the back of a spoon to extract as much juice as possible. Stir in the water, cover and refrigerate until well chilled, about 2 hours. Fill tall glasses with ice cubes. Divide the limeade evenly among the glasses. Spear 2 berries and 2 lime slices onto 4 wooden skewers and use to garnish the glasses. Serves 4.

Bankok Chicken Salad
1 pound boneless, skinless chicken breast halves
½ cup chopped fresh mint
¼ cup peeled and minced fresh ginger
3 large cloves garlic, minced
1 jalapeno pepper, minced
¼ cup soy sauce
3 tablespoons lime juice
3 tablespoons honey
2 teaspoons Asian sesame oil
1 head napa cabbage
3 ounces dried rice noodles
2 cucumbers, peeled, seeded and sliced
2 cups shredded carrots
6 green onions, chopped
Preheat oven to 375 degrees. Place the chicken in a single layer on a baking sheet. Cover with aluminum foil. Bake until cooked through, about 15 minutes. Remove from oven, discard the foil, and let cool. Shred the meat; set aside. In a bowl, stir together the mint, ginger, garlic, jalapeno, soy sauce, lime juice, honey and sesame oil. Set aside. Remove 8 of the outer leaves from the cabbage head and reserve. Cut out the core and then finely shred the remaining leaves; you should have about 4 cups. Bring a large saucepan three-fourths full of water to a boil. Add the noodles and cook until tender, about 4 minutes. Drain and rinse under cold running water. Drain again and cut into 2-inch lengths. In a large bowl, combine the shredded cabbage, chicken, cucumbers, carrots, green onions, noodles and soy sauce mixture. Let stand for 20 minutes to allow flavors to blend. Line a serving bowl with the reserved cabbage leaves. Mound the salad in the center. Serves 4.

Curried Crab Salad with Mango-Mojo Sauce
1 pound asparagus, tough ends removed
1 mango, peeled, pitted and sliced
1 tablespoon lime juice
1 small garlic clove, chopped
¾ teaspoon ground cumin
¼ cup water, if needed
½ pound crab meat
1 cup peeled, seeded and chopped cucumber
1/3 cup fat-free mayonnaise
¼ cup shipped fresh chives, plus extra for garnish
1-1/2 teaspoons curry powder
Salt and freshly ground black pepper, to taste
Bring a saucepan three-fourths full of water to a boil. Add the asparagus and boil for 3 minutes. Drain and immerse in cold water to stop the cooking. Drain again. Cut all but 8 of the asparagus on the diagonal into 3/4-inch lengths. Set aside. In a blender, combine the mango, lime juice, garlic and cumin. Blend until smooth. If the mixture is too thick, thin to a sauce consistency with the water; set aside. In a bowl, combine the cut asparagus, crab meat, cucumber, mayonnaise, ¼ cup chives and curry powder. Mix well and season to taste with salt and pepper. Arrange the crab salad on a plate. Garnish with the reserved asparagus and a sprinkling of chives. Pass the sauce at the table. Serves 4.

Seared Scallops with Tropical Salsa
½ cup diced pineapple
½ cup diced mango
½ cup diced cucumber
½ cup diced red bell pepper
3 tablespoons chopped fresh cilantro
4 teaspoons fresh lime juice
1 jalapeno, seeded and minced
Salt and freshly ground black pepper, to taste
16 sea scallops, about 1 pound total weight
In a bowl, combine the pineapple, mango, cucumber, bell pepper, cilantro, lime juice and jalapeno. Toss well to make a salsa. Season to taste with salt and pepper; set aside. Heat a nonstick frying pan over medium-high heat. Coat the pan with nonstick cooking spray. Season the scallops with salt and pepper. Add half of the scallops to the pan and sear, turning once, until golden brown on both sides and opaque throughout, about 2 minutes on each side. Transfer the scallops to a warmed plate. Keep warm while cooking the remaining scallops in the same manner. Divide the scallops among warmed individual plates. Spoon the salsa over the tops, dividing it evenly. Serve immediately. Serves 4.

Tex-Mex Corn with Lime
3 cups fresh corn kernels
1 large shallot, chopped
1 clove garlic, chopped
1 teaspoon ground cumin
1 teaspoon chili powder
1 cup nonfat milk
2 tablespoons fresh goat cheese
1-1/2 teaspoons minced lime zest
¼ cup snipped fresh chives
Salt and freshly ground black pepper, to taste
Heat a large nonstick frying pan over medium heat. Coat the pan with nonstick cooking spray. Add the corn, shallot, garlic, cumin and chili powder and saute until the corn starts to soften, about 4 minutes. Stir in the milk and cheese and simmer, uncovered, until the liquid thickens, about 4 minutes. Mix in the lime zest and chives and season with salt and pepper. Transfer to a serving bowl. Serves 4.
The writer owns Catering by Debbi Covington and is the author of two cookbooks, Gold Medal Winner of the Benjamin Franklin Award, Celebrate Everything! and Dining Under the Carolina Moon. Debbi's website address is www.cateringbydebbicovington.com. She may be reached at 525-0350 or by email at dbc@cateringbydebbicovington.com