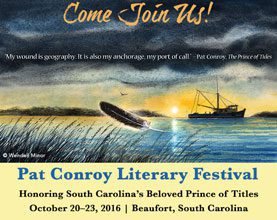 In October 2015, more than a thousand people participated in the Pat Conroy at 70 Festival, celebrating a milestone birthday and honoring the iconic southern writer in here in his adopted hometown of Beaufort. The event was a once-in-a-lifetime gift to the community and to the author himself, who passed away from pancreatic cancer just months later.
         The immersive festival model of author discussions, a film screening, a museum exhibition, a tour, and special lunch and reception events proved to be so successful that the organizers are continuing it as an annual event honoring Conroy and now called the Pat Conroy Literary Festival.
         Under the leadership of Jonathan Haupt, director of the University of South Carolina Press and Conroy's partner in the Story River Books fiction imprint, and in partnership with USCB professor of English and author Ellen Malphrus and Bonnie Hargrove, director of the USCB Center for the Arts, the inaugural Conroy Literary Festival will be held Oc
tober 20 to 23. Details and the festival's expansive lists of events, presenters, partners, and sponsors can now be found at www.patconroyfestival.com.
           "Each year the festival will highlight a different theme from Pat Conroy's writing life," Haupt explained. "The 2016 festival theme is 'Place as Character and Muse in Southern Literature.' It's a welcoming concept reflected in all of this year's programs, and it is also a chance to honor our host city of Beaufort and the iconic Carolina Lowcountry which served as Pat's beloved home and inspiration."
         Almost 40 presenters are scheduled to appear at this inaugural event, including celebrated southern writers like Ron Rash (right), Mary Alice Monroe, Josephine Humphries and Dorothea Benton Frank (below). Plenty of Beaufort locals will be presenting, as well, including Bernie Schein, Maggie Schein, John Warley, Ellen Malphrus, Lowcountry Weekly publisher Margaret Evans, and Conroy's wife, novelist Cassandra King.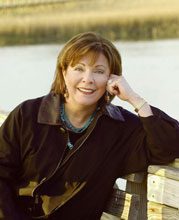 Special events in conjunction with the festival will include a Daufuskie Island Tour with Sallie Ann Robinson, a Bus Tour of Pat Conroy's Beaufort (with Bernie Schein and Maggie Schein), and a Carolina Writers At Home Photography Exhibition at USCB.
         Tickets and more information about the Pat Conroy Literary Festival, October 20-23, are available at www.patconroyfestival.com