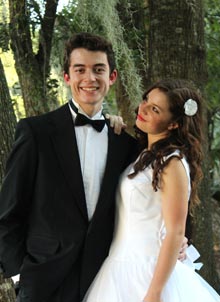 Our Town
is coming to Hilton Head Island, presented by the Seahawk Theatre Guild, and produced by the Seahawk Stage Company and directed by Harry Culpepper, October 16
th
thru the 19
th
at the Seahawk Cultural Center, Hilton Head Island.
         Our Town explores the relationship between two young Grover's Corners neighbors, George Gibbs (Gavin Harriman) and Emily Webb (Lindsey Neville), whose childhood friendship blossoms into romance, and then culminates in marriage. When Emily loses her life in childbirth, the circle of life portrayed in each of the three acts of Our Town – growing up, adulthood and death – is fully realized. The story also features the relationships of their parents Dr. Gibbs (Ryan Maharrey), Mrs. Gibbs (Madison Ogburn), Mr. Webb (Cisco Ferre) and Mrs. Webb (Mariel Zmarzly) and the changes they all face as their children grow up.
The timeless drama of life in the mythical village of Grover's Corners, New Hampshire, has become an American classic with universal appeal. Thornton Wilder's most frequently performed play, Our Town appeared on Broadway in 1938 to wide acclaim, and won the Pulitzer Prize. It has been produced in amateur and professional theatres around the world.
         "This play is truly timeless in its theme and story; we all have experienced what these characters face," explains the production's director Harry Culpepper, Jr. "I am excited about the new approach we are taking with this production by modernizing the visual aspects as well as incorporating modern music to make this classic story relevant to our audiences today."
         Don't miss this wonderful play about finding beauty in the transience of everyday life. The show will run Oct 16, 17,18 at 7:00 pm, Oct 19 at 2:30 pm, Oct Tickets are $5 for students (18 and under) and $10 for adults. The box office will be open one hour before curtain each show date. Checks or cash will be accepted. For more information please visit www.seahawktheatreguild.org or "like" them on Facebook and follow them on Twitter.