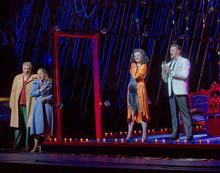 The USCB Center for the Arts is currently presenting The Met: Live in HD Summer Encores on Wednesdys at 1 pm. Otello and The Enchanted Island have already enchanted audiences. Still to come are Rigoletto, La Rondine, Romeo et Juliette and La Fanciulla Del West.
Rigoletto – July 23, Approximate runtime: 2 hours, 30 minutes (above)
Michael Mayer's acclaimed production, the talk of the opera world when it premiered in 2013, sets the action of Verdi's masterpiece in 1960 Las Vegas—a neon-lit world ruled by money and ruthless, powerful men. In this bold new vision (featured on 60 Minutes), Piotr Beczala is the Duke, a popular entertainer and casino owner. Željko Lučić sings Rigoletto, a comedian and the Duke's sidekick, and Diana Damrau is Rigoletto's innocent daughter, Gilda. When she is seduced by the Duke, Rigoletto sets out on a tragic course of murderous revenge.
La Rondine – July 30, Approximate runtime: 2 hours
Puccini's achingly beautiful score charmingly conveys the plight of Magda (the "swallow" of the title), who unexpectedly finds true love with the handsome young Ruggero. But their idyllic life comes to a premature end as she is haunted by the fear that her checkered past will ruin his future. Opera stars Angela Gheorghiu and Roberto Alagna portray Puccini's star-crossed lovers. Nicholas Joël's production features elegant and sophisticated art-deco sets that contribute to the dazzling stage picture.
Roméo et Juliette – August 6, Approximate runtime: 3 hours
The world's most famous love story comes to operatic life with superstars Anna Netrebko and Roberto Alagna as the star-crossed young couple. Their performances brought audiences to their feet in both the opera house and in movie theaters. Gounod's ultra-sensual interpretation of Shakespeare also features Nathan Gunn as Mercutio and Plácido Domingo on the podium.
La Fanciulla del West – August 13, Approximate runtime: 2 hours, 30 minutes
Puccini's musical vision of the American West is vividly brought to life in the Met's atmospheric production. Deborah Voigt is Minnie, the "girl of the golden west" and owner of a bar in a Californian mining camp. Marcello Giordani sings Dick Johnson, the bandit-turned-lover hunted by the cynical sheriff Jack Rance (Lucio Gallo), who wants Minnie for himself. Complete with whiskey-drinking cowboys, gunplay, a poker game, and a snowstorm, La Fanciulla del West is Puccini at his most colorful.
General Admission seating is available at the door on the day of the broadcast, or in advance by calling the Center for the Arts box office (843) 521-4145. Ticket prices are: Adult/Seniors $12, Osher Lifelong Learning Institute Members $10, USCB Students/and Youth under 18 $5. Visit www.uscbcenterforthearts.com for additional programming information.
Global corporate sponsorship of The Met: Live in HD is provided by the Neubauer Family Foundation. The HD Broadcasts are supported by Toll Brothers, America's Luxury Home Building. For additional information contact USCB Center for the Arts 843-521-4145 or bhargrov@uscb.edu. .