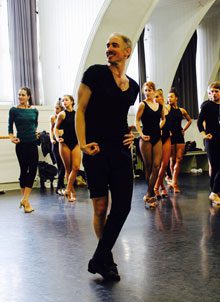 Ben Wolfe, well-known pillar of the local theatre community, will produce three professional shows this summer through a unique collaboration of Broadway directors, a cast of New York performers and elite young actors.
The unforgettable series kicks off with Catch Me If You Can, A New Musical, ‪June 24th-July 3rd at the Seahawk Cultural Center. It's followed by Almost Heaven, John Denver's America, ‪July 20th-Aug 7th at Main Street Theater and concludes with the Tony-Award winning musical Pippin, ‪July 29th-Aug 7th at the Seahawk Cultural Center. A summer season ticket to all three shows is just $75. 
The Southeastern Summer Theatre Institute program (SSTI), now in its ninth season, hardly resembles its first summer. The idea was born when Wolfe, a young college student pursuing a theatre degree, was approached by a parent to produce a summer camp. The first production, held in an old church, set in motion the institute that exists today, which is a full-on destination boarding summer program. Each year, actors audition around the world to secure one of the coveted 25 spots in each of the productions. "The program has grown beyond my wildest dreams," said Wolfe. "If you had asked me at 20 if my full-time job would be with SSTI, I never would have imagined it," he added. 
This year, Wolfe is thrilled to be moving the entire program exclusively to his home, Hilton Head Island. Actors and families from 26 states and 4 countries will arrive on the island this summer, many for the first time. The opportunity to bring quality, professional, musical theatre to the island while creating a calculated 400k economic impact is an impressive feat. How does one dynamic individual put such a task into motion? Wolfe credits the SSTI staff as the driving force behind the program's continued success. This year audiences will see a production team with credentials unlike anything this island has seen, such as directors that are creative alumnus of Tony-winning Broadway productions. "We have these weekly staff conference calls and they're literally leaving a production meeting for an upcoming Broadway musical to hop on the line and talk about their direction at SSTI!  I can't believe it," Wolfe excitedly stated. And this talent and level of accomplishment is prevalent across the board. The set designer for Catch Me If You Can just finished working on the set of The Elephant Man on Broadway starring Bradley Cooper. The cast and the audiences will reap the benefits of these seasoned talents and the work they will bring to local theatre this summer. 
Meet The SSTI Directors
Joe Barros, Director/ Choreographer, Catch Me If You Can- After finishing three new
musicals back to back, Barros (right) jumped on the opportunity to work with SSTI. "It was a chance to leave NYC for the summer and work with hungry, focused young actors." What can audiences look forward to? Barros explained, "SSTI's summer season includes an eclectic palate of shows that are being presented in ways that are outside-of-the-box. Each will have a fresh approach." Barros, A NY-based director and award-winning choreographer, is currently the Associate Director of the Off-Broadway musical Cagney running at The Westside Theatre and the Director of the new musical Shoes & Baggage. NY credits include Associate Director of upcoming Broadway production of King Kong and the Broadway revival of Gigi starring Vanessa Hudgens. Barros described his goal in directing with SSTI, "I hope to teach these actors how to balance discipline, focus, stamina and passion within this art form. I am also approaching this production like it's a new musical. I really want to make it our own." 
Mark Burrell, Director/Choreographer, Pippin– one of the premier teachers/coaches of the New York Metro area, joins the SSTI staff directly from the cast of The First National Tour of Pippin where he was Assistant Choreographer, Dance Captain/Swing. He made his first Broadway debut in the First National Tour of Fosse and has served as the Assistant Choreographer of the Radio City Music Hall Christmas Spectacular for the past ten years. Burrell (pictured at top) emphasized, "I am truly looking forward to reimagining the show that I have worked so closely on over 2 ½ years. The body and soul of this piece of theatre is truly remarkable." His extensive international performing experience includes movies, commercials and television. A graduate of the renowned Juilliard School in NYC where he remains on faculty as an instructor, master teacher and choreographer. According to Burrell, "SSTI exposes actors to the current working trends and ideas of the business. Nowhere else in the region are those desiring a career in theater able to get the resources and budget that SSTI brings forward." Burrell hopes to share his love and passion for not only Pippin but all of musical theatre with the cast and audiences on Hilton Head. He explained, "As soon as you stop loving what you're doing, hang up your shoes and move on. This business is too hard not to love it and I love the job I do!"
Thomas Conroy, Director/Music Director, Almost Heaven– He recently completed a four-month tour of In The Mood, a 1940's big band review and working on several productions at Musical Theatre Connecticut. Conroy earned his doctorate of musical arts in composition at Rice University. Leaving New York and work on his new musical Bodice, Conroy is looking forward to returning to Hilton Head to work with a talented group of five actors who will play various instruments while singing the best of John Denver's music. Along with the musical storytelling, the actors will also relay some poignant moments of his life story. Serving as director and musical director, Conroy's versatility will be on full display. He adds, "there is much to coordinate with who will play what instrument and in what combination with each song!" All of the actors play at least three instruments each! This truly will be an unforgettable night.

SUMMER SERIES SYNOPSIS:
Catch Me If You Can– based on a true story (and the hit 2002 film starring Tom Hanks and Leonardo Dicaprio), this high flying musical tells the story of teenage con-man Frank Abagnale Jr. and his first-class exploits that land him on the FBI's most wanted list. From the creators of the musical Hairspray, this electric musical takes audiences around the world with Frank Jr. as he outsmarts the FBI and maintains his A-list life posing as one of society's elites. With a big band score and infectious energy, this show is a great way to kick start your summer and SSTI's smashing season. 
Almost Heaven, John Denver's America– Following the success of last summer's hit Always, Patsy Cline, SSTI looks to transport audiences back in time once again with another artist that defined a generation, John Denver. With a cast of five talented New York actor/singer/musicians, this unforgettable night of twenty-nine John Denver songs comes to life in the Main Street Theatre ‪beginning July 20th.
Pippin– This Tony Award winning musical features magic, merriment and murder all as told by a traveling troupe of actors led by a cunning and charming leading player. Pippin is the story of a young prince, heir to the throne, who is searching for his own 'corner of the sky.' With infectious tunes by Stephen Schwartz (Wicked) and Bob Fosse-inspired choreography, Pippin is a humorous allegory about growing up and the everyman's quest to be extraordinary.
For tickets or information: www.HHISummerMusicals.com or ‪866-749-2228