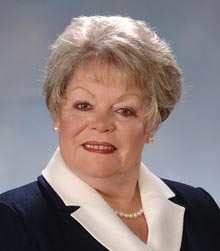 Jane T. Upshaw, Ph.D., the chancellor of the University of South Carolina Beaufort, announced today she will retire after serving as USCB's chief administrative officer for 15 years.
         Dr. Upshaw sent an email to faculty and staff notifying them that she plans to retire on Aug. 15, 2015. She said it was her "distinct honor" to serve USCB for the past 31 years, beginning as an adjunct professor and concluding her career as its chancellor.
         In 1999, Dr. Upshaw was appointed Dean of the University—the first woman to lead a campus of the eight institutions in the USC system. Her charge from the community was to grow the institution—to serve a historically impoverished population in a four-county region of the state that had no access to a public or private baccalaureate education. After a statewide campaign by Dr. Upshaw and several community leaders, the USC Board of Trustees and the South Carolina Commission for Higher Education voted to encourage USC Beaufort to pursue baccalaureate status in 2002. 
         With the institution's change in role and mission now a publicly stated goal, Dr. Upshaw was promoted to Chancellor of USCB, reporting directly to the President of the University of South Carolina. She was the first woman to lead a senior, baccalaureate campus of the university system.
         Under Dr. Upshaw's leadership, the USCB strategic plan to gain baccalaureate status was approved by the Southern Association for Colleges and Schools (SACS).  In 2004, the first baccalaureate graduates of the University of South Carolina Beaufort received degrees. In that same year, a new 200-acre campus opened at the gateway to Hilton Head Island.
         Since then, USCB has tripled its academic degree programs, doubled its FTE enrollment, opened its first on-campus housing (now serving up to 680 students), joined the NAIA Sun Conference, and fielded conference and national award-winning Sand Shark athletic programs in nine sports. The university's two campuses serve a diverse student body of more than 1,700 students. Dr. Upshaw played a pivotal role in adding such new academic majors as Computational Science and Nursing, both of which are supported by extensive, state-of-the-art laboratories.
         Dr. Upshaw served as a guiding force for the Osher Lifelong Learning Institute (OLLI), which today accounts for more than 1,500 members. In total, they participate in more than 1 million course hours annually, which places USCB's OLLI program in the top 10 in the country.
         "Jane Upshaw is a dynamic educator and leader. The size of her vision for USCB, the courage of her commitment to grow a small two year college into a regional comprehensive university and her 15 years of continuous leadership at USCB have yielded exceptional results. The realization of the dream of a full service baccalaureate university offering affordable access to students in the Lowcountry is her significant and enduring contribution to our state." – Paula Harper Bethea, Exec Director SC Education Lottery and President, USC My Carolina Alumni Association
         For more information, please contact USCB Public Information Officer, Candace Brasseur, at brasse@uscb.edu or 843-208-8030.