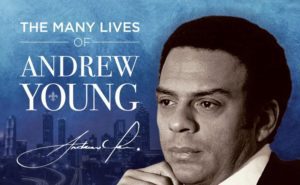 "You've Gotta Run" is a performance sponsored by Penn Center, Inc. and is funded in part by SC Humanities, a state program of the National Endowment for the Humanities and the University of Georgia's Willson Center for Humanities and Arts and a Mellon Foundation grant. The event is scheduled to take place in the Emory Campbell Dining Hall, Saturday, November 12th  at 6:30 pm. The performance is in celebration of the life of Andrew Young and the opening of the "The Many Lives of Andrew Young" which tells the inspiring story of this pastor, civil rights activist, congressman, UN ambassador, mayor, and philanthropist.
The performance will be presented in the context of a supper theater presentation that will include a light menu and refreshments. "You Gotta Run" includes musical pieces, poetry spoken and sung amidst a backdrop of key markers in Young's life.  The artists have a legacy of powerful work and public performances.
Kevin Simmonds is from New Orleans and has performed his music at places such as the National Black Theatre Festival, Nakano Sun Plaza (Tokyo), FOKAL (Port-au-Prince) and Southbank Centre (London). He has received commissions from the Pulitzer Center, San Francisco Arts Commission, Creative Work Fund and University of South Carolina, among others. His most recent book is The Monster I am Today: Leontyne Price and a Life in Verse. 
Valetta Brinson, a native soprano has performed throughout the US, the UK, Japan and the Caribbean, specializing in opera, concert music and Negro spirituals. Among others, she has performed with the Nashville Opera Association, Mississippi Opera Association and Opera Memphis, and at venues such as Tennessee State University, Allen University, University of Miami, University of South Carolina, Georgia State, and the Memphis Black Arts Alliance. In 2004, she debuted the role of Coretta Scott King in the opera The Promise by composer John Baur. Brinson is currently Associate Professor of Music at Southwest Tennessee Community College.
Celia Teasdel Johonson is a native South Carolinian who is completing a graduate degree in Performing Arts-Choral Conducting at the University of South Carolina. A frequent performer throughout South Carolina, she debuted notable productions such as Ota Benga Under My Mother's Roof, Wisteria: Twilight Songs from the Swamp Country, and In Dis Here Skin. Johnson serves as an Adjunct Professor of Music Appreciation at the WL Bonner Bible College in Columbia, SC.
Date: Saturday, November 12, 2022
Location: Emory Campbell Dining Hall, 11 Penn Center Circle-East
Time: 6:00 pm – Catered Supper
           7:00 pm – Audience Enhancement/ Meet and Greet with the Artists
Admission: $20.00 for the entire event including catered meal
Menu: New Orleans/ Gullah Gumbo over Rice, Tossed Salad, French Bread, Bread Pudding, Beverage (R&B Catering)