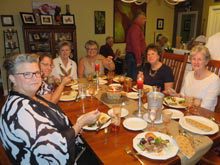 A Night With Debbi Covington
On September 15th, I received a Facebook message from my friend, Josette Grimsley: "Debbi,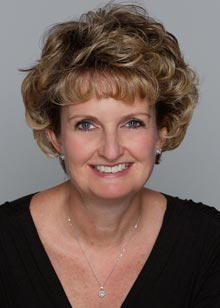 my supper club is having a Debbi Covington recipe event this Saturday night. I was wondering if you have a roasted vegetable recipe, either squash or root veggies. If you can direct me to Celebrate Everything! or one of your Lowcountry Weekly articles, I would be so grateful!" Then, I received an email from Becky Baldwin. "Debbi, I understand that Josette has mentioned our Debbi Covington supper club evening. We meet this Saturday and are preparing your recipes. Would love to have you and your husband if you don't have plans."
Of course, I had to work so Vince and I weren't able to attend but I did ask Josette and Becky to please take photos and send them to me. Thus, a new Everyday Gourmet column was born.
Becky sent me the following information about their group: "The Food and Friends Supper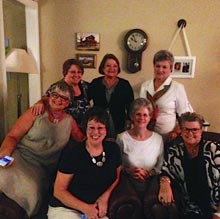 Club, also known as the Ritas and the Luckys (Rita is short for margarita and Lucky is because the guys are lucky to be married to a Rita), has been together for 25 years. We take turns, meeting monthly at each other's homes and have missed very few months over the years. The host and the hostess prepare the main dish letting the club know the theme and each couple volunteers to bring a dish that goes with the entree. This month, after reading Lowcountry Weekly, I decided that we should have a 'Debbi Covington Dinner.' I went online to Lowcountry Weekly and then to your Pinterest boards where I found the Dr. Pepper Presidential Pork recipe. When I emailed the Ritas, they immediately hopped on board with your mashed potatoes, roasted vegetables, salad, cheesy biscuits, candy bar cake and two wonderful shrimp appetizer plates. Most of the Ritas have your cookbook. All of the recipes were delicious! The members of our group are Steve and Becky Baldwin, Ron and Katie Grindle, Jerry and Jodie Linn, Billy and Ann McDuff, Jim and Susan Cato, Bob and Gail Mullen, and Jim and Josette Grimsley. Gail created the appetizers. Ann made the salad and Susan and Jim made the biscuits. Steve and I made the entree. Katie made the delicious mashed potatoes. Josette made the roasted vegetables. Jodie made the cake. I have to say that everything was absolutely wonderful."
I'm flattered beyond words. Vince and I were sorry to miss this fun event. Still, I'm so excited to have these great photos and to be able to share them with my readers. Thank you, Ritas and Luckys, for creating a great menu with some of my favorite recipes and for helping me with my column this week. Bon Appetit!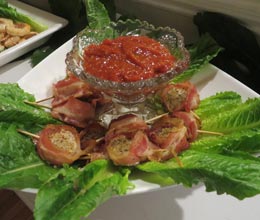 Bacon-Wrapped Scallops
12 slices bacon
24 sea scallops
Freshly ground black pepper
Preheat oven to 375 degrees. Cut bacon slices in half to make 24 pieces. Wrap each scallop in a piece of bacon. Place wrapped scallops on a lightly greased baking sheet. Sprinkle with black pepper; to taste. Bake for 15 to 20 minutes or until scallops are cooked through. Serve with cocktail sauce. Makes 24.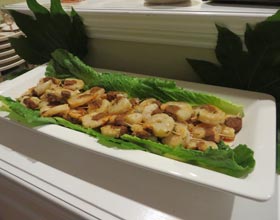 Shrimp & Spanish Chorizo Bites
30 large shrimp, peeled and deveined
1 (5.5-ounce) package Spanish chorizo, peeled and sliced into 30 pieces
1 tablespoon dry sherry
1 tablespoon red wine vinegar
1 clove garlic, minced
½ teaspoon dried oregano
1 teaspoon fresh thyme leaves
¼ cup extra-virgin olive oil
Fresh thyme leaves, to garnish
In a gallon sized zip-lock baggie, combine the shrimp, sherry, red wine vinegar, garlic, oregano, 1 teaspoon fresh thyme leaves and olive oil. Marinate in the refrigerator for 2 hours or overnight. Skewer 1 shrimp with 1 slice of chorizo onto wooden toothpicks skewers. Repeat with the remaining shrimp and chorizo.  Preheat oven to 425 degrees. Bake shrimp skewers on a lightly greased baking sheet for 7 to 8 minutes, turning after 5 minutes or until shrimp and cooked through. Transfer skewers to a serving platter and garnish with fresh thyme leaves. Serve hot or at room temperature. Makes 30.
Green Salad with Blueberries and Pistachios

For the dressing:

¼ cup extra-virgin olive oil 

2 tablespoons red wine vinegar

1 teaspoon honey

1 teaspoon Dijon mustard

1/8 teaspoon salt

1/8 teaspoon black pepper

For the salad:
Mixed baby lettuces 
Fresh blueberries
Salted roasted pistachios
Whisk oil, vinegar, honey, mustard, salt and pepper in a small bowl. Set aside. Place lettuce in a large bowl; pour dressing over lettuce; toss until coated. Top with fresh blueberries and pistachios.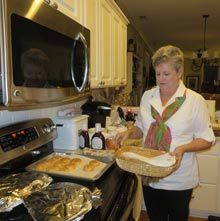 Herbed Parmesan Biscuits
1 (16-ounce) can refrigerated buttermilk biscuits
¾ stick butter, melted
½ teaspoon dill weed
1 teaspoon dried minced onion
1 tablespoon chopped fresh parsley
2 teaspoons grated Parmesan cheese
Preheat oven to 350 degrees.  Separate biscuits and divide into quarters.  Add dill weed, onion, parsley, and cheese to melted butter; mix well. Roll each biscuit piece in butter mixture to coat well and place on buttered baking sheet.  Bake for 8 to 10 minutes until golden. Serves 4 to 6.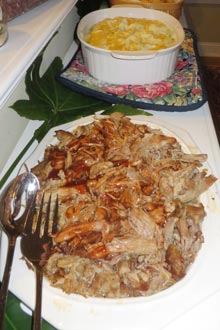 Dr. Pepper Presidential Pork
1 large sweet onion
1 Boston butt (pork shoulder) – 5 to 7 pounds
Salt and freshly ground black pepper
1 (11-ounce) can chipotle peppers in adobo sauce
2 (12-ounce) cans Dr. Pepper
2 tablespoons light brown sugar
Peel and cut the onion in to wedges. Lay the wedges in the bottom of a large crock pot. Generously salt and pepper the pork, then set it on top of the onions in the crock pot. Pour the can of chipotle peppers and adobo sauce over the pork. Pour in both cans of Dr. Pepper and stir in the brown sugar. Place the lid on the crock pot and cook for 7 to 8 hours on high heat, turning the pork two or three times during the cooking process. Check the meat after after 7 hours; it should be falling off the bone. If it's not completely falling apart, cook it for an additional hour. Remove the meat from the crock pot and place on a large cutting board. Use two forks to shred the meat, discarding the bone and pieces of fat. Strain as much of the fat off the top of the cooking liquid as you can and discard it. Return the shredded meat to the cooking liquid and keep warm until ready to serve. Serve warm on flour tortillas. Top with shredded lettuce, diced tomatoes, grated cheese, diced tomatoes, guacamole and fresh cilantro. Freezes beautifully. Serves 12 to 15.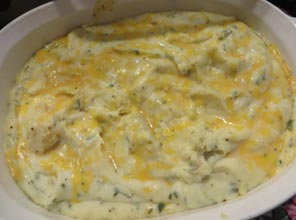 Chive and Horseradish Mashed Potatoes
3 pounds potatoes
½ cup butter
1 tablespoon prepared horseradish
2 teaspoons salt
½ teaspoon pepper
1 cup sour cream
1¼ cup heavy cream
¼ cup chopped fresh chives
In a saucepan, bring potatoes to a boil in enough water to cover.  Lower heat to a simmer and cook until tender, about 15 to 20 minutes.  Drain.  Place potatoes, butter, horseradish, salt and pepper in a bowl. Mash until potatoes are softened and butter in incorporated.  Stir in sour cream, cream and chives.  Taste for seasoning.  Place in a lightly greased baking dish and heat in preheated 350 degree oven for 15 minutes just before serving.  Serves 4 to 6.
Oven-Roasted Vegetables
Squash
Zucchini
Onions
Brussels sprouts
Sweet potatoes
Carrots
Parsnips
Baby potatoes
Toss vegetables with a light coating of olive oil, sprinkle with sea salt and freshly ground black pepper. Spread in a single layer on a foil-lined baking sheet. Roast in a preheated 425 degree oven, stirring every 20 minutes, until they are crisp-tender.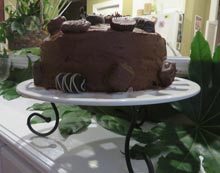 Life is Like a Box of Chocolates Cake
For the cake:
1 (15.25-ounce) chocolate cake mix
1 tablespoon unsweetened cocoa powder
1 cup buttermilk
1/3 cup vegetable oil
3 large eggs
½ teaspoon vanilla extract
Preheat oven to 350 degrees. Lightly grease two 9-inch cake pans with vegetable shortening , then dust with flour. Shake out the excess flour. Set the pans aside. Place the cake mix, cocoa powder, buttermilk, vegetable oil, eggs and vanilla extract in a large mixing bowl. Blend with an electric mixer until the batter is well blended, about 3 minutes. Divide the batter between the prepared pans. Place the pans in the over side by side. Bake the cakes until a toothpick inserted in the center of each layer comes out clean, 25 to 30 minutes. Remove the pans from the oven and cool on racks for 5 minutes. Invert each cake onto a rack and allow to cool completely. Meanwhile, prepare the frosting.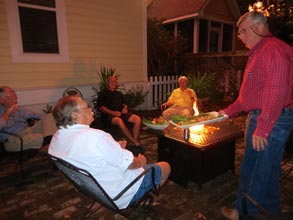 For the frosting:
1 stick butter, at room temperature
2/3 cup unsweetened cocoa powder
3 cups confectioner's sugar
1/3 cup whole milk, plus additional if needed
2 teaspoons vanilla extract
1 (16-ounce) box assorted chocolate candies
Place the butter and cocoa powder in a large mixing bowl. Blend with and electric mixer on low speed until the mixture is soft and well combines. Add the confectioner's sugar, 1/3 cup milk and vanilla extract to the mixing bowl and beat with the mixer on low speed until the frosting is fluffy. Add more milk if the frosting is to thick. Place one cake layer, right side up, on a serving platter. Spread with the frosting. Place the second layer, right side up, on top of the first layer. Frost the top and sides of the cake, using smooth strokes. Decorate cake with chocolate candies. Store cake, covered, at room temperature for up to 3 days or refrigerated for up to 1 week. Serves 8 to 10.
The writer owns Catering by Debbi Covington and is the author of two cookbooks, Gold Medal Winner of the Benjamin Franklin Award, Celebrate Everything! and Dining Under the Carolina Moon.  Debbi's website address is www.cateringbydebbicovington.com. She may be reached at 525-0350 or by email at dbc@cateringbydebbicovington.com