Up and Away with The World-Famous GEICO Skytypers
Story by Mark Shaffer
Photos by Mark Shaffer and courtesy of the GEICO Skytypers
Once again I'm sitting in the back seat of an airplane built to train the pilots of the Greatest Generation, staring at an instrument panel that makes my car look like a starship. It's a blustery day in the Lowcountry as we prep for to take off from the Marine Corps Air Station to fly wing-tip-to-wing-tip with the world-famous GEICO Skytypers. This is the second of three media flights scheduled for the day and all four planes have a reporter strapped into the backseat sporting a 40-pound parachute and a life vest.
We've all signed disclaimers and gone through the safety briefing. I'm in the number 4 plane with senior lead solo pilot, Steve Salmirs. The canopy is open and as the engine roars to life it sends a hot blast of exhaust over me. Like the first time I flew with the Skytypers prior to the 2015 Beaufort airshow, my adrenaline hits the red line. The radio crackles. "Let's go have some fun," says Salmirs.
            As we taxi past the Blue Angels' sparkling F-18's I'm struck by the massive gulf of time between those planes and the one I'm in. Nearly every Allied pilot who flew in the Second World War learned how in a North American Aviation designed SNJ. The GEICO Skytypers fly the SNJ-2 version – a bit shorter and equipped with a larger fuel tank for more flight time. A 600 horsepower Pratt and Whitney engine hauls this 5500-pound hulk into the sky. 
            It's almost impossible to describe what it's like to fly in close formation in a vintage aircraft like this. I'll let the photos do the talking. Suffice it to say that even in serious turbulence – which makes for some interesting moments in close quarters – we were all grinning like idiots back on the ground and ready to go again.
            The MCAS Beaufort Airshow is the third show in a fifteen-show season for the team. After the flight, I had a chance to sit down for a conversation with Salmirs and fellow pilots Steve Kapur and Ken Johansen. Johansen is a second generation Skytyper. His father, Bob,
also flies with team.
            Shaffer: This is precision, high-pressure work. What's it like doing this for a whole season?
            Johansen: Well, at the beginning of the season it's always the same. We do eight shows within two and a half months and get comfortable with the airplanes and the routines. Then we take a break for a couple of weeks and then we strap the airplanes back on and it's good to get back into the routine, get back in the show. By the end of the season I think we're all ready to go home. But when February rolls around I think we're all chomping at the bit.
            Shaffer: You do a lot of shows with the Blue Angels and they were up before we flew today. It struck me then as it did today when we taxied by those jets in these 75-year-old planes what an amazing amount of history and technology lies between those two aircraft.
            Kapur: We're fond of saying these are the aircraft that trained the pilots of the Greatest Generation to fly. One of the cool things about our job is that GEICO enables us to show these aircraft to a generation who would not have seen them otherwise, and understand just what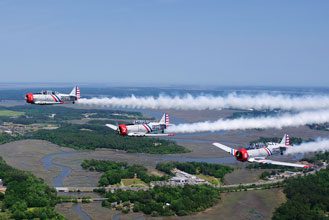 their grandfathers did in their behalf to guarantee our freedom. It sounds funny, but there are complexities in dealing with simpler aircraft. And we've got pilots in this group who've flown some very complex airplanes. But it's a hell of an exciting thing for us to be able to show them off.
            Shaffer: Interesting point. So, what was it like strapping into one of these planes for the first time.
            Kapur: Noisy. (Laughter)
            Salmirs: That's what it was.
            Johansen: Just starting it is a milestone. And if you can start it twice in a row, well, that's a really big deal. And now, to be able to start it consistently as if it were part of you – you can hear the engine and maybe you didn't give it enough prime and she's struggling. So, you know exactly where to put that throttle. And suddenly she's alive. You can feel it. You can hear it. You can see it in the exhaust and the instrumentation.
            I remember my first flights and I don't know how many gallons of black paint they used to repaint the stick but it must've been a lot because I kept squeezing the black right out of it. (Laughter) And I realized, hey, it's an airplane. Just relax. In fact, my dad trained me and it was a gas.
            Shaffer: What's it like breaking in someone new?
            Johansen: To take a guy with no tail wheel experience is an experience in itself. You have to teach them about center of gravity and a lot of things. It's not so much about flying the airplane, it's about landing and taking off and taxiing. Once you get them in the air, it's fine.
            Shaffer: Two years ago we had a nice calm day. Lots of wind today and I really got the sense of how hard you must be working to keep it tight.
            Kapur: Yeah, you have to stay ahead of things. Actually, in close like that you move together more than you move dissimilarly.
            Salmirs: The closer, the better.
            Shaffer: Well, I can tell you it's a bit more thrilling on a choppy day.
            (Laughter)
            Salmirs: Yes, it is.
            Johansen: We had a reporter once who was terrified of flying. Wouldn't even get in a
commercial airliner. She went up with my dad and was hooked. Smiles, smiles, smiles. She said, "You cured me." I mean she couldn't stand being in an airplane.
            Shaffer: I kind of get that.
            Kapur: I think it's about control.
            Salmirs: You're part of the environment. On a big plane, you're just sitting there. It's like a hotel room. Here, you get involved and it's very cool. Plus, the maintainers we have now are top notch. These planes are more than 70 years old.
            Kapur: 1940.
            Salmirs: They're just so well maintained. The Blues, the Thunderbirds and all these groups see these airplanes and appreciate the fact that if they were flying in World War II they'd start in our airplane. They appreciate the history. In our airshow narration, we try to introduce people back to the simpler times. It's like, hey, this is what it was like before. Now, here's your F-35.
            (Laughter)
            Kapur: Steve's like our artistic director. He designed the routine and he wrote the first half of the narration – of course we had to fix it.
            (Laughter)
            Shaffer: Everybody's an editor.
            Kapur: The cool thing about what he designed is that we're teaching with it. Going back to what we said about the Greatest Generation, now we're teaching some of the tactics, maneuvers and things they learned. Some of that they still teach today.
            Shaffer: Have you had World War II vets who trained in these planes up in them?
            Salmirs: We had a member of the team who trained in them and was an F4U fighter pilot.    And then he flew F-8's in Vietnam.
            Kapur: We meet fewer and fewer, unfortunately. We were in St. Louis once. It was 106 degrees and we were sweating like hogs when we got out of the airplanes. And the PIO for the airbase came up and said, "I know you guys are hot and tired, but we've got six tents of VA people here for rehearsal. Would you just walk
through and sign a couple of autographs?" Three hours later, we're still there. We're telling stories and they're telling us how they trained in the aircraft and some of the crazy things they did back then. It was one of the great times we've had.
            Shaffer: Will these planes still be flying at 100?
            Salmirs: Oh, sure.
            Kapur: I hope so.
            Johansen: Absolutely. They're bullet proof.
            Salmirs: They made these for students who couldn't fly, who'd beat it up, who'd mistreat it. I think 100 is easy. One of the guys has a son who's interested in flying. So, 30 more years? I don't see a problem.
Special thanks to Brenda Little of BBIG Marketing for making this possible.
Read more about the World-Famous GEICO Skytypers and check out their 2017 airshow schedule at www.geicoskytypers.com
The GEICO Skytypers are the proud recipients of the 2016 Art Scholl Award for showmanship, one of the airshow industry's most prestigious honors.