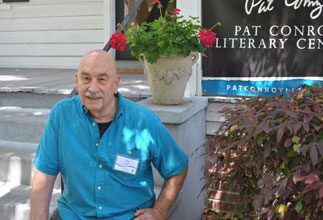 Mindy Lucas interviews columnist and veteran bookseller Will Balk on the porch of the Pat Conroy Literary Center, where he serves as volunteer coordinator.
When not answering questions from visitors at the Pat Conroy Literary Center, Will Balk, who serves on the center's advisory council, also writes a garden column for Lowcountry Weekly and is a regular contributor to the online journal, Weekly Hubris. But the role many in the Beaufort area may remember him best for was as a longtime bookseller at the Bay Street Trading Co., Beaufort's iconic independent bookstore, which closed in 2010.
Mindy Lucas: Let's talk for a minute about where we find ourselves on this lovely, breezy afternoon in Beaufort, here on the porch at the Conroy Center just a block from Bay Street. You're the volunteer coordinator and you also volunteer yourself. Talk a little about what that's like.
Will Balk: It's a constant new encounter with someone with another point of view, and another life experience. What's particularly exciting is the Center has sort of taken as its motto, "Tell me a story." We picked that up from Pat. And that is just the most exciting thing in the world. You get to hear all these incredible stories—often about Pat. It's just amazing. You think, "How can this one man have touched this many lives?"
ML: It sort of ripples out.
WB: Yes. If you've lived for any time in Beaufort, everybody says they knew Pat and they did. And half of those people say they went to school with Pat. The size of that classroom must have been in the thousands so you take it with a grain of salt but in fact, the same applies across the country. There are thousands of thousands of people who knew Pat Conroy and they have a story about Pat. And that is real.
There are people who have wept tears here from being in this place and they never met him. They only know him from his books. And the people who knew him from his books, know him about as well as anyone could.
ML: Not to switch gears too dramatically but how many years did you work for the Bay Street Trading Co.?
WB: I started working for the bookstore in '91 or '92 and I worked there until 2008. Even after it changed hands. I worked with the new owner for a while and then gave up on that.
ML: And when the store closed in 2010, devastating area book lovers and lovers of independent bookstores in particular, what was that like at the time?
WB: It was a special bookstore in a lot of ways. Any bookstore is special and Beaufort is extremely lucky to have kept on having bookstores for years. Good, wonderful bookstores each with their own personality. And that is, I think, what independent bookstores really are about. But this bookstore – the Bay Street Trading Co.—had originated 50 years before when the Hoogenboom family had opened an office supply place with a bookstore corner. A book and card corner.
In the '70s, I think the Hoogenbooms were ready to sell the business and they sold it to Christine and Steve Stanley who had come down from Ohio. Chris and Steve ran it with the aim of eventually selling off the office business and operating a full-service bookstore, which they did. After Steve died, it had become truly a destination bookstore for the Southeast and a larger range. I mean it was a very special bookstore. And it was the bookstore for Pat Conroy. It was his hometown bookstore.
ML: You mentioned the idea of the destination bookstore. Is Beaufort a literary destination? Do you think people are coming here specifically for Pat Conroy?
WB: When the concept was announced, it was the perfect reflection of Pat's legacy. And I knew especially once Jonathan (Haupt) came on board, that it was going to succeed at whatever it was doing. I think the Conroy Center is on a path to pull together all these disparate literary forces that have been going on for years and years here. Not just writers, but readers and people in the book industry on every level. The Center is on a path which can pull those things together in a way that I don't think has ever really been possible before and has the potential for making this—through its own efforts and with the collaborative efforts of everybody else—for making this area a place for some of the most vibrant literary work going on in the Southeast. I've gotten a very powerful sense of that.
ML: Since you mentioned everyone has a Pat story, what's your Pat story?
WB: I had just started working in the bookstore and I had never met Pat Conroy. I had read his books and knew who he was, I knew he was in Beaufort, but he was not going to be wandering into this little store.
I was working in the bookstore one day and there was no one in there. Not a single customer. And this ramshackle, poorly clothed balding raggedy guy shambles in, nods and heads on back to the back of the store.
Well, I had been in the bookstore business long enough to know a potentially serious character. Someone who might do something not quite right. So I just went and hung out and offered to help. And offered and offered. Too much help! Usually that will give them the idea so they say, "I'm out of here." They don't want to be watched.
But this ramshackle customer turned to me and said, "Oh yeah sure. What do you know about this book, and do you have any other suggestions?" And then he would ask for more! I was just exhausted. I gave up. I decided he could do anything he wanted and left him alone. Of course, it wasn't until he left and paid with a credit card that I realized who he was.
ML: I think that's a perfect way to end. Thank you so much for telling those stories and for talking with me today.
To read the rest of this interview, visit www.patconroyliterarycenter.org and click on Porch Talk.