The Backyard Tourist's Guide For Travels With Dogs


"His name is not Wild Dog anymore, but the First Friend, because he will be our friend for always and always and always."
– Rudyard Kipling
Rudyard Kipling was a dog man. Me too. Don't get me wrong. I have nothing against cats. I've had several – or rather I've served on staff for a few. And when it comes to hitting the open road your average feline makes a less than ideal travel companion. There are exceptions, of course, but I think the reason is simple: cats really don't want to do anything on your terms.

 (The author, with Ollie and Scout)
 Dogs are different – most dogs, anyway. While theories vary on how what we now call the modern
dog developed from the grey wolf – the genesis of all dogs – it is now believed that travel played a major roll. Up until about a decade ago it was widely accepted that the process began when humans started to settle down and form rudimentary communities about 12,000 years ago. But a 1997 DNA study shows the transformation of Canis lupis into Canis familiaris began much, much earlier – about 130,000 years ago, long before we as a species could be called "domesticated." The figure might amend the old saying "man's best friend" to "man's best and oldest friend." As nomadic humans roamed the planet in search of food, shelter and mates, so did their new canine partners. We literally evolved together. In short, this is why your average Labrador retriever really digs a ride in your car. It's in his genes. The reason why you let him ride is in yours.
For a great many of us the thought of leaving the family pooch at home when we travel is just plain wrong, unless of course it can't be helped. And recent numbers indicate that even in tough economic times more and more of us believe that travel is – literally – for the dogs. A recent survey conducted by BringYourPet.Com found that 75% of respondents frequently took their pets along when they traveled and nearly 80% stayed in pet-friendly accommodations on the road. And just because everyone loves meaningless statistics, 84.3% of these folks traveled with dogs compared with the 6.5% who took their Cusinarts, uh, cats along. God knows what the other 9.2% had crawling, slithering, perched or lurking inside the SUV.
"If you pick up a starving dog and make him prosperous, he will not bite you. This is the principal difference between a dog and a man."
– Mark Twain

Travels with Scout & Ollie
I'm told that traveling with dogs is a lot like traveling with small children. So for those of us without actual bipedal offspring of the same species (and therefore a reference point), some sound advice and a good measure of common sense are in order before we toss the dog in the car and hit the road. We started out with a young miniature schnauzer named Scout, 20 pounds of tightly packed precociousness with a penchant for footwear thievery. She was a veteran road tripper at the age of a year and half, logging more than 3000 miles on the big family trip earlier that summer. She simply loves to go and we love to take her. This was always part of the plan. Then came Ollie, short for Oliver Twist, because that's what he reminded us of when he showed up bedraggled and flea-bitten on our doorstep with a pitiful "please, sir" expression and eyes as big as saucers. After a very brief and not entirely energetic attempt by my wife to find him a home, he became part of the family (much to Scout's delight) and part of our traveling road show.
Someone once said, "tourists don't know where they've been and travelers don't know where they're going." It's a nice devil-may-care sentiment and one my wife, Susan, and I have put to the test more than once, but unless you're traveling with an RV, I don't recommend following that axiom with a dog. What I do recommend is a little web-based research, some simple preparation, a measure of common sense and the AAA PetBook, audaciously titled Traveling With Your Pet. In spite of the flashy title, this is the gold standard for such guides, and possibly the only publication of its kind updated on an annual basis. It's an indispensable source of information for anyone traveling with a pet on the North American Continent with listings for more than 14,000 hotels, campgrounds and B & B's in the U.S. and Canada. The book also packs in reams of information on pet-friendly attractions and parks, emergency clinics and border crossing rules. The15th edition is hot off the presses and available now. The analogue version is $9.49 for members, $18.95 for non-members. The digital edition is $9.99 through the iTunes Store, Amazon.com and bn.com.
While the AAA PetBook is a valuable resource for pet-loving travelers, it is not an infallible one. Cross-referencing on the web and through local tourism guides is the only way to ferret out all the possibilities. Even then, policies change from season to season and a phone call is still the most reliable way to be sure the "pets welcome" sign is still hanging.
Online the story is a very different one as the number of pet-oriented travel sites seems to grow by the hour and surfing for real information can be frustrating. While researching this piece a web search for "pet friendly lodging" ge
nerated wildly different results depending upon the search engine. Bing fetched the best results by far. Our top choices for ease of use and quick, solid results are tripswithpets.com, dogfriendly.com, and pettravel.com. Tripswithpets.com appears to be the most comprehensive of the bunch offering links and information on virtually everything pet-related. The larger more established sites like Expedia and Travelocity also turned up in the "pet friendly" searches but a click later and we got a come-on for a hot deal to Vegas that had not a damn thing to do with pets. That roaming gnome doesn't have a dog. Don't waste your time.
It's also a good idea to get full disclosure on just what "pet friendly" actually means. And that means communicating with an actual human being and asking the right questions. For an overnight in Camden, Maine a few summers ago we had reservations at the one "pet friendly" hotel listed in the AAA guide within walking distance to the harbor, restaurants and shops. I took the designation in the book for-granted; in fact I took the whole town for-granted. The room came with a surprise "pet contract" – a lengthy list of ridiculous provisions (all punishable by a hefty fine) that essentially meant that we were all either going to be in the room together or out of the room together. I also took for-granted that a picturesque seaside resort town in New England would have plenty of outdoor decks where Scout would be welcome and we might enjoy indigenous beers and lobstah. Nope. Got a dog? Headed to Maine? Stay the hell out of Camden.
In fact, you don't need to go all the way to Camden, Maine to find vacation spots where you best pal is utterly unwelcome. Shortly after Ollie joined the pack we ventured down to Tybee Island for a weekend getaway with both dogs (see the Backyard Tourist archives "Tybee Island: The Great Escape(s)" at lcweekly.com). It was late fall and we were looking forward to long walks on Tybee's famous beaches right up until a surfer spotted us headed toward the dunes.
"Dude," he said (seriously), "they'll fine you like hundreds of dollars if they catch your dogs on the beach."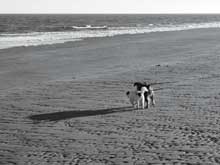 "Dogs off the leash?" I hollered back (the wind was blowing).
"No, man. ON THE BEACH!" He clarified. "They freakin' hate dogs here."
The battle over Tybee's no dogs policy has raged for years and both sides have some legitimate concerns. But rules are only as good as the people who follow them and there always seems to be some bonehead who lets his pit-bull run free. Hell, I get that in my neighborhood at home. Never take a resort or vacation destination for granted. Call the local tourism board or chamber of commerce and make sure your pet is welcome before you spend a dime.

"Dogs are our link to paradise. They don't know evil or jealousy or discontent. To sit with a dog on a hillside on a glorious afternoon is to be back in Eden, where doing nothing was not boring – it was peace."
– Milan Kundera
The most important thing to consider before packing Max, Lucky, Princess or Buddy along for the ride is whether or not they're fit to take along. And by "fit" I'm not just referring to a dog's age or health (both huge concerns) but its socialization. Most experts agree on this, including "Dog Whisperer," Cesar Millan, who believes that some dogs just aren't suited for travel. An animal that doesn't play well with others isn't likely to be a big hit on the beach around kids and other dogs. If Precious has a history of aggressive behavior – if she habitually lunges violently at other dogs or people while on walks, has been banned from the dog park or isolated at daycare, maybe it's best she stay behind until her issues are worked out. Trying to socialize a dog on a vacation is a bad idea for all involved including you, Precious and the rest of us who have to put up with her bad and possibly dangerous behavior. Dogs prone to nervous disorders and high stress levels are better off with a reputable sitter or kennel.
This brings up another point that simply has to do with common sense and awareness. Regardless of where you and your furry pals travel – 3000 miles away or three blocks from home – be aware of your animal's proximity to others. You know the 150-pound rotty on the end of the lead is a big pussycat, but he's probably going to scare up images of The Omen for a few people, so keep him close. On the flipside, something the size of a Chihuahua doesn't belong in a crowd unless she's in someone's arms. Millan and other experts – your vet, included – will tell you that dogs are unpredictable, even those bred to be predictable. Your seven-year old border collie may have stuck to your heels like glue her entire life, but all that it takes to break that perfect record is a split second shot of adrenaline, a momentary lapse in focus or maybe just a… SQUIRREL!
Once the decision's been made to take the dog on the road, treat him like any other family member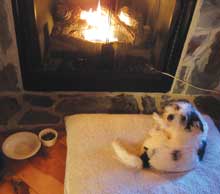 and pack his bag. Scout & Ollie have their own, kept in a constant state of readiness for a spur of the moment trip to the beach or a weekend getaway. When that bag comes out they know we're going for a ride. My old Westie, Elwood, had a habit of trying to stow away in a big blue duffle bag of mine. I'd walk out of the room and come back to find most of a little white dog sticking out of the top of the bag, his head buried under a shirt or something. Elwood was under the impression that if he couldn't see you, you couldn't see him, which made him curiously ostrich-like in that regard. Scout & Ollie suffer no such delusions. They're on high alert right up until we pull out of the drive.
Weekends are one thing, but for longer trips put a checklist together for your pal. Make sure Sam's vaccinations and tags are up to date – including one with his name, address and emergency phone numbers in service for the journey. Along with any medications, pack his food and water bowls, favorite toys, blanket and bedding, treats and grooming supplies. Be sure to include a first aid kit along with a recent photo and complete description. Consult your vet regarding pet locator chips and other hi-tech devices. If there's room, carry a few gallons of water from home along. This and regular breaks from the car every few hours will help ease the transition and lessen the stress. The stops give your pal a chance to sniff out new surroundings and acclimate to the change. The water is a familiar taste of home.
Experts recommend most toy breeds travel in a seat-belted crate for safety. A Yorkie's just too small for a harness and no traveling animal should be unrestrained or in your lap. Medium sized and larger animals can ride in the back seat fitted with a secure harness and a strap that buckles into the seatbelt. Giant breeds like mastiffs, require a little extra ingenuity or a specially equipped vehicle. More information is available at any of the previously mentioned websites. There was a guy in my old Seattle neighborhood who drove around in a Miata with his Great Dane strapped into the passenger seat, his massive head poking up over the windshield. All the dog needed was a ball cap and a pair of shades.
A car seat cover also comes in handy, particularly if you value your automotive investment. They come cheap and they come custom made and in all sorts of materials. After a good deal of research we settled on The Backseat Protector by Orvis ($98 at orvis.com). It's made of tough, thickly padded micro fiber with a non-slip backing. It's water resistant, machine washable and super easy to use. It also doubles as a nice picnic blanket.
"I was born lost and take no pleasure in being found…"
– John Steinbeck, Travels With Charley

Travels with Charley
In the autumn of 1960 John Steinbeck and his standard poodle, Charley, set off on a monumental odyssey spanning 40 states and 10,000 miles. They traveled in a pickup outfitted with a special camper Steinbeck christened Rocinante after Don Quixote's horse, the dog filling the roll of a sort of canine Sancho Panza. The author set out to rediscover his country, to see what had distilled from The Grapes of Wrath. What he also discovered was that no matter where he was in the land, people of all sorts almost always related to the dog before the man. And so the French Poodle became the conduit for Steinbeck's great American road trip chronicled in Travels With Charley.
I think what Steinbeck also took from his experiences with Charley is similar to what we take from our travels with Scout & Ollie: an instinctive awareness of an ancient bond born of some mutual need to wander and an eagerness to see what's over the next hill.
And by the way, I highly recommend the book.
The Backyard tourist also recommends…
There's plenty to do with a dog in the Lowcountry, and I promise there are lots of places where you and your pal can kick back. Hunting Island State Park offers one of the most spectacular beaches on the east coast and miles of nature trails. State law requires dogs must be leashed at all times. After a day at the beach, try Johnson Creek Tavern for a relaxing seat on the deck in the shade with a stunning view of the marsh.
A walk along Beaufort's Waterfront Park and a meander through the historic district are fine ideas, and well-behaved canine companions are welcome at all establishments with outdoor seating. If the pup's in need of food or a fresh toy we suggest a short drive on the Sea Island Parkway to Grayco Hardware and Lady's Island Feed & Seed. Dogs are welcome to help you shop in both stores.
Mark Shaffer's email is backyardtourist@gmail.com