(and my notes… and my tape recorder…)
By Mark Shaffer
Part One: A State of Mind
Gremlins, perhaps?
Let me come clean off the get go. This is not the story I set out to write. In fact, it's not even on the same chart. Some undetected, spectral wind has blown me off course and although I find myself at the plotted destination, the journey has been – shall we say – round about.
I just wanted to write something about Old Town Bluffton – simple, yes? Nah. Not really. A piece on the burgeoning gallery scene blew up into a monstrous lumbering abomination that eventually collapsed and died under its own grotesque weight. Over the next few months I tried focusing on historical preservation efforts, individual artists, artists in co-ops, the local fishing industry – you name it, I tried it, and like a jinxed angler all I boated was flotsam while losing rig after rig, metaphorically speaking. People moved, took vacations, calls and e-mails were lost or unanswered. Volumes of notes and interviews simply vanished. And the last straw? A tape recorder and several tapes documenting the most recent journey South of the Broad have gone missing.
Spooky, huh? Damn right.
Nevertheless, like rust journalism never sleeps. It just takes short naps.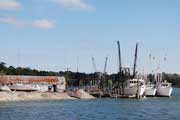 View from the Bluff
There was a time not so long ago that to find Bluffton, one had to look for Bluffton. This was the quintessential "sleepy little village" – a coastal Brigadoon, lost in time. Just off the beaten path of traffic streaming down 278 to Hilton Head, Bluffton was out of sight and out of mind of all who weren't searching for it – or some similar place. Like its older sister, Beaufort, the original village of Bluffton gathered itself along a high river bluff (hence the name) to take advantage of the natural air conditioning. Sea Island planters built summer cottages and churches along the May River. The May's pristine waters and extreme tides (averaging around 8 to 9 feet) make it an Eden for shellfish and Oystering became both an industry and a culture. Old Bluffton has weathered floods, famine and countless hurricanes. The seeds of the Civil War were sewn beneath the moss-draped branches of her Secessionist Oak. She has been burned by union troops and sent her children off to fight and die in American wars. She's suffered through Reconstruction, the Great Depression, the implosion of the oyster industry and the collapse of the family farm, but she has never faced anything as daunting as the tsunami of development that has threatened to swallow her up these last years.
"It increased from one square mile to about 57 square miles," explains Jacob Preston. "Some of that's been successful, some less." Bluffton's "tallest potter" moved his studio to Old Town from Hilton head in 1977. While he and many of his colleagues are outspoken in their criticism of what's happened on the outskirts of this suddenly super-sized town, he's happy with the direction the historic district has taken. "Old Town's economy is primarily art and that's just gotten better and better. It's a community, a real community," he stresses the point, "and less of a project. It's not accidental. I've been working on it for 30 years."
I'm betting there may not be a town of reasonable size in coastal South Carolina without a Calhoun Street. Bluffton's is the heartbeat of Old Town. The south end drops off the eponymous bluff to the public dock and a spectacular view overlooking the May River as it winds through a vast savannah of Spartina grass and dog-legs around Myrtle Island to the east, on its way to the Atlantic. Next door is the historic Church of the Cross, a few hundred yards upriver the bluff dips down into marsh and shoals of shellfish. A cluster of trawlers and Carolina Skiffs are tied together at the docks of the Bluffton Oyster Company, said to be the last surviving oyster "factory" in the state.
A stiff easterly wind helps push the tide out. The river is wide here and the wind whips up white caps blowing a fine spray that floats like Belgian lace across the top of the water, back-lit by the low winter sun. Another gust like the last one and my next stop might be Bermuda. I climb back up the gangway to stroll the manicured church grounds and gain a different perspective.
Jeff Evans, publisher of The Lowcountry, friend and former Bluffton resident recalls the days before discovery when old family names mixed with local characters, drifters, and parrotheads in search of that perpetual Margaritaville. "I lived a 100 yards from the May River and at low tide you could swim out to The Sandbar which was a huge party place. Sometimes a 100 boats or more would gather. It was great."
Then in the early '90's the rumors proved true: uber developer Del Webb had its sights set on the Lowcountry for one of the company's signature Sun City projects. "When Del Webb came to town, all bets were off," says Evans. It seems that Nature herself took exception to bulldozers and earthmovers in the marshes. That fall the 500 year rains literally swamped crews and project managers used to the deserts of the Southwest. "I remember seeing this huge Caterpiller earthmover at the bottom of a 12 foot deep sinkhole," Evans recalls. But even Mother Nature couldn't wash away the future and Sun City remains. "I consider myself lucky to have lived in Bluffton before that," he says wistfully.
Across the river nearly everything visible is part of Palmetto Bluff – all 20,000 acres complete with the exclusive Inn and Spa at Palmetto Bluff and a Jack Nicklaus-designed golf course. But unlike other regional developments, the likes of which have overrun and consumed Hilton Head like kudzu, most of this will remain wild and unspoiled under the auspices of the Palmetto Bluff Nature Conservancy, a new model for what's optimistically come to be called "sustainable development." But perhaps most importantly, Palmetto Bluff represents the lion's share of a series of recent and controversial annexations that added more than 32,000 acres of territory to the town of Bluffton. Practically overnight, Bluffton became the 50 Foot Tall Woman among her coastal siblings, mutating from a tiny village into the fifth largest town in the state. Reaction is mixed. Feelings are complex. Some view this as an act of municipal greed. Others say it was the only way to guard against unscrupulous developers and the sort of unchecked urban sprawl already infecting parts of whatever it is that Bluffton – let's call it "Outer Bluffton" – has become. At some point on the seething, choked morass of Highway 278 leading into Hilton Head, the two collide into some neatly landscaped, big-box DMZ – a kind of chaotic line of demarcation known hereafter as Hilton Bluffhead. Thoughtfully, much of the commercial development has been duplicated on either side of the highway. If you miss them coming, they'll get you going.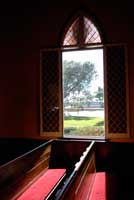 And now a brief rant…
Nail me to the Pottery Barn door, but I've never understood the driving need to pave the entire coastline in a irresponsible phalanx of strip malls, parking lots, car dealerships, cookie-cutter condos and – yep – golf courses (filling in wetlands still counts as paving). 30 years ago when I lived on the Grand Strand, all that stood in my way from the south end of Myrtle Beach all the way to Georgetown were a couple of caution lights. Poor planning (if any at all) and a thoughtless feeding frenzy of redundant commercial sprawl gobbled up miles and miles of land like some nightmarish Pac Man game come to life. The post-Hugo reconstruction of old established beachfront communities like Surfside and Garden City simply rang the dinner bell even louder, this time on the water. Property owners faced with taking huge losses sold out for a song or a share of what was to come. Beachfront lots that once supported a single summer cottage suddenly sprouted a half dozen "town homes" like cheap plywood weeds, walling off any view of the ocean. And so the waves of "renewal" rushed in from the shore rolling over one row to the next, to the next. What remains is no respite from the panicked urban existence most vacationers seek. Along much of these beaches not a square foot of space has been spared to allow in a breeze, much less relief from an omnipresent claustrophobia crushing down atop the stagnating backwash of traffic, buildings and people.
I'm not against development, per se, as long at it's accomplished with something like a plan – a plan that has more to do with long-term quality of life and property issues, rather than looting the locals and to hell with what comes next. Once a place is despoiled that's it. See also Sedona, Arizona. Or what's left of it.
Power Point Prayer and Holy Honey
Standing on the lawn of the Church of the Cross the river seems far below at low tide. On a previous pilgrimage in early September the air was hot, thick and close, the lawn was lush and a wisp of a breeze rustled the palmetto fronds and flirted with the Spanish moss in the oaks. An older couple unfolded chairs and picnicked in the shade of one of the giant cedars at river's edge, absorbing the scene as the occasional boat motored past, toasting the view with glasses of cold white wine. The air was heavy with the pungent scent of pluff mud mingled with sea salt, the rich detritus of creation, and ghosts.
Today there is too much wind to scent the tide and my light jacket is no match for the persistent chill blowing off of the water. I seek shelter in the church.
The Church of the Cross is absolutely unique in my experience. Its venerable sun-bleached and weathered timbers have withstood man and Mother Nature for more than a century and a half. Architect Edward Brickell* White, whose famous works include the Huguenot Church and St. Philip's Episcopal in Charleston, termed his chapel on the bluff a "handsome cruciform Gothic building." E. B. was far more poetic with his drafting tools than he was with simple adjectives.
The interior always seems to come as a mild shock, although I'm not all together certain as to why. Perhaps it's the delicate coral pink of the walls cleverly plastered and scored to resemble masonry. Maybe it's the expanse of ancient, gated pews stained dark by time, weather and worship. Plush red velvet cushions lend some measure of comfort to devotion beneath an intricate set of exposed beams that somehow evoke the rigging of a tall ship. The rear balcony houses an impressive English pipe organ installed just a decade ago, although it's easy to imagine it having always been there, or onboard Nemo's Nautilus for that matter. No, I think it's the view that always takes me aback, if "aback" is something with which one may still be taken in the age of LOL. A docent discourses on the church's history to a slightly awed couple from New Jersey. Apparently over the past several decades the building's become something of a Nirvana for honey bees. Over the years dozens and dozens of hives and hundreds and hundreds of pounds of honey have been harvested. You can buy a bottle of Holy Honey on your way out.
But like the rest of Bluffton, The Church of the Cross is not immune to the onslaught of what I'll cynically refer to here as "progress." This splendid old church has given birth to a new ultra-modern, state-of-the-art campus far from the May River Bluff on the bustling Buckwalter Parkway. As I heave open one of the massive, hand-hewn pine doors, the docent mentions that the most popular services here on the bluff "are contemporary. They're even done in Powerpoint."
Damn you, Bill Gates.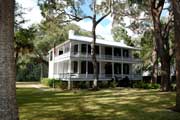 The Inside/Outside Men
A gargantuan Black Hummer practically blots out the sun as it pulls up and parks in front of Gigi's Boutique and Outfitters. Gigi's is part of the Carson Cottages on upper Calhoun, developer Thomas Viljac's planned two-phase collection of historically-themed shops, galleries and restaurants in the middle of Old Town. A petite youngish woman who looks like she kicked Carrie Bradshaw's ass in a superficiality contest, climbs down from the K-2 heights of the cab and eventually finds her balance on four inch stiletto heels. Designer sunglasses the size and shape of pie plates offset the ballast of a leather handbag sewn from hides enough to threaten an entire species of slow-moving reptile. She disappears into the boutique with an equally fashionable girlfriend who's gleaming new Jag is parked nearby.
"So you see the Carson Cottages as the epicenter of the "new" Old Bluffton," I ask Viljac.
"Did I tell you that or did you think it up?" he asks.
I thought it up.
My pal and colleague, Dawn, and I have just finished lunch at the Calhoun Street Café across from the Carson Cottages and the actual historic Carson Cottage (c. 1868), now the studio and gallery of flamboyant Lowcountry artist, Amos Hummell. Viljac's using a back room as a temporary office until his own space in the Cottages is complete. The two men couldn't be more opposite. "Mr. Inside the Lines and Mr. Outside the Lines," says Dawn. She's right. Viljac is smartly dressed in a dazzling white polo shirt and khakis with a crease that could carve meat. Hummell… well, Amos is not.
Viljac invites us along with a couple of prospective clients for a tour of his passion project, Seven Oaks. The majestic 1850 home sits on an oak-shaded acre of lawn half a block off of the bluff adjacent to the Church of the Cross. He's just finished an extensive restoration with plans to rent out the property for weddings and private events. The house is truly impressive, one of the jewels of old Bluffton to survive the Union torches of 1863 and The Great Storm 30 years later. Viljac's excitement about the preservation is contagious.
Later, I ask him how he approaches a project like Seven Oaks. He's momentarily at a loss, "that's a tough question. There are so many moving parts." The former civil engineer's Palmetto Land Development is a major player in the future evolution of Calhoun Street and Old Town. Treading the razor's edge between two worlds offers up an eternal quandary. "When I look at these old buildings I ask myself, how do I reach back, grab some of that past and allow people to experience it today?" The question never has an easy answer and the answer inevitably offends someone's sensibility. That is the nature of the beast.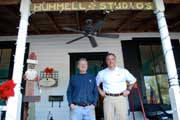 Amos Hummell has a gleam in his eye. From what I gather this is a permanent condition. Even absorbed in his paints and brushes on the porch of the Carson Cottage he generates a sort of edgy Wyle E. Coyote vibe. I would not be surprised if at any moment he might produce some massive piece of mischief out of a box labeled "ACME" and proceed to wreak havoc with it. He's finishing up a piece in his "Department of Missing Poissons" series which, in a nutshell, has to do with fish. The self-taught Hummell describes his work as "bright and happy, fun and funky." This pretty much describes the man, as well. A former fixture on Calhoun Street, he's back after a year's exile in Hilton Head – partly because of Viljac – and he's excited, which also seems to be a permanent state. "We've got to keep [the art community] going up and down Calhoun Street," he says. "We've got to grow it, too. If it's really going to work, we've got to grow it organically."
Hummell's been doing just that. More than a dozen area high school students will get a chance to show and sell their work at an upcoming event he'll host at the Hummell Gallery (see 'What's Happening' for details).
"Down the road we need a space – a building – where we can get the local kids involved. That's how you build the future." Hummell says he's already begun exploring the possibilities. Never underestimate a man who lives by the motto "reality's weird… act accordingly."
For more information on historic Old Town Bluffton visit www.heywardhouse.org or call 843-757-6293. E-mail Mark Shaffer at backyardtourist@gmail.com.
But wait, there's more…
Next month our intrepid reporter risks life, limb and notebook as he returns to Bluffton for a walk through time, a taste of Old Town by land and by sea and attempts to answer the question "what color is the sky in Amos Hummell's world?"
*Some sources refer to White as "Edward Blake," others simply as "E.B." "Edward Brickell" was the name we turned up most often in association with the architectural references in question.