Since last we visited what's become known as the Downtown Parking Plan (or, as I prefer to call it, The Bay Street Conundrum) changes have been made. During the January 11th Beaufort City Council session, Council issued something of a reprieve for downtown businesses and anyone who's been pushed to the brink of decorum by the simple attempt to park a car and spend some money.
As always, there is good new and there is bad news. The good news is a change in hours and rates. But the really good news is this: the kiosks along Bay Street are on the way out. That's right, these ill tempered, metallic monsters from the Dark Side are to be uprooted.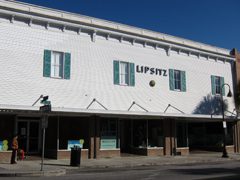 Mayor Billy Keyserling promises the confusion over the kiosks is at an end – at least on Bay Street (more on that shortly). "We're going back to the basics," he tells me.
As this edition hits the streets the decision to re-install the old meters rather than purchase new devices is likely to have been finalized. Council was due to rule during the January 18th session (about the time this publication was rolling off the press). But if we were standing in the middle of a Vegas casino with a wad of cash to bet on this thing we're taking the odds on the old meters.
For some time now rumors have swirled about how the Bay Street kiosks might be replaced. I'm told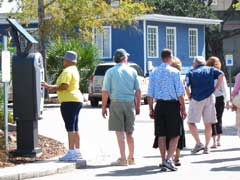 that a plan to buy slick new technologically advanced iMeters was apparently scrapped due to cost and a tendency of the new machines to sometimes fail to interface with carbon based life forms. And they spit. Some felt this might put even more of a strain on a consumer base already pushed to the edge of its abuse paradigm. Nonetheless I would be remiss if I didn't point out that the current parking droids also often fail to interface with carbon based life forms and occasionally spit bills back at frustrated customers.As we approach deadline the Mayor assures me that visitors to Bay Street will not be used as guinea pigs to test new – and expensive – hi-tech meters. "There will be no razzle dazzle," he says. Whatever the configuration the new/old meter system takes, coins will be accepted but with varying amounts and hourly limits depending upon location.
This revised plan calls for a decrease in rates and an increase in time as drivers move off of Bay Street. Parking along Port Republic, Charles, West and Scott Streets goes to seventy-five cents an hour with a four-hour limit. The rate drops to fifty cents on Craven Street with no limit. Time limits also go away in the Marina lot.
But the biggest news for beleaguered downtown businesses is the city's decision to add an hour to the time limit along Bay Street giving visitors a more comfortable three hour window to shop, dine and stroll before moving the car. Make no mistake, though, there will be no feeding the meter. Three hours means three hours and move or be ticketed, a skill with which Lanier Parking Solutions has demonstrated remarkable – some say overzealous – efficiency.
"It's a positive thing," says Tony Royal. "It's a recognition by City council that we went too far too fast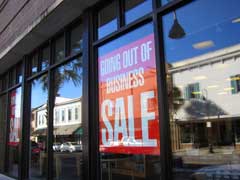 [on parking]." Royal, whose Bay Street Outfitters has been a downtown fixture for fifteen years, is part of a coalition of businessmen who circulated a petition asking council to consider an extension of the traditionally free holiday parking with an expanded three hour limit.
Robert Bowden with Lowcountry Real Estate is also part of that group. He agrees with Royal that taking a step back is a move in the right direction. "Just trying to get back to where we were before everything started has become the primary goal for most of the people I've spoken with," he says.
The bad news for veterans of the Kiosk Wars on Bay Street is that these machines will be redistributed throughout the flat lots at the marina, library and waterfront playground. This might not be a bad thing, according to Bowden. Like most of his Bay Street neighbors and colleagues he's watched lines of people struggle with the kiosks or miss them all together for lack of signage and suffer the consequences.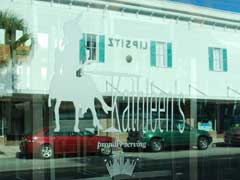 "More machines might make them a little more user-friendly," he says. As for the ticketing, Bowden and many others feel that it's a bit too "in your face" and tends to send the wrong message. Indeed, there have been days when the number of orange envelopes displayed on downtown windshields seemed to outnumber those without. An acquaintance recently displayed a ticket with a violation time listed as 5:59 pm, one minute before enforcement stops – a violation to be sure, but at what cumulative price?
"What does that say to you?" I ask.
"That says to me, screw you we don't want you here. So, if that's the way it is I come downtown less."
With more than a dozen downtown closures and more looming, this is not what merchants and business owners want to hear. With so many empty stores and longtime businesses biting the dust, there is growing resentment that the only business that not only appears to be flourishing, but bullet proof to boot, is Lanier/Park Beaufort."That's just kind of weird and wrong," observes one Bay Street business owner, "on so many different levels."
As Councilman Mike Sutton noted during the January 11 council session, "this is not a dead subject. It's still moving, still fluid." As fluid tends to seek its own level it will be interesting to see just where this eventually ends up.
The Wrap
On the surface and to most outsiders all of this must seem like a tempest in a teapot. In truth this is about much more than a few bucks here and there or who gets to park on Bay Street and for how long. This is about the very core of a town. This is about the heartbeat of a historic place – one that has just celebrated its 300th birthday with appropriate pomp & circumstance, retrospect & reverence, music and fireworks and optimism. This last thing is the most important. It is not an easy thing to be optimistic in such gloomy economic times, particularly when the primary economic focus seems to have shifted to other priorities. It is difficult to look around at the empty shops – and those about to be – and wonder when things might turn around. It is hard to be optimistic in a district rife with suspicion, mistrust and no small amount of intrigue.
It is easier to be optimistic when some measure of communication is re-established and it becomes evident that very real fears have been acknowledged on some basic level. This most recent move by City Council is a step down the right path, but as Councilman Mike McFee points out, "it has not been a short road." There are undoubtedly many twists and turns still to come. In the end there are two things all parties involved seem to agree on: 1) everyone is sick to death of this thing, and 2) it is far from over.
Mark Shaffer's email is backyardtourist@gmail.com
Go online for more at www.lcweekly.com and join us on Facebook to become part of the discussion.