Calling all pampered palates! Are you interested in creating a Gourmet Society? Gourmet supper clubs can be a lot of fun. They unite groups of people who share a passion for preparing and eating fine food. In some cases the group cooks the entire meal in the home of one of its members. Other clubs ask members to bring the dishes ready to be served. Invite friends who share similar food interests and skill levels to join the club.
Determine a set schedule for the club in advance, such as the second Saturday of every month. Decide how the menus will be planned and where the food will be cooked. Establish how many courses will be served, and how they will rotate among members. The recipes this week are from my first cookbook, Dining Under the Carolina Moon. In early April, Northern Transplant Cooking Group members, Janet and Dean Cochenour, Debbie and Ken Ahlers, Paula and Steve Storey, and Ellen and Rich Motley gathered for their quarterly meeting and whipped up some of the offerings from the "Gathering of the Gourmets" chapter. The photos are from their meal. If your supper club or cooking group uses any of the recipes from "Everyday Gourmet" or either of my two cookbooks, please take lots of photos of the food and your friends and send them to me. You might just be featured in a future column. Happy Cooking!
Pickled Pimento Cheese Tea Sandwiches
Pickled Pimento Cheese tastes best if prepared a day in advance, allowing time for flavors to blend. Be sure to put lots of filling into the sandwiches.
4 cups (16 ounces) shredded extra-sharp Cheddar cheese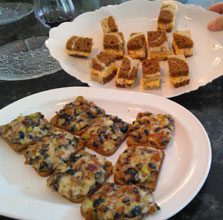 3 hard-boiled eggs, peeled and diced finely
4 tablespoons grated onion
1 (4-ounce) jar diced pimentos, drained
1/3 cup sweet pickle relish
1 cup mayonnaise, or enough to blend mixture smoothly
24 slices white or whole wheat bread
Mix first six ingredients together in a large bowl. Adjust amount of mayonnaise to make mixture spread easily. Trim edges of bread. Spread cheese filling on 12 slices of bread, then put the other 12 bread slices on top. Slice sandwiches into strips. Serves 12.
Swiss Ryes
8 slices bacon, fried and crumbled
1 cup (4 ounces) shredded Swiss cheese
1 (4½-ounce) can chopped black olives
½ cup chopped green onion
1 teaspoon Worcestershire sauce
¼ cup mayonnaise
Party rye bread
Combine first 6 ingredients and mix well. Spread on rye bread. Bake in a preheated 375 degree oven for 10 to 12 minutes or until lightly brown and cheese is melted. Serve warm. Serves 10 to 12.
Goat Cheese Salad
¼ cup orange juice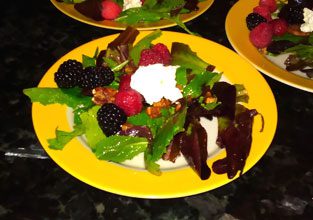 3 tablespoons white wine vinegar
1/8 teaspoon salt
½ teaspoon ground white pepper     
1/3 cup vegetable oil
¼ cup olive oil
6 ounces goat cheese, cut into ¼-inch thick slices
8 cups mixed salad greens
Fresh raspberries, blueberries, or blackberries
Combine first 4 ingredients in container of an electric blender. With blender on high, gradually add oils in a slow steady stream, processing until blended. Place goat cheese slices on a lightly greased baking sheet. Heat in a preheated 300 degree oven for 4 to 5 minutes.   Toss salad greens with vinaigrette. Arrange salad greens and warm goat cheese slices on individual salad plates. Garnish with fresh berries. Serves 6.
Fillet Mignon with Portabello Mushroom Sauce
Portabello mushrooms are the fully mature form of the cremino mushroom. Portabellos can be found in the produce section of most grocery stores. Look for the smaller variety, usually called baby portabellos or creminis.
6 (6-ounce) beef tenderloin fillets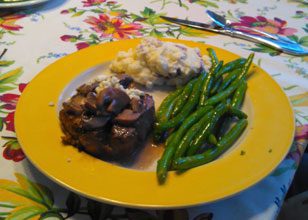 ½ teaspoon freshly ground pepper
5 tablespoons butter, divided
8 ounces fresh baby portabello or white mushrooms, sliced
1/3 cup dry red wine
½ cup sour cream
¾ cup (3 ounces) Roquefort or blue cheese, crumbled and divided
2 tablespoons chopped fresh parsley
Rub fillets with pepper. Melt 2 tablespoons butter in a large skillet over medium-high heat. Cook fillets 4 to 5 minutes on each side or to desired degree of doneness. Remove from skillet, and keep warm. Melt remaining 3 tablespoons butter in skillet. Add mushrooms, and saute 3 to 4 minutes or until tender. Add wine and cook 1 to 2 minutes, stirring to loosen particles from bottom of skillet. Stir in sour cream. Sprinkle 1/4 cup cheese into sauce, stirring until melted. Arrange fillets on a serving platter, and drizzle with sauce. Sprinkle with remaining cheese and garnish with chopped parsley. Serves 6.
Potatoes Chantilly
8 to10 medium red skinned new potatoes, skin on
½ cup hot milk
8 tablespoons (1 stick) butter
½ cup sour cream
Salt
Pepper
Slice potatoes ¼-inch thick. Cook in boiling water for 15 minutes or until fork-tender. Whip unpeeled cooked potatoes with electric mixer; mix until moderately smooth. Add hot milk, butter, and sour cream. Whip until mixed. Adjust thickness by adding more milk, if desired. Salt and pepper to taste. Serves 6 to 8.
Haricot Vert with Roasted Garlic Vinaigrette
Haricot vert is a fancy French word for "green string bean." Use the smallest, freshest green beans to make this wonderful side dish.
1 pound fresh small green beans
½ teaspoon salt
4 cloves garlic, unpeeled
½ cup plus 2 tablespoons extra virgin olive oil
1 tablespoon Dijon mustard
3 tablespoons red wine vinegar
1 tablespoon honey
Salt
Freshly ground pepper
1 tablespoon butter
2 tablespoons chopped fresh chives
Rinse the green beans and snap off ends if needed. Bring a large saucepan of water to a vigorous boil, then add the beans and the ½ teaspoon of salt. Cook until the beans are just tender. Drain immediately, then rinse in very cold water until the beans are cool. Drain again. To make the vinaigrette, place the garlic cloves on a small baking sheet and drizzle them with 2 tablespoons of olive oil. Bake the garlic in a 350 degree oven until the garlic is soft to the touch, about 30 to 40 minutes. Cool to room temperature. Remove the papery peels from the garlic by squeezing them into a small mixing bowl. Mash the garlic with a fork into a coarse puree. Add the mustard, vinegar, honey, and salt and pepper to taste. Whisk well. While whisking constantly, drizzle the ½ cup olive oil very slowly. Set the vinaigrette aside at room temperature. To serve, melt the butter in a saute pan over medium-high heat. Add the green beans and saute quickly, just to warm. Remove pan from heat and toss the beans with the vinaigrette and chives. Serve immediately. Serves 6.
The writer owns Catering by Debbi Covington and is the author of two cookbooks, Gold Medal Winner of the Benjamin Franklin Award, Celebrate Everything! and Dining Under the Carolina Moon. Debbi's website address is www.cateringbydebbicovington.com. She may be reached at 525-0350 or by email at dbc@cateringbydebbicovington.com.