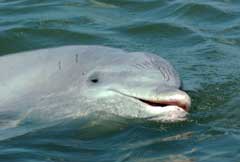 The Backyard Tourist hits the water for an extraordinary photo safari with Wildlife Photographer Eric Horan
The artist's world is limitless. It can be found anywhere, far from where he lives or a few feet away. It is always on his doorstep.
– Paul Sand
Close Encounter
"You'd think with a propeller scar like that she'd stay away from boats," says Eric Horan.
I spotted this trio of bottlenose dolphin cavorting near the Chechessee River Bridge just before Eric showed up with the boat – two adults and an infant. Thirty minutes later they circle the boat to check us out. One of the adults and the youngster maintain a discreet distance never coming closer than a few feet. The other adult is more gregarious. She's obviously had an unpleasant encounter with a boat at some point. The scars on her forehead and snout form a series of interlocking vertical "Z's," certainly evidence of a painful and traumatizing injury. And yet here she is right alongside the skiff skimming by the port side rail, her sleek grey head half out of the water, eye's sparkling with intelligence and curiosity – and maybe even looking for a snack.
My adrenaline is pumping as I scramble around the bow trying to accomplish the photographic equivalent of shooting a fly with a howitzer. I'm packing my DSLR, a slightly dated but normally reliable Nikon D80. I've borrowed a 300mm lens and a piece of optical augmentation called a Tele-converter (in this case a "doubler") in anticipation of taking a lot of shots from a distance. And this is my current dilemma: while the dolphin swim within feet and sometimes inches of the boat, I'm clinging to the farthest reaches of the bow trying to put enough distance between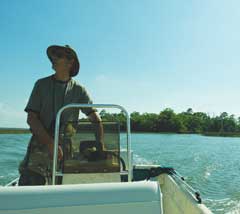 subject and camera to allow my 600mm-worth of lens to focus. I am a greenhorn i
n this situation, an adrenaline-hyped rookie furiously snapping away – one eye in t
he viewfinder, the other on my feet, desperately trying not to fall in. Like a panicked gunfighter I am so caught up in the moment trying to get a decent shot off with the big gun that I've completely forgotten about the "hideaway" in my pocket, a compact Canon S90, perfect for this situation. It will be a good thirty minutes before I realize this. It will not be my first or last rookie mistake on an otherwise glorious day. But as Eric is quick to point out during the course of the afternoon, it's all a learning process.
This is a day at the office for Eric. And what an office it is. The spring sun is high and bright, the pale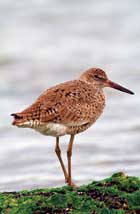 turquoise sky is flecked with wispy confections of bouffant clouds. The relentless insistence of wind and tide make handling the skiff a challenge, two factors that nearly always determine a point of departure. "Something I learned from experience," says Eric. "Any photo outing is ten times more complicated on a boat. Then again, it can be ten times more fun."
I count only two other boats the entire afternoon as we cruise among the creeks and inlets of the Chechessee and the Broad Rivers. One has the unfortunate timing to show up as Eric spots a bald eagle perched in the gnarled top of a dead tree on a tiny marsh island. "That's a great shot if we don't spook him," says Eric with typical understatement. I can tell that even the old pro's excited. Even if this is a fairly typical day at the office for a wildlife photographer, this is not a typical opportunity. It's a perfect shot: an adult bald eagle facing the afternoon sun framed against a gorgeous sky and perched on a craggy old oak limb, to boot. "You might want to start shooting," he advises. "You never know, and something might be better than nothing." Right on cue the bird takes flight as I click the shutter. I fire away to no avail. A moment later another skiff breaks out of the Spartina grass and speeds past. It will be the only boat in our immediate vicinity for hours. "That's okay," says Eric, "I've seen him feeding in a creek just over there. We'll see if we can find him a little later." In a nutshell, this is the advantage of going out with a professional. Chances are even if you don't find exactly what you're looking for, you'll find something else. Or something else will find you.
The Breathtaking Chaos of Flight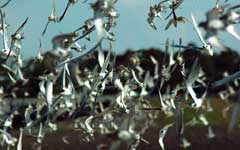 I first met Eric Horan a couple of years ago. Shortly after washing up on these shores he was kind enough to invite me along to photograph wood stork and snowy egret nests on an old plantation site in Yemassee. My camera was brand new (I'd barely glanced at the manual), and I was deeply inexperienced in this sort of setting. But by day's end I was hooked – and what's more, I was a better photographer, albeit by increments. I still have one of those shots on my wall: a mother egret stands over her downy brood, wings fully extended, each delicate feather detailed and backlit by the waning sun behind her.
Today the river and marsh team with birds. Forester's Terns hang like dainty kites above the water,
spying bait fish and knifing in and out of the water with elegant precision. Willets stalk the marsh grass in perfect camouflage while their cousins – Spotted Sandpipers – zoom ahead of the bow like tiny heralds of our arrival.
Ruddy Turnstones mass on a deserted dock. On a rocky beach it would be easy to mistake their textured shades of brown and white for stones, indeed. The flock leaps into the air in unison, an explosion of white under-bellies then the flash of auburn wings as they bank and turn.
Flocks of terns repeat the process, sometimes mingling with turnstones and other birds. They appear to move in unison like a single entity. "It looks like they're all moving in perfect sync," says Eric. "But if you can capture it in a photo, you can see they're all doing the best they can not to crash into each other." One of my favorite shots from the day captures a split second of wild maneuvering as a tightly packed flock of gulls, terns and dunlins take to the air. To the naked eye the birds appeared as one. The camera reveals the breathtaking chaos of flight as the individual birds execute intricate aeronautical adjustments.
Post Script
Over the course of four hours we tally an impressive list of photo-ops. The eagle eluded us, but there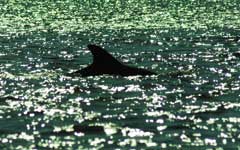 were many dolphin encounters, though none as remarkable as the first. We witnessed a sort of air-to-sea feeding frenzy as egrets, gulls, terns gorged on baitfish plucked from the marsh's edge, and dive-bombed the shoreline like tiny, feathered Stukas. And on a secluded oyster bed at the convergence of tidal waters we photographed an American Oyster Catcher as she patrolled her private beach, clearly concerned with a potential security breach. "I think we've bothered her enough," Eric says, picking up on the bird's growing agitation. Minutes later we're back on the Chechessee headed for home, squinting against the glare of the setting sun.
Eight hundred forty-nine photographs. That's what I fired off during the course of four hours on the water. And here's the hard lesson: of almost 850 photographs more than 90 percent were rendered completely useless in-camera. Most of the photographs I took that day ended up on these pages only after a monumental salvage operation by Lowcountry Publisher and Photoshop wiz, Jeff Evans. An exhaustive internal investigation turned up a bunch of old phone books, a petrified slice of half-eaten pizza and the theory that a combination of the borrowed Tele-converter and something called "operator error" are probably to blame. As Eric would point out "It's all a learning process," and once again I will be a better photographer because of it.
Book your own photo safari or wildlife tour with Eric Horan at www.southernlight.biz
or by phone at 843-524-3037. Email story ideas to Mark Shaffer at backyardtourist@gmail.com