The 8th Annual Beaufort Twilight Run Sets Record Pace
By Mark Shaffer
"If you run, you are a runner. It doesn't matter how fast or how far. It doesn't matter if today is your first day or if you've been running for twenty years. There is no test to pass, no license to earn, no membership card to get. You just run."
 – John Bingham
What is it that makes runners run? Does it go beyond simple quest for physical fitness? Is it a test of will? Is it an instinctive need to push the body to the extreme edge of its limits? Is it a genetic need to be faster – not necessarily faster than the apex predator chasing you, as the old joke goes, but faster than the next guy? Or is it more cerebral, a search for what the writer Joyce Carol Oates described as a way to free the mind along with the body?
The legendary distance runner Steve Prefontaine considered running as an art form. "Some people create with words or with music or with a brush and paints," he said. I like to make something beautiful when I run. I like to make people stop and say, 'I've never seen anyone run like that before.' It's doing something better than anyone else. It's being creative." Pre may have considered himself an artist on the track, but he was also a fierce competitor who said, "Somebody may beat me, but they are going to have to bleed to do it." And he meant it.
Whatever their motivations, skill levels and AARP status may be, a whole lot of runners are headed to the Lowcountry this month. More than 2,600 participants and spectators from more than 20 states are expected for the 8th Annual Beaufort Twilight Run (BTR) on Saturday, March 19. Once again the BTR returns to the idyllic setting of Habersham Marketplace and is presented by Habersham Properties. But this year things are different. This year the organizers decided the timing was right to take the BTR to the next level.
"We've grown the number of actual courses," says event director, Evy Trask. "This year we're the Lowcountry's Running Festival."
In its eighth year this USA Track & Field sanctioned running festival now offers more race options than any other similar event in the Lowcountry. In addition to the traditional 8K Run, 5K Run/Walk and Kids' Fun Run, Trask says three new races have been added to the schedule. The goal is simple: offer more options for runners at all levels while dangling a carrot to attract the attention of top-level national talent.
"We added a ten mile race to appeal to the serious competitors," she says, "and our Beaufort Challenge this year is a 13.1 half marathon which means a runner could run the ten mile race after they've run the 5K and that equals 13.1 miles."
This makes the BTR one of only two events in South Carolina offering a 10 miler as well as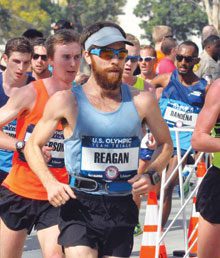 providing a full half-marathon distance. It worked.
"The ten miler caught my eye," says Patrick Reagan.  
Reagan was a two time NCAA Division II All American at Slippery Rock University a few years back and a nationally known competitor. He's currently the head Cross Country/Track and Field Coach at the Savannah College of Art and Design and finished a highly respectable 33rd at last month's Olympic Trials Marathon.
"A ten miler's extremely unique to the area," says Reagan, "particularly one that's USATF-certified." He also says the timing and location make the BTR a standout draw for top tier competitors. "The Lowcountry in March is perfect."
On the women's side some of that upper echelon talent won't have to travel far to compete, even though she's an ocean away from where she began. Beaufort's Joy Miller began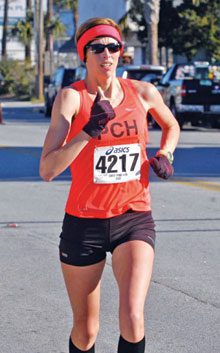 winning titles in her native Ireland at the age of 12. While Reagan was running at Slippery Rock, Miller was collecting trophies at Coastal Carolina before taking a three-year break. In the interim she married a Marine, moved to Beaufort, got back into running and school at USCB. Two years ago she earned NAIA All-America honors placing fourth at the 2014 national championship in her marathon debut. Miller's time also punched her ticket to the Boston Marathon. Her modest goal for this year's debut BTR ten-mile event? Set a new state record.
Trask says this kind of competition is a good indication of things to come.
"Those two elite competitors are coming specifically for that distance," she says, "which is very cool."
"I think running is catching fire in the Southeast and all over, really," says Reagan. The USATF-certification is also important for runners like Miller and Reagan who compete on a high level. "The last couple of years I've run a few times in Georgia that were faster than state records (10K and marathon), but they weren't on certified courses."
But even with a pair of legitimate threats for a record-setting day there's more to the BTR than running. It's also a family-friendly event in one of the most beautiful settings in the Lowcountry with food, music and more all to benefit local education. Apart from being a USA Track & Field – sanctioned event, the BTR is also a major fundraiser for Riverview Charter School, a free local public school for kindergarten through 8th graders. Over the past seven years the event has raised more than $350,000 for Riverview. The goal for 2016 is to raise more than $70,000 to help expand the School's technology, after-school and physical education programs.
"Because we're a charter school we need to fundraise more than a traditional school would,"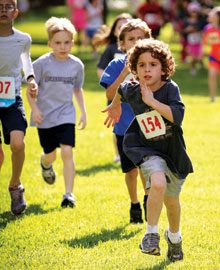 says Trask. "Another reason we do this is because it sits within our mission of engaged citizenship and getting out there in the world. Raising money by being outside and being with our families and friends and being active versus selling candy bars or wrapping paper fits more with the philosophy of the school."
While all of the racecourses are spectator-friendly and wind out beneath canopies of moss-draped live oaks alongside marsh and river views, this is a festival, after all. And the word "festival" usually implies food and music. Queue the After Party.
Once the last racer crosses the final finish line the rest of the evening promises to be a real Lowcountry celebration. This year Beaufort's own Broke Locals take the stage to fire up some of their self-described "Southern Fried Funk." Feed your inner foodie at the Marketplace restaurants or from a fleet of regional food trucks offering a wide range of culinary options. "There will be at least ten trucks," says Trask. "There should be something for everyone." That includes the other thing that goes along with festivals: beer. Expect a few local craft brewers to offer up some of their seasonal taps, as well.
DASH FOR CASH
This year along with raising its profile the BTR's also raised its total prize money to $6,000. It's a healthy sign for the event's future growth according to Trask, and something made possible through dedicated sponsors. "We appreciate their support so much," she says. "We wouldn't be able to do this without them."
For the 2016 Beaufort Twilight Run cash payouts will be awarded in the 13.1 Mile Beaufort Challenge, 10 Mile Run, 8K Run and 5K Run to the three overall male and female winners of each race. Prizes also go to the top male and female Masters (40 years old and up), Active Duty Military and Hometown Hero. And age group winners will take home a commemorative photograph for their effort, courtesy of the BTR.
"As the BTR gets bigger it just keeps getting better," says Trask. "It's a great event for competitive runners, but it's a great day for families, as well. As a runner myself, I appreciate an event that is well organized with clearly marked courses and has a fun after party with great food and music."
THE DETAILS
What:8th Annual Beaufort Twilight Run (BTR)
When: Saturday, March 19, 2016 3:30-9:30 p.m.
Where: Habersham Village in Beaufort, SC (11 Market, Beaufort, SC 29906)
Who: 2,600+ participants/spectators from the Lowcountry and more than 20 states
BTR Early Race Packet Pick-up/Late Registration – from 4:00-7:00 p.m. on Friday, March 18 in the Habersham Marketplace Fire House.  
BTR Race Day kicks off Saturday, March 19 at 1:00 p.m. with late registration and packet pick-up.  Event officially begins at 3:45 p.m. The 5K, 8K and 13.1 Mile Beaufort Challenge, 10 Mile Run, 8K Run and 5K Run will feature Chronotrack timing by RMS Sports and take place on a USATF (USA Track & Field) sanctioned course.
For more information including a full slate of events and registration visit www.BeaufortTwilightRun.com and like the BTR on Facebook.
Check out Patrick Reagan's running blog at http://patrickreaganrunning.blogspot.com.