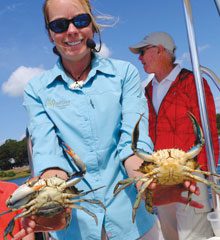 The Backyard Tourist Boards the Spartina With Capt. Amber
Story and Photos by Mark Shaffer

"Everybody needs beauty as well as bread, places to play in and pray in, where nature may heal and give strength to body and soul." – John Muir

The day is spectacular. The sky is a perfect pale turquoise seeded with a sprinkling of cotton ball clouds. A light breeze ripples the surface of the May River and rustles the spartina grass and ruffles the feathers of the shore birds stalking the edge of the salt marsh. It is the kind of cool spring day that we Lowcountry dwellers embrace with a hint of trepidation – a modicum of suspicion, even.
We are resigned to the inevitable hell's hammer of summer. Days like this often serve as a reminder of what lies ahead and how fleeting spring can be in the Lowcountry. Days like this are made for soaking up the natural beauty of this place and there is no better may to do that than from the deck of a boat.
           "Who can tell me why we have such high tides in the Lowcountry?"
            The question floats away in the river breeze. A dozen or so puzzled faces glance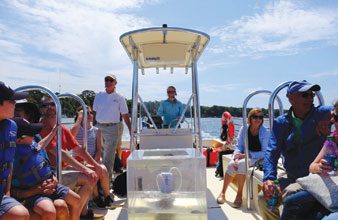 around and back to the petite blonde woman standing in the middle of the boat. Capt. Amber Kuehn is a Bluffton native who grew up on the May in a house not far from where we are now, just off the Calhoun Street dock in Bluffton. This morning just about everybody on board the Spartina, her custom 25-foot "floating laboratory," is from Ohio, Connecticut or Massachusetts. Several of the kids sport Red Sox ball caps.
            "It's because the Atlantic Ocean loves us more and sends us the most water," she deadpans. Pause a beat before the laughter. And just like that she has them eating from her palm as she explains the science of the tides and why our salt marshes make this place the nursery of the Atlantic.
            This is not your run-of-the-mill Lowcountry dolphin cruise. Although Kuehn does a dolphin tour it's not like any other dolphin tour around (more on that later). And Kuehn is not your average tour guide. She has a Master's Degree in Marine Biology and oversees the Hilton Head Island Sea Turtle Protection Program. She's also a natural born teacher and we are in her classroom.
            "People come here and don't know why this place is so important," she says. "The way the Lowcountry is designed – with the swamps, the shallow drop-offs, the big tide change, the marsh grass, the mud flats – this all has a purpose. And when you come in and develop and change it, it's going to change the salt marsh estuary and affect it. Not in a good way. We're starting to see the effects. The river isn't nearly as healthy and vibrant as it was when I was a little girl."
            Amber Kuehn (formerly Hester) grew up a self-proclaimed "river rat" in a Bluffton that has all but vanished under a tsunami of unfettered development. Outsiders eager to buy into the laid-back, Lowcountry lifestyle – preferably with deep-water access and a security gate – have displaced the locals along with the indigenous wildlife. Inevitably, the result always comes with an ironic twist. Kuehn sees each tour as an opportunity to make people aware of what's at stake.
            If Kuehn and the Spartina have a mission it is to educate visitors and locals alike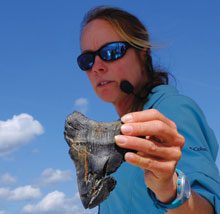 about the importance of this ecosystem. "More and more eco-tourism is coming to the forefront and people are traveling to learn about the environment," she says. "We have so much to offer in the way of a unique environment, something you don't see everywhere else."
            Kuehn's approach to each cruise is a clever blend of information, humor and a few props. Some of the props happen to be alive.
            "Who wants to dig for fiddler crabs?"
            Three young hands shoot into the sky. The kids gather round a bucket of sand as she coaches them on how to extract the uncooperative decapods. A Plexiglas live tank rests on a cooler in the center of the boat sporting an assortment of specimens including some of the fiddler crab's larger, meaner looking kin. She'll handle those herself.
            "The males have the big claw," she says. "They wave it around like playing a fiddle."
            She makes sure everyone gets an up close and personal look at Mr. Fiddler.
            "But mostly it's a message. To other males it means, 'Hey, I've got a big fiddle, better stay away.' And to females it's more like, 'Hey, I've got a really big fiddle.'
            While Kuehn holds class, her colleague Capt. Ray pilots the boat and keeps an eye out for the one thing everyone wants to see, dolphins. I first met Capt. Amber while working on a project with the Port Royal Sound Foundation last September. She runs ecology tours and school district field trips from the PRSC's Lemon Island docks. Book a seat for her regular Wednesday dolphin excursion and you'll help collect data with the USCB grad students involved in Dr. Eric Montie's study of acoustic communication of fish and marine mammals, specifically, dolphin.
            Kuehn worked for a tour company on Hilton Head for a time after moving back to the Lowcountry. Her employers thought her approach to the job was "overly enthusiastic."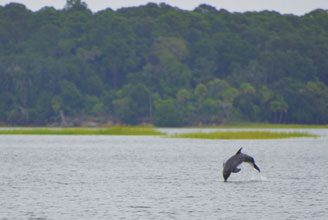 "They told me, 'Amber you're giving them too much information. Just point to the dolphins and give 'em a fun fact.'"
            To her way of thinking fun and facts are not necessarily mutually exclusive, but essential to one another. There are no dolphins to be found today, but no one seems to care. The locals – we have about 200 year round residents – are elsewhere and the seasonal visitors haven't shown up yet. "They're just like some of you," she explains. "They're from up north and they come down for what amounts to a vacation."
            Over the course of the two-hour cruise Kuehn conducts an interactive course in Marine Biology 101 laced with plenty of laughs and personal anecdotes ("I thought everyone grew up with a pet dolphin named Dolly"). At the core of this experience Kuehn's main message is all about stewardship and the fragile nature of this most extraordinary place. The math is simple: more development means more pavement, more rooftops, more drainage systems and more fresh and wastewater runoff into a salt marsh that has no direct freshwater influence. More freshwater runoff means reduced salinity levels and reduced salinity means disaster for this cradle of life.
            "That's why the water's green," she tells us. "It's full of life. If I ever wake up to a clear May River I'll know it's dead. If it's green, it's clean."

GET ONBOARD
Spartina Marine Educations Charters
Book a tour online at www.spartinacharters.com, call 843-338-2716, or email SpartinaCharters@gmail.com
Mark Shaffer's email is backyardtourist@gmail.com