From the basics to the big stuff, the Backyard Tourist has what's hot at Beaufort's local outfitters.    By Mark Shaffer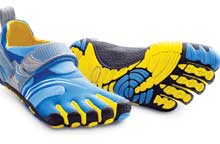 For a lot of locals and visitors alike, summer in the Lowcountry is all about being on, in or near the water. It's second nature for natives. After all, when you live on an island you're never far from water, and if you grew up in Beaufort chances are a large part of your summer was spent A) on a sandbar, B) in the river, C) on a boat or D) A, B and C.
The truth is we live in a paradise for water sports and outdoor activities in general with world-class paddling and fishing opportunities. We're also lucky to have two local outfitters with unique areas of expertise. Both Higher Ground and Bay Street Outfitters offer expert advice along with top quality gear and services. Higher Ground's primary focus has always been centered around the region's paddling community while Bay Street is practically holy ground for fly fishermen seeking the challenge of our world famous Lowcountry Redfish. And both stores sell really cool stuff you had absolutely no idea you needed.

HIGHER GROUND OUTFITTERS
Beaufort Town Center (look for the kayaks across from the Bi Lo)
843.379.GEAR
www.highergroundbeaufort.com
Higher Ground's been a Beaufort fixture since 2004. Tim Lovett spent nearly two decades in retail sporting goods before buying the place in 2010. Beaufort native Leslie Norris came on board soon after. As Leslie puts it, both "are passionate about what's right here in our backyard."
Boards, Boats & Beyond
One of the hottest summer sports on or off the water is paddleboarding (that's right, on or off the water). And Higher Ground's got you covered by land and by sea. So, how does one paddleboard on dry land, you ask? Why with a Big Stick and some wheels, of course.
Behold Kahuna Creations Longboard & Big Stick. It's a hybrid combination of skateboard meets paddleboard. The Longb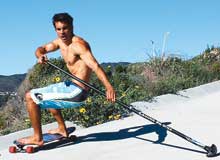 oard's basically a throwback skateboard but with the addition of the Big Stick something new is born: landboarding. The concept is pretty simple and made possible by the stick – which is essentially a long handled paddle capped with a hard rubber "blade" to provide the push and stability. Blades are replaceable and the sticks come in a wide range of styles and materials.
Higher Ground is the exclusive area dealer for Kahuna Creations and the only place around where you can try before you buy.
For those of us with a tendency to be a bit more "gravity challenged" a softer landing for the inevitable fall makes stand up paddleboarding – or SUP – a better choice. SUP traces its DNA back to ancient Hawaii. It re-emerged in the early 1960's as a way for surf instructors to better observe their students. Surf legends Laird Hamilton and Dave Kalama are credited with helping to stoke the current wave of popularity making SUP the fastest growing board sport on the planet.
Higher Ground stocks four major brands of stand up boards, including NSP, Naish, Odyssey and Tahoe. But it's the Tahoe Woody that makes us want to dust off our Ventures records and drop terms like "jazz the glass" and otherwise speak in Point Break. This board's a most excellent homage to the golden age of surfing, that nascent G-rated beach party where Dick Dale appears out of nowhere with an electric guitar, amps and a power source, spontaneous twisting ensues and somehow Frankie and Annette's hair remains annoyingly perfect.
If interests lie toward a more conventional approach to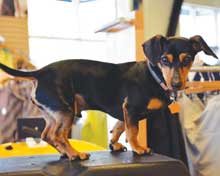 paddling Higher Ground's got you covered. It's no coincidence that the store mascot and resident badger hound answers to Hobie. HG is kayak central for Beaufort with a full line of Hobie boats including the newest innovation on the water. Hobie's exclusive line of MirageDrive kayaks replace paddles with pedals. The pedal drive can be configured for virtually any size kayaker. Hands-free silent running makes this boat a perfect choice for fishing and photography. The Mirage comes in a wide range of configurations, and, yes, there are plenty of paddle-powered boats in stock, too. Tim and Leslie will be happy to arrange for classes and lessons on anything that floats. Both paddleboards and kayaks are available for rent.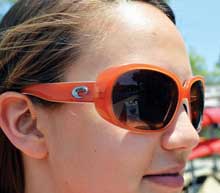 Whether you're headed out to the beach or plan to spend the day on the water you'll want to pick up a few essential summer survival items. A good pair of sunglasses is a must and Tim and Leslie highly recommend the best. Costa del Mar was created by professional fishermen who wanted more clarity, protection and durability out of their eyewear. Each pair of Costas is handcrafted in Florida and guaranteed for life. You'll want to make sure you keep them for life with a set of Cablz Zipz, the state-of-the-art in eyewear retention. Zipz easily attach to most glasses and adjust for a snug fit to the back of the head virtually assuring you'll never hear that sickening "plop" as your treasured shades head to Davy Jones' locker.
Summer fun is synonymous with summer sun. But with one in five of us likely to develop skin cancer, taking some precautions just makes sense. Sun Bum Sunscreens are tested, approved and recommended by The Skin Cancer Foundation. This means they meet extremely stringent standards that most drug store sunscreens don't. You'll find a full display of Sun Bum products at Higher Ground. So remember what the good folks from Cocoa Beach like to say, "the next time you
're out in the sun, protect your lazy ass and grow old with us." Trust the bum.
And finally a key part of gearing up to get outside in the summer heat belongs on your feet. You won't find a better selection of active footwear with names like Keen, Merrell, Chaco, Brooks, Saucony and the currently trendy, somewhat freaky Vibram FiveFingers – the "barefoot" shoe. Here in the Lowcountry it's simply a cultural necessity to own at least half a dozen pairs of sandals and flip flops in various stages of wear and decay, and one pair good enough to make the transition from beach to bar. Higher Ground is the only place in the Beaufort area where you'll find Sparky Longley's legendary Rainbow Sandals and walk out with the perfect fit. Sparky started making sandals in his Laguna Beach garage back in '72. Today each pair is still made by hand in the U.S. with a commitment to quality you just won't find in the average beachwear shop. In fact, at Higher Ground you'll find quality beachwear, active wear and great casual clothing made to last. Head for the Bi Lo on Boundary St. in the K-Mart shopping center and watch for the stack of Kayaks.

BAY STREET OUTFITTERS
815 Bay Street, Beaufort
843-524-5250
www.baystreetoutfitters.com
In his classic novella, "A River Runs Through It," Norman McLean writes, "In our family, there was no clear line between religion and fly fishing." I know a lot of fly fishermen who would make the argument that fly fishing is indeed a form of religion. In fact, "evangelical" is a term often applied to the men and women devoted to this sport/art.
Last fall Bay Street Outfitters owner, Tony Royal, was instrumental in bringing legendary fly fishing guide, writer and TV host, Flip Pallot, to town for a Wounded Warriors benefit. Meeting and talking to Pallot in the back of the shop – a cloister of fly fishing equipment and paraphernalia – was like sitting at the feet of The Master. For Tony it was another day at the office, and that office is ground zero for fly fishing the waters of Beaufort County.
I wouldn't recommend showing up at 815 Bay Street in only your boxers with a credit card and a burning desire to cast for redfish on the flats. But if you did, and Tony and the staff actually let you in, they could outfit you from head to toe, get you properly geared up, out the door and on a boat with one of the area's best Orvis certified guides in no time flat. Bay Street Outfitters is internationally known for its top quality gear and unmatched guides. Tony and the crew book hundreds of local fishing expeditions each year from all over the world. No matter what your level of expertise – novice or expert – Bay Street Outfitters has the gear you need as well as the gear you had no idea you needed.
Anyone who's ever flirted with fly fishing much less gone all in knows the true meaning of "sticker shock." Good gear is not cheap and cheap gear is rarely ever good. That being said, you can drop a king's ransom before you ever wet a line. And while True Believers will happily spend whatever it takes, newcomers and those of us who tend to be a bit more budget conscious need not empty the coffers to get in the game.
Tony recommends the Access Rod and Reel from Orvis. "It's mid-priced, light, great for Redfish and has a 25 year guarantee for any breakage on the rod," he says. "Plus the sealed drag on the reel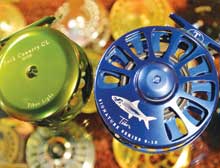 keeps out dirt and salt!"
The Access comes ready to fish. All you have to do is take it out of the nifty travel case and put it together. Line and backing are already on the reel.
Then again there is a certain pride and confidence that comes from fishing with the best. And when it comes to fly reels the choice is simple according to Tony. "Tibor reels. The best in the world," he says.
Tibor (pronounced TEE-bor) gets its name from company founder Tibor "Ted" Juracsik, a Hungarian born tool and die master with a passion for fly fishing and a gift for reel design. Juracsik became the youngest Hungarian ever to earn his Masterpapers in the tool and die trade at the age of 17. He joined the Hungarian Freedom Fighters revolt against the Soviets in the 1950's, eventually immigrating to New York, where he opened a tool and die business in 1959.
Juracsik met legendary fly fisherman, Billy Pate, in Florida on a 1970 fishing trip and a 35-year partnership was born. Juracsik moved his operation to Florida in the late '70's. Every Tibor reel is precision crafted out of bar grade aluminum for a lifetime of virtually maintenance free operation even under extreme conditions. Need another reason to consider? According to the company website, "At the recent International Game Fish Association (IGFA) Inaugural World Record
Achievement Awards, Tibor Reel Corporation received First Place honors for the most world records set on their fly reels in 2011 – more than any other fly fishing reel in history." And if that's not enough, the basic aesthetic of a Tibor reel is enough to hook you. Hold it in your hand. It's not only a finely crafted thing of functional beauty, it's an heirloom, as well.
Tony's short list of essential gear for the serious fisherman includes a versatile pair of pliers and boat shoes that won't give you the slip when you're battling the big ones. Tony's pliers of choice are Donnmar. He's never without his in a leather holster on his belt. Once again, quality is key at Bay Street Outfitters. Donnmar Pliers are handcrafted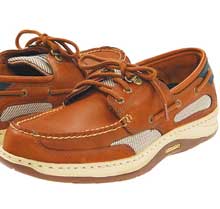 in the USA of military grade titanium. The super sharp tungsten-carbide blades will cut through just about anything and they're replaceable. The 'gripping' surface of the jaws features a 20″ diamond pattern for a secure hold. And like the Tibor reel, Donnmars will not rust, corrode or oxidize.
The recommended shoe it the Clovehitch by Sebago, "Designed to keep all feet on deck." It features premium Nubuck and full grain leather uppers, breathable mesh panels and Sebago's patented Marine Tack™ non-marking, slip resistant sole. Oh, and they're like wearing air. Fall by the shop and slip into a pair.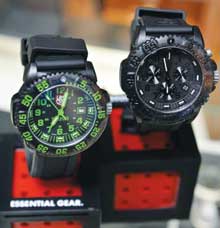 In an age where more and more of us depend on our phones to tell the time of day, out on the water there is still no substitute for a fine timepiece – particularly one that's tough, waterproof and visible in any light. Luminox has been making watches for the world's elite military units for years, including the Navy Seals and Army Rangers. The reason is in the name: Lumi is Latin for light while Nox is Latin for night. Luminox watches features tiny, permanently lit gas lights on the hands, hour markers and bezels. A Luminox is always readable at a glance even in complete darkness – up to 25 years of complete darkness, in fact. And they're shock proof and water resistant to 200 meters.
And finally a good folding knife is always a handy thing to have.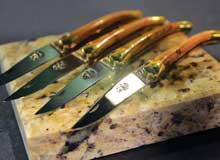 In keeping with the handcrafted theme Laguiole seems a perfect choice. These elegant blades have been hand crafted in the same French village for nearly 200 years. Mine has a smooth Juniper handle that feels like ivory that's been polished in palms and pockets for generations. The blade still has a mirror finish after years of use and holds an edge that demands respect. The Laguiole is a folding knife like no other and, frankly, not one to risk dropping in the drink. Think of it as a finely honed piece of art, one you may wish to pass along, perhaps in celebration of another summer yet to come, many years away.
Mark Shaffer's email address is backyardtourist@gmail.com