True West gives a big time movie professional a real sense of direction: home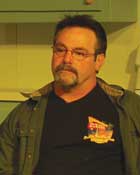 Jim Passanante's film resume includes blockbuster titles like Forrest Gump, Die Hard, Cold Mountain and Tim Burton's Big Fish. The soft-spoken former Los Angelino recently wrapped production in Savannah as the Lead Scenic on Robert Redford's upcoming Civil War drama The Conspirator.
Mark Shaffer: How does this experience differ from doing a big movie?
Jim Passanante: This is one little set. On a movie I'm going to have a hundred and twenty-eight big sets. This was fun, the other is going to be work. I did this all by myself. On the next movie job I'll probably have thirty or forty painters working for me.
MS: This set took six days, the next gig might take six months.
JP: It's going to take about four months probably working twelve -hour days, seven days a week.
MS: You moved to Beaufort after working on Forrest Gump.
JP: I was the last person out of the production office, the last person to leave here. I went back to California, stayed for about three months and came back to do Die Hard III in Charleston. I found the old General Dynamics plant where we built the subway station. Actually, I was just leaving Beaufort to go back to L.A. and John Jensen, the Art Director called and said, "See if you can find a warehouse big enough to build the train station." So I went to Port Royal and they gave me a picture of General Dynamics, I faxed it off to him, got on a plane about an hour later and by the time I got home he'd called to tell me that somebody was already going down to look at it. In a month they sent me a big "C" container to put all my tools in. I called John and asked who else was shipping in the container and he said, "Well, nobody." So I loaded up everything I owned in it and shipped it out here. Now I'm back here waiting for the container and they lose it.
MS: Everything you owned?
JP: All my tools, everything I owned was in it. They ended up finding it eventually, but that's how I got here. Two or three years ago I was thinking of moving back to California and my Dad says, "What's the matter? Why do you want to move back here?"
MS: The point being that even though the movie business isn't exactly booming here, you're in a prime location to work out of.
JP: Right. I'm actually working more than my two brothers. They're in the business back in L.A. They work out of town sometimes but when I'm working, I'm out of town – then I come back here. It's a great place to come back to.
MS: It is, indeed, which is why I think a lot of people are excited about this production and the hope that it will open some doors that haven't been opened before.
JP: Oh yeah.
MS: Would you like to have more "fun" jobs like this?
JP: Oh sure. I'd love to work right here in town and sleep in my own bed. And my wife (Scenic Artist Susanna Glattly) is trying to get out of the business. She wants to stay home. So, I've got six more years [in the movie business] then I'm retiring right here. We just planted a garden. I'm getting chickens. This is home.