Friends of Hunting Island gear up for 5th Annual Pelican Plunge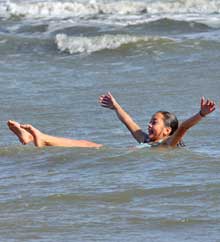 It was January 1st, 2010. I called my neighbor, Amy Matthews, and said, "I don't want to hear the word 'no.' Come on, we're doing the Pelican Plunge."
Unfamiliar with the event, she said, "Huh?"
I explained it was Hunting Island State Park's version of the familiar Polar Bear Plunge, executed across the nation on beaches and shores along hundreds of lakes and two oceans. Yes, thousands, if not millions, of people from year to year take their clothes off in freezing temperatures, run into the water in their summer suits with the most enthusiastic and uninhibited attitude to welcome the New Year.
"Are you in?"
"Well, Hell yeah I'm in," Amy exclaimed.
As I recall, that phone conversation was a little after 12 Noon on 1-1-10. We lived in downtown Beaufort. As you all know, Hunting Island is at least 30 minutes from town. We scurried to find our bathing suits, jumped in the car and headed out to the beach, without the aid of any sort of liquid courage.
After bustling to find a parking spot near the Lighthouse, we literally ran into the water from the asphalt as the bullhorn sounded.
We told each other it didn't count unless we went underwater. So, we did… and we stayed in. The temperature of the water was actually warmer than the air. Everyone stayed in the water.
When we retreated to the sand, we were welcomed with warm towels and robes. We walked a short
distance to the fire at the Lighthouse complex and listened to the sweet soundsof the steel drum band.
We did it! Now, it was time to celebrate at nearby Boondocks, where participants were treated to discounts and camaraderie.
So, 2010 came and went. It was time again for the next Pelican Plunge in 2011. I did it with another friend. This time, we made sure we were out there in plenty of time to register and participate in the fun that preceded the event. The parade of silly costumes, the kazoo recital and the consistent chatter that 2011 was sure to be better than 2010 kept us entertained for nearly an hour before the annual bath in the Atlantic.
Once again, we were thrilled and chilled as we ran into the salt water donning our bikinis and Birdwells. And once again, the water was warmer than the air. It's a phenomenon many are reluctant to believe, until they do it themselves.
So, it's almost time to do it again this year. I missed 2009 and 2012; but I won't miss the Fifth Annual Pelican Plunge, January 1st, 2013 at 1pm. Do it with me Beaufort! I personally charge each of you. No, I dare you. I triple doggy dare you.
The proceeds from personal and team pledges benefit Hunting Island State Park's Discover Carolina program, a hands-on, curriculum-based instruction model program for 3rd, 5th and 7th grade students.
I know well what this program does for Beaufort County students. In my former career, I taught it as the Interpretive Program Manager for Hunting Island State Park. And, it works. Explaining Marine and Barrier Island Ecology to kids who have never even seen the beach is a task. Showing it to them in a living classroom is a priceless reward and provides an educational opportunity that surpasses the traditional learning experience.
So far, the Pelican Plunge, thanks to the Friends of Hunting Island, has raised over $10,000 for the Discover Carolina program, and Hunting Island is about to surpass the 3000 mark in the number of 3rd, 5th and 7th graders who have participated in the successful educational program on our beloved barrier island.
Join me, Lowcountry. Join me to welcome 2013 at our favorite State Park, in the water or out, dressed up or not. Just come. Let's have some fun! Let's celebrate what we love… our home, our children, our future!
Registration forms for the Pelican Plunge are online at www.friendsof huntingisland.org. For more information call 838-2011.