Executive Chef Brian Waters Gets Fired Up.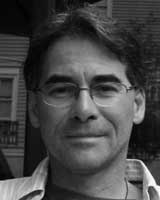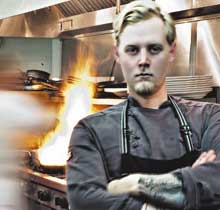 "It's good to stay hip to the current culinary trends, but it's also really, really important to know your roots. Sometimes tried and true techniques are best. Sometimes simple is best – especially when you're dealing with the kind of product I get all the time."
– Saltus Executive Chef Brian Waters
When the masterminds behind Plums Inc. – owner Lantz Price and Chief of Operations Chip Dinkins – opened Saltus River Grill in 2001 they altered Beaufort's culinary landscape. The bar was raised. In the intervening years, others answered the challenge. Some succeeded, others did not. Beaufort became a restaurant town. The farm-to-table movement took root. Anthony Bourdain published Kitchen Confidential. Celebrity chefs got their own TV network and for a while we were fascinated with the strange Japanese phenomenon called "Iron Chef."
Through all this Saltus remained a favorite of locals and visitors alike, with a reputation for attracting the high rollers from out of town. Its hybrid design might work in midtown Atlanta, San Francisco or Manhattan. Only the view of the Beaufort River and the bridge spoil the illusion. The dining room feels at once both open and intimate, with broad strokes of chic as the sun dims and the candlelight flickers. This time of year the Napa style patio is a great spot to unwind with a cocktail by the fire pit and watch the snowbirds drift south for the winter. The elegant, minimalist stone bar looks long enough to land a small plane on, but patrons may be three deep on a busy Saturday night. Celebrity sightings are not uncommon.
Yet beyond all the style and fashion there is substance: the food.
"I think Saltus is a place that serves simple good food prepared with solid technique."
That's Executive Chef Brian Waters when asked to describe his restaurant to a stranger. He pauses, searching for something else.
"You know I have a hard time answering that question," he says. "In a lot of ways this is very much a fine dining restaurant, but at the same time, anybody can come here and eat and recognize the food and relate to it on many levels.
"You can come here for a 3-course meal or just have a steak, or some sushi and a drink at the bar. You can have a glass of wine and a small plate and still have a great dinner without spending a ridiculous amount of money."
Southern Living Magazine calls Saltus' raw bar the best in South Carolina, offering up selections of shellfish from both coasts in addition to local shrimp and oysters and the only sushi on the Beaufort waterfront.
Chef Waters is also a recent convert to the sacred order of the wood fire grill which both simplifies and expands choices for chef and guest alike. "We brought the wood grill a la cart menu back to the forefront. It's no longer just composed dishes," he explains. "You can come in and get something as simple as a grilled piece of fish or steak and a side of your choice. As for everything else, we change with the seasons."
Saltus may bill itself as an "urban seafood grill," but if you get the urge to cowboy up for dinner, the chef will be happy to slap a thick cut New York strip on the wood grill, or how about a whole rack of lamb?
Tonight my wife Susan and I are here at the Chef's invitation to sample some of the new seasonal offerings on the menu. He'll toss in a favorite or two, as well. He asks if we want to know what's coming to the table. We opt out. Let it be an evening of surprises.
We slip into one of the cozy, intimately lit booths adjacent to the bar and place our full confidence in our server Daniel, to decide the wine pairings. Saltus offers an extensive list of wines by the glass, bottle or both. Our first is the Eidosela Albarino, a crisp, floral
Spanish white with undertones of green apple. It's an instant favorite and spot on for the first plates.
FIRST COURSE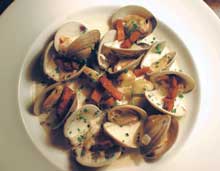 The Chef's play on Clam Chowder is a bowl brimming with local clams in the shell, roasted fingerling potatoes and crispy bacon in white wine butter sauce. The pate is a sinful blend of chicken liver and duck leg confit plated with Brant Family Farm's arugula salad, grilled croutons, pickled okra and Dijon mustard.
I'm an idiot when it comes to anything that remotely resembles pate, but this mix of confit (duck braised in its own fat) with the chicken liver is pure decadence on toast – one giant leap beyond simple liver. The accompaniments add different dimensions of flavor and texture. Non-southerners might be put off by the bold choice of the pickled okra. Fine. That's more for us. The plate's a beautiful balance of savory and sweet.
The chowder is almost too pretty to eat. The clams are fat and juicy, fresh out of the Broad River, swimming in a rich broth brimming with chopped fingerling potatoes, thick-cut bacon lardons and laced with pepper and chives. This may be the perfect example of what the chef means when he talks about "minimal manipulation"of ingredients. It's all right there to see and savor. We both agree this may be the best variation on clam chowder we've had – at least in recent memory – and trust me, that's a lot of chowder over the years. Two words describe both dishes: rustic elegance.
SECOND COURSE
Daniel clears the way for the next course with the un-oaked Lincourt Chardonnay from California. It's smooth and mellow, a bit floral, with nice acidity – kind of like drinking an old Linda Ronstadt tune. We sense fish on the way.
The Blackened Dorado – one of the restaurant's most popular dishes – is topped with caramelized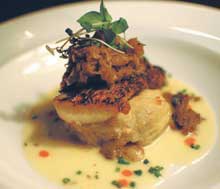 fennel on a mound of potato and crab gratin in beurre blanc. The Dorado is a beautifully flavored fish – not overpoweringly fishy, but deep and complex and fully complimented by the luxurious gratin. The fennel and crab play their own notes in this quartet and the fish practically melts in your mouth. Spectacular.
The Market Fish of the evening is Grilled Wahoo served with potato gnocchi, wilted spinach, pulled duck confit in duck au jus with a drizzle of basil oil. The Wahoo is quite the opposite of the Dorado – firm fleshed and mild. It serves as palette for the rest of the plate. The gnocchi pulls it all together in brilliant fashion, soaking up the confit au jus. It deserves a plate all its own.
THIRD COURSE
The first red of the evening is the Tahuan Malbec from Argentina with a nose of earth, leaves and leather. It's a bold, deep red but it drinks smooth with nice tannins and no bite.
The next dish is a bit of mad juxtaposition: Carmelized Scallops with Braised Pork Belly served up on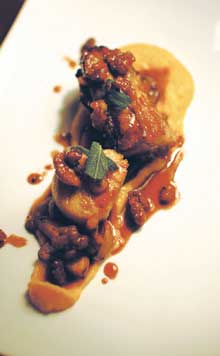 a bed of butternut squash puree with roasted fingerling potatoes, walnuts and fried sage. At the same time, Brian's sent out a beautifully sliced Duck Breast with Savory Leek Bread Pudding. Fresh roasted baby root vegetables and cranberry & bacon (!) jam round out the plate.
For the uninitiated, pork belly is basically where bacon begins, and it's probably not for everyone. But as the aforementioned Mr. Bourdain would be quick to point out, pig fat makes everything better. And that includes scallops. Brian starts his out on the wood grill to harness the smoke and crisp up the fat before slowly braising it in chicken stock and then finishing it off with another go on the grill. This is a tricked out variation on what was once considered (and still is in a lot of places) poor folks' food. And damn, is it tasty.
The walnuts and fried sage raise the flavor bar. There's an awful lot happening on this plate, none of it bad.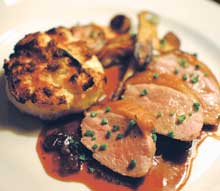 I will confess that I'm not a huge fan of duck. But even so, this is simply lovely – perhaps the best seasonal plate of the night. The root veggies are perfectly carmelized to bring out the natural sweetness. The duck is properly rare and (at least for me) and the bacon-laced jam is a beautiful compliment. And the leek bread pudding is light and indeed very savory, the kind of side dish that can easily distract from the main attraction. You could sell these things from a street cart and make money on a winter's day (maybe with a smear of that jam).
DESSERT & BUBBLY
We end the evening with a glass of the Cavicchioli Brut Moscato – a bubbly with notes of toasted pear and vanilla. It's a nice palate cleanser to go with the two sorbets Brian sends out. The pineapple sorbet is garnished with a bit of basil. It's fresh and clean with a bit of an extra lift from the herb. The apple butter sorbet with caramel sauce and a ginger snap cookie tastes like Christmas. Like everything else we've gorged on, they are wonderful and house made with the freshest ingredients.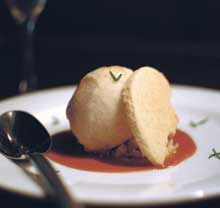 As we polish off the last of the bubbly, the chef takes a seat and the pork belly inspires a conversation about inspiration. "A lot of our inspiration comes from really, really old Southern cuisine,"says Brian, "then we think about ingredients and technique; what's been done in the past and where we can take it from here." That's an easy answer: to the next level.
Cooking and the Zen of Repetition:
A Conversation with the Chef
Brian Waters wears his passion for food as proudly and prominently as he does the heavily inked tattoos on his forearms. The young Executive Chef of the Saltus River Grill is – like many of his peers, friends and competitors – an evangelical proponent of the farm-to-table philosophy. If it can be produced locally, he's got a source and he'll serve it up with as little manipulation as possible. "You should know what you're eating," he says. He's recently partnered with the Brant Family Farm near Varnville, SC to raise heritage breed pigs eventually destined for the tables at Saltus. Part of the arrangement with the farm means the chef takes part in the whole process, including the slaughter – a new experience for Waters, one he's not exactly relishing but appreciates deeply.
"It all boils down to respect – to know and respect where your food comes from," says Waters.
The soft-spoken native Beaufortonian drew inspiration from time spent as a child watching and helping his grandmother in the kitchen and garden. In 2001 restaurateur Lantz Price hired the youngster on part time in the kitchen at Plums – Saltus'mother ship – and Waters natural talents began to emerge.
"I worked my way up in that kitchen and as soon as Saltus was in its early stages of conception, I knew I really wanted to be a part of that as soon as possible, "Waters recalls.
Once again, Price made that possible, urging Executive Chef Jim Spratling to take him on. Waters started out on the cold side of the kitchen, prepping salads and appetizers. When the original Sous Chef departed, Waters got the job. When Spratling left to open another Plums Inc. property Waters moved up again. And when Spratling moved on (he's currently Executive Chef at Callawassie Island Club), Waters was the home grown choice to fill the role of Executive Chef.
Mark Shaffer: By a lot of industry standards this is kind of a dizzying progression. Do you ever look around the restaurant and just go "Wow."
Brian Waters: It's kind of crazy to think of how much it's changed in the past 11 years I've been with the company – not just this restaurant, but the whole downtown scene. Breakwater's a great example of that, from the early days in the old location to the new restaurants and all the success they've had.
MS: Beaufort's evolved into a culinary destination. The standards are higher and the competition is stronger in just these last few years. We're more aware of food as a nation, I think.
BW: Definitely. It keeps you on your toes as far as what you offer the guest. It influences the techniques you bring forward. It's good to stay relevant in these times. As you said, Americans are more and more aware of not only what they eat but how it's cooked and by whom. It's good to stay hip to the current culinary trends, but it's also really, really important to know your roots. Sometimes tried and true techniques are best. Sometimes simple is best – especially when you're dealing with the kind of product I get all the time.
MS: You've really embraced the wood-fired grill recently.
BW: I'm pretty sure we're the only restaurant [downtown] that has one.
MS: What makes it so special?
BW: You harness the flavor of the wood. I smoke things on it all the time. As long as you can control the fire and flame you can do an endless amount of things. Right now I pretty much grill everything, whereas I used to sear things in a really hot pan with hot oil. Now I find myself grilling things before I make a stock to harness some of that flavor. I'll grill short ribs before I braise them to get the smoke and carmelization. It adds another dimension to the food.
MS: What sort of mindset do you take into the kitchen?
BW: For me it's finding happiness in the mundane. Cooking is repetition, every day. No matter how much you progress, you're still going to come in and cut onions, chop carrots, pick parsley. There are some things that never ever change. If you don't find happiness in that repetition at some point as a chef or a cook, you're going to drive yourself crazy and might as well not be in the business. I always try to do it a little bit better than the day before. For me it's all about finding happiness and peace in doing the same things over and over again.
COMING UP AT SALTUS:
The 3rd Annual Saltus River Grill Wine Dinner benefiting the Beaufort International Film Festival is Thursday, January 24, 2013. Tickets are $50 per person. Reserve your seat at 843.379.3474 or online at www.saltusrivergrill.com

SALTUS RIVER GRILL
802 Bay St. Beaufort, SC
(On the Waterfront Park)
Reservations: 843-379-3474 & www.saltusrivergrill.com
Dinner Daily at 5pm
Cocktails & Raw Bar at 4pm, patio seating available
Atmosphere: (from the website) "…a cutting-edge urban seafood grill offering exceptional fare, breathtaking water front views, incomparable service and a sophisticated bar…"
Mark Shaffer's email is backyardtourist@gmail.com