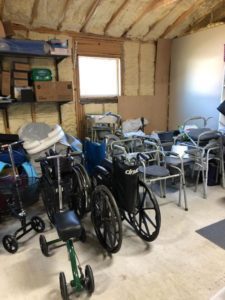 The Lending Room, located on Parris Island Gateway adjacent to the Lowcountry Habitat for Humanity Re-Store, is looking for a new home.
The non-profit which accepts and distributes gently used medical equipment for a nominal donation was notified recently they will be forced to vacate their current facility by April because the property owned by Habitat is in the process of being sold.
The Lending Room was started in 1961 by Beaufort Memorial Hospital's Women's Auxiliary. The legacy of community leaders like Natalie Haskell, Mrs. Sam Smith and Becky Trask continues today with all volunteers, distributing equipment to those in need, regardless of income or insurance.
"We have been blessed over the years by individuals and organizations which support The Lending Room's mission whether it was operated in basements, garages or storage units," Board President Martha O'Regan said.
For the past two years, The Lending Room operated out of a free-standing structure on the property of Habitat for Humanity but because the property is in the process of being sold, the organization will have to relocate.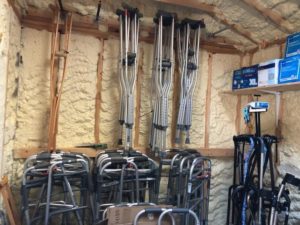 "We have faith in our community that the Lending Room will continue, that Beaufort residents, our nonprofit collaborative partners and local businesses find value in what we do," O'Regan said. "If you have used our services or believe our services are vital to the community, we could use your support, whether it's a financial donation or helping us find a new home."
For more information about the organization, check out https://lendingroombeaufort.com.
"The Lending Room may be struggling, but with our determination and your generosity, we believe we will continue to serve our community for a long time to come whether it's through financial support or simply spreading the word," O'Regan said.
Tax deductible donations can be made via check to The Lending Room, Inc., and mailed to P.O. Box 1535, Beaufort, S.C. 29901 or dropped off at the 616B Parris Island Parkway location.