LCSOPA's Deanna Kraszewski bids a fond farewell to Beaufort.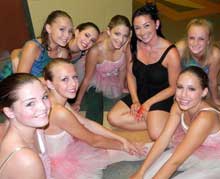 She did it her way, and we all took her lead. This 30-year-old pirouetted into Beaufort with not only the desire to teach dance, but the resolve to instill a love of the performing arts in the youth that call the Lowcountry home. And, as Deanna Kraszewski gives her last curtsy Saturday, she will certainly elicit a standing ovation from parents, grandparents, peers and friends, all of whom have benefited from her tenacity, strength and grace.
On Saturday, December 22, Lowcountry School of the Performing Arts, locally and affectionately known as LCSOPA, presents That's Life: A Tribute to the Rat Pack, featuring songs, Come Fly With Me, New York New York, Luck be a Lady, Summertime and more. And the performance will conclude with the most beloved standard of all time, My Way, which is sure to deliver an appropriate and symbolic farewell to Beaufort's innovative darling, LCSOPA's Artistic Director Deanna Kraszewski, just before she moves to Colorado with her family.
When she arrived in Beaufort, Deanna and her husband, Jered, were young entrepreneurs, determined to make a difference in their adopted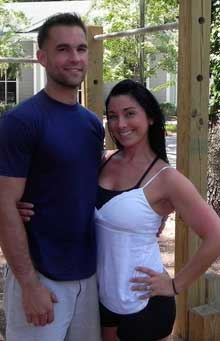 community. Jered started a fitness club that delivered military-inspired personal training to adults and children, and Deanna laid the foundation for LCSOPA. Eventually, they opened their respective businesses in the same building on Sams Point Road. Though their trades differ in mechanics, their philosophies are the same: Every child deserves the opportunity to live a healthy, productive and happy life.
Deanna teaches her students to understand the fundamentals, but also the proper techniques and terminology to make a lifelong impression. She's taught my daughters, Abbie and Julia, for five years. They love her as much as I believe she loves them.
After her presentation of Wizard of Oz in 2010, Deanna commented to me, "It is a wonderful feeling as a teacher to sit in through a rehearsal and see the smile of success on each person's face when they accomplish something they thought was impossible. Whether the students are 5 or 45, there is nothing better than seeing their smile and knowing that in some way, they have been touched by the beauty of the arts."
Linda San Pedro-Townsend, a loyal parent, has been touched by Deanna. She writes in a personal message, "Deanna, words cannot express how much you will be missed! Since the first day you met Maddi, you were able to put a smile on her face and reignite her love for dance when she was ready to quit. You have given her the confidence she needed to believe in herself, have happiness and inspiration. Thank you for bringing back that light in my daughter's eyes when she dances."
My oldest daughter, Abbie, recently created a slide show to thank Ms. Deanna for everything she's learned. It wasn't just a photo medley of different dance moves. It was a tri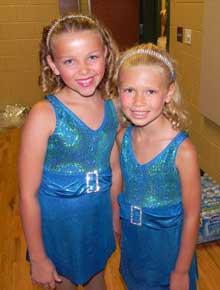 bute that featured every single costume she and Julia ever donned; sentimental messages that used imaginative language; music that complimented the variety of styles of dance she's learned, from Hip Hop to Ballet to Jazz; and most effectively, illustrated the sense of family that exists at LCSOPA.
That's what I think I'll miss the most. LCSOPA was, and will remain, a family. The young girls who enroll (known as the pink, blue and purple girls) are immediately greeted by 5th and 6th year veterans, those teenagers who have studied at the studio for years. They take these little girls under their wings and teach them their love of dance by example. Along the way, these little girls understand respect and community, while the older girls appreciate responsibility and the significance of being a good role model.
Celene Lampright was Deanna Kraszewski's first student. The fifteen year-old prodigy explains, "From the first second I stepped onto a dance floor, I knew I wanted to dance as a career. It is my passion. There are no words to say how Deanna has transformed that dream for me and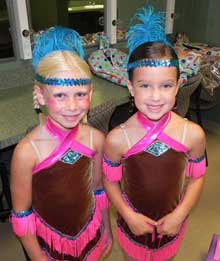 for the rest of the school as well."
Darby Kinsey started with Deanna when she was four. Darby's mother, Kersty Kinsey, says, "Darby was among Deanna's first group of students when she taught at The Omni Gym. The confidence Deanna inspires in my daughter is a gift that only she could give. Deanna, thank you for the patience, the skills and the love of dance you have instilled in all of your girls!"
When Deanna moved her business to Carteret Street, the community began to take notice. Not only were parents delighted with their children's accomplishments, but passersby and the rest of Beaufort became intrigued with the studio. The Carteret Street Renaissance created a rebirth in commerce on the main thoroughfare in Beaufort, and LCSOPA is the icing on the cake creating an atmosphere of cultured activity.
Thankfully, LCSOPA will remain on Carteret Street. The business was sold to current faculty member, Elyse Larew, who will take over ownership and the role of Artistic Director.
In a message to all of LCSOPA's parents, Deanna reiterates, "The school, its philosophy, policies, and what makes LCSOPA what it is will not change; because, it's not me that makes this school, but rather all of you and your amazing children."
"Change can be scary, frustrating, sometimes inconvenient, but everything happens for a reason; and I truly believe that this next chapter for LCSOPA is destined to be great!"
That's Life will end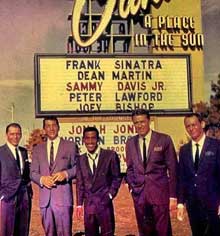 Ms. Deanna's chapter in Beaufort. But in no way is it the end of her life's composition. There will be more students in her future, I have no doubt. And for those who have had the pleasure and honor of taking from her here, I'm sure they will all agree that Deanna Kraszewski deserves deafening applause and sincere appreciation. Sinatra would agree . . . she did it her way. Brava Ms. Deanna! Brava!
Deanna Kraszewski studied Drama and Dance at Hofstra University in New York. She has worked in the Connecticut, New York, North and South Carolina areas as a performer, choreographer and director. She, her husband, Jered and daughter, Francesca, are moving to Boulder, Colorado.