BHS Grad Eric Freeman wins Len Miret Scholarship
Though they never met, and were very different sorts of athletes, it's easy to imagine that Len Miret would have loved Eric Freeman, a recent Beaufort High School graduate and accomplished young dancer who received a $3000 scholarship given in Miret's name.
Miret, a beloved youth soccer coach, passed away on September 11, 2006 after a five-year battle with cancer. Miret was only 38 years old. He was survived by his parents, wife, and three young children, at the time aged 10, 9 and 5.
Born in Queens and raised in Miami, FL, Miret was always an athlete. He moved from baseball to soccer in high school and college and made the team at Division I at the University of South Florida. Playing soccer helped defray Miret's college expenses, and later in life, as he coached kids, he could convey his own love of the game to the boys and girls he coached.
Even while coping with the ravages of cancer and its treatment, Miret would return to work and to soccer coaching whenever he was able. In the waning days of his life, he told a reporter, "'Attitude is everything,' transferring his sports mindset to take on his most daunting adversary, his disease. Deploying prayer, meditation, and positive imaging, Miret counteracts the negative force of his illness with a positive spiritual polarity."
Habersham resident Joey Gazdak met Miret when Miret worked for him in The DSL Group in the late 1990s in Florida and in New York. "Len was a guy who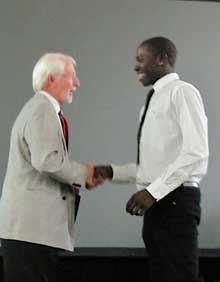 never had a bad thing to say about anyone," Gazdak recalls. "Always had a smile, was always friendly, and it was always genuine."
His wife, Cathleen, who now lives in Summerville, SC, conceived of the idea of a scholarship to memorialize her late husband. At first, only Miret's family members were involved with the fund, but later Gazdak recruited others to participate, and some of Miret's high school buddies joined in.
According to the scholarship's website, it is meant to commemorate "the life of a man who was committed to his family and friends and dedicated to the development of young athletes. Not only did Len play soccer, he coached the game for many years. He believed that participation improved physical skills, mental acuity, and responsible social interaction."
Scholarship criteria include demonstrated financial need, participation in a varsity sport for two years, an unweighted 85% grade point average, community service, and acceptance at a four-year college or a two-year community college.
Eric Freeman, who's 17 years old, is a Beaufort native and one of four boys in his family. He learned about the scholarship from his mother, Sholanda Freeman, who knew someone in the school system, according to Gazdak, and was looking for money for him for college. "I was dubious at first," Gazdak said, because of the scholarship's athletic requirement. Dancing had never before been considered an athletic endeavor, "but his mother was very persistent, and won me over," Gazdak recalls. And given the ovation the obviously popular Freeman received when the scholarship was awarded to him at Beaufort High's Senior Night, "I guess he won over the whole student body as well."
"I think I've convinced the directors that we should look most importantly at financial need," when considering scholarship candidates, Gazdak says. "Lots of very good students get scholarships, but what about the rest of the crowd? Who is helping the B and C students? I was influenced in my thinking by Pearl Fryar, the topiary guy in Bishopville, SC."
This year, scholarships were also given to seniors in Lake Huntington, NY, Summerville, SC, and Wellington, FL. The scholarships first recipient, Morgan Edwards, graduated from Syracuse University last year. Including this year's recipients, the fund has given out a total of 15 scholarships.
Freeman plans to study business and dance, spending his freshman year at Clark Atlanta because,
he says, "it has a very good business program, and it's close to home." He will then transfer to Loyola Marymount University in Los Angeles, so he will be able to spend his sophomore through senior years auditioning for music videos.
A dancer since he was 10 years old, Freeman said he enjoyed Mrs. Baker's dance classes at Beaufort High, and "it's also something I love to do. I like the fact that dancing never gets old. You can never know too much."
That passion sounds very much like a quality Len Miret would admire. Asked how he feels about graduating high school, Freeman displays the positivity and forward-thinking that so many admired about his scholarship's namesake: "I feel free. I can't wait to start my life. I'm looking forward to opening a successful studio after college."
To donate or learn more about the Len Miret Memorial Scholarship Fund, visit their website at www.LMMSF.org.