Cyclists to Hit the Streets of Downtown Beaufort for
2nd Annual BMH Classic
As soon as this assignment came up I began pondering the truth behind the old adage: it's just like riding a bike. The implication being that one never loses the skill once it's learned. You just don't get that kind of guarantee with say, motorcycles, horses or golf clubs (to be arbitrary). Only a bike comes with that kind of truth attached (and perhaps a log, which I'm told is easy to fall off of).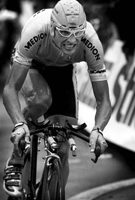 We never really lose the thrill of our first time aboard the old Schwinn sans training wheels, careening down the sidewalk at about a hundred miles per hour (or so it seemed) struggling to stay upright with Mom or Dad or both running alongside, shouting encouragement and/or screeching in terror.
It was great.
The writer, Elizabeth Bowen, captures that magical melding of child and machine perfectly when she writes: "…my first [bicycle] had an intrinsic beauty. And it opened for me an era of all but flying… Nothing since has equaled that birdlike freedom."
Some of us forget that freedom and the bikes get left out in the rain to rust as soon as we get a learner's permit. And then there are those among us who never leave the bike behind, who would much rather experience life on a more elemental level. Cyclists are a breed apart and the streets of historic Beaufort will belong to some of the finest Pros on the planet April 29th for the second annual Beaufort Memorial Cycling Classic.

I've read that I flew up the hills and mountains of France. But you don't fly up a hill. You struggle slowly and painfully up a hill, and maybe, if you work very hard, you get to the top ahead of everybody else. -Lance Armstrong
This isn't the Tour de France, either. But it's a lot more fun to watch. The BMCC is the second stop for Speed Week, a nine day, seven race series spanning the Carolinas and Georgia. The races are run criterium style (crits, for short). The courses are typically short, tight and torturous where Olympians, national champions and internationally ranked riders test their skills against each other, their team mates and the whims of the course in a Grand Prix atmosphere.
"Bike handling skills become major factors – cornering and speed. They're constantly attacking each other," says D.G. Veitch, one of the local organizers and veteran competitor. "With this kind of event you can create a festival environment. This is spectator-friendly." It's also a natural partnership for the medical community according to Beaufort Memorial President and CEO, Rick Toomey. "Our interest in being a part of a pro cycling event is to promote the importance of active, healthy living," says Toomey. BMH has opted for a third year of sponsorship in 2009.
The 2008 Classic kicks off April 24th with "Cycling Sunday" in the hospital annex on the main campus from 2-5 p.m. Members of the Lowcountry Velo cycling club will hand out free helmets, help out with fittings and promote cycling as a safe and worthwhile family activity. The afternoon is capped with a family fun ride through Mossy Oaks Plantation with some of the pro riders and kids who participate get a chance to win a one of two bikes provided by Lowcountry Bicycles. Perhaps Lowcountry Velo member Scott Willard best sums it up when he says it's all about "putting our legs where our mouths are." I get it.
It never gets easier, you just go faster. -Greg Lemond
And then there is the race.
And then there's race day with some of the top male and female riders competing for a slice of the $15,000 purse. The pack laps sixth tenths of a mile through the narrow, winding streets of old Beaufort cruising at speed of 25 to 30 miles per hour with sprints hitting 40 mph. "Physically, it's probably the hardest thing – maximizing your abilities for a solid hour or more, " explains Willard. "Imagine riding for a solid hour as fast as you can." Now beam yourself into a field of 100 riders or more, maintain your pace and concentration, always aware of your team mates, drafting, blocking, exploiting a breakaway, looking for the perfect leadout to launch the winning sprint.
And the crowd goes crazy.
Drawing a crowd hasn't always been easy for American cycling events. Even with Lance Armstrong's recent domination of cycling's Main Event (kind of like winning the World Series years in a row), the sport has never reached the levels of hysteria that seem to infect European fans. Hence the advent of the "crit" format. "The Athens (GA) Twilight is the Big Daddy of the circuit," says Veitch. "Crits are easier to put on and manage – gives the town a chance to put on and promote a professional event in a festival atmosphere." That atmosphere has worked well for Athens. The Twilight debuted in 1980 with a single race featuring just 40 riders and a few hundred spectators. This year's April 26th spectacle features 11 different races with 120 top riders competing in the main event. More than 30,000 people are expected to attend. More to the point, they'll not only watch some of the racing, they'll also be spending a lot of money on food and lodging. And that's fine with the local downtown merchants who turn an otherwise slow April weekend into a profitable happening.
This model is not lost on D.G. Veitch and his fellow Lowcountry cyclists who see the possibilities for the future of the Classic. "This event can only be as good as the people with the keys to the street," he tells us, "and so far they've been pretty good." Veitch sees the future of the Classic directly tied to the rising local interest in cycling, "it's come together because more people involved are riders. The buzz is good. Ten years ago there was no buzz." Scott Willard agrees, "I hope it puts Beaufort on the (cycling) map, to raise awareness of the cycling community here. Being a coastal town you get to see more from a bicycle. It makes more sense."
When the spirits are low, when the day appears dark, when work becomes monotonous, when hope hardly seems worth having, just mount a bicycle and go out for a spin down the road, without thought on anything but the ride you are taking. -Sir Arthur Conan Doyle
Now – with apologies to Freddie Mercury – get on your bikes and ride!

For more information on Speed Week and the Beaufort Memorial Cycling Classic visit www.lowcountrycyclist.com