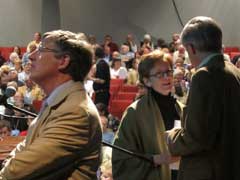 The Beaufort Three Century Project ends with a knockout
For the last three years Deborah Johnson has filled the roll of a Lowcountry Sisyphus, stubbornly pushing the mass and responsibility of the B3C project steadily uphill, oftentimes by shear force of will. It has at times been all consuming, thankless and frustrating while at others it has been a unique and rewarding journey through the heart and soul of a community and its diverse people and history.
As the city prepares to celebrate it's 300th birthday – the impetus for the project back in 2007 – Johnson prepares to pack up the donated office on Port Republic Street and move on to whatever comes next. I recently sat down with the B3C's Project Coordinator to reflect on the last three years and discuss the legacy it leaves behind for future generations.
Mark Shaffer: This is kind of like your exit interview, I suppose.
Deborah Johnson: I know (laughs). We're done.
MS: It's been a monumental task and a struggle at times, but looking back on these three years, how does it feel to come to the end?
DJ: It feels like a gift. We built the thing as a gift to the community but it's been a gift for me, too – one that's required a good deal of responsibility.
MS: What happens now? There's a transition of sorts.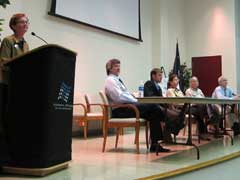 DJ: B3C ends. It was a three year project. It's over and done. The city is doing the tri-centennial celebration. On New Year's Eve the Beaufort Three Century Project will giv
e what we've created as a gift to the city. Publicly, we're done. We'll tie up loose ends for a couple of weeks, but that's it.
MS: Let's talk about this gift to the community. I don't think a lot of people are aware of the massive amount of information, educational and archival material that's been accumulated.
DJ: Most of it is digital. That was part of our focus from the beginning. We didn't want to take boxes and boxes of stuff to the library – and we are giving it all to the library for the Beaufort District collection. Within that are 300 interviews with people about their lives in Beaufort, oral histories. We have video documentation of all our events including the four forums, the tree symposium, the tri-centennial lecture series with all the panels and discussions, so there's a lot of information there. There are the five books we're publishing and all the accumulated artwork – all going to the library. They're taking everything but the big tree sign. (a massive cross-section of an oak donated by arborist, Michael Murphy).
MS: We can find a spot for that if you've got no takers.
DJ: (Laughs) Michael Murphy gets to help decide where that goes. Plus it takes four people to move it.
We've also got The Beaufort Chronicles, the limited edition portfolios of fine prints that were done by USCB students. I could go on and on.
MS: The final event is an interesting one, the preview screenings of an unreleased documentary on Beaufort's most famous native son, Smokin' Joe Frazier. (see the accompanying interview with filmmaker, Mike Todd)
DJ: Joe Frazier: When the Smoke Clears is a film by Mike Todd. It was shot in London, Philadelphia and Beaufort. He filmed here a couple of years ago and worked with one of our steering committee members, Richard Brooks.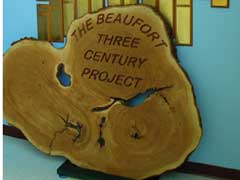 MS: Or "The Beaufort Fixer," as he's listed in the credits – which is pretty much what we call him now.
DJ: (laughs) It's a great credit line and somehow very appropriate.
MS: It's a fascinating look at a man who came from nothing out of a very turbulent era to become a legend.
DJ: He was recently awarded the Order of the Palmetto and he still has family ties to Beaufort so we're delighted that Mike Todd wanted to preview the film here through B3C. (Todd and his producing partner, Geseth Garcia, will attend both screenings and an after party fundraiser to mingle and answer questions.)
MS: And that party is it – the end of the roller coaster ride.
DJ: The last public event for the B3C. Everybody kind of thought we were going to do this big huge showcase of the whole thing, but it's just too broad. There's just too much to consider.
MS: So, no big production number, you're not going to dance off stage left clicking your heels?
DJ: (laughs) No. That's not going to happen. And it's probably fitting this way because it's been a process of evolution. It was never meant to culminate in one big thing. The purpose of B3C was to engage the community, so we could've stopped much earlier. The two of us sitting here right now could be the end of it. There's no way to capture it all in one big thing.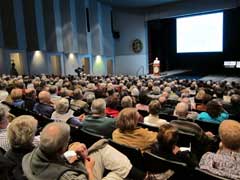 MS: This has been a massive undertaking – practically Sisyphean at times – and it's consumed just about every waking moment. What will you do when it's over?
DJ: I told somebody I was going to dye my hair blonde.
(laughs)
I don't really know. I originally envisioned this as a part time gig and we both know that didn't happen. The last year has really consumed my life. I'll have to wait till it's over to decide.
MS: When you think ahead to a time when you can stand back and consider the project, what's the benediction to it all? How would you sum up the three years that consumed your life?
DJ: It's been an incredible learning experience for me and a lot of other people. For me it comes down to a sense of grace and place. Those are the two words that come to mind because it has both and it's a rare thing to find that in a single entity: grace and place. That's it.
Read Mark Shaffer's interview with Mike Todd, director of the new Joe Frazier documentary.