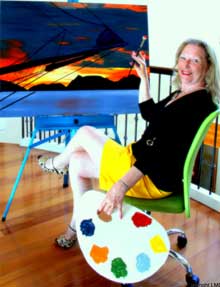 Lynne Morgan is currently the featured artist at the Beaufort Art Association Gallery.
Lynne was born in Bristol, Rhode Island, and raised on the Bay, which explains why water and sailing run deep in her artwork. The soft sound of the waves and the flutter of sails influence much of what she does.
In college Lynne became a math major and art went by the wayside. In the early 1980s, a new friend brought her back into the art world and then opened a home decor store that sold many of her art pieces.
She began in the field of Decorative Arts in the Washington, DC area, where she belonged to the National Society of Decorative Artists, working with faux painting, German Bauernmalerei, Norwegian Rosemaling and murals.
After moving to the Lowcountry nine years ago, Lynne joined the Beaufort Art Association, taking many classes in the mediums of oil and acrylic and, most recently, watercolor. She needs painting to be relaxing, so classical music is a part of her process. For some reason, the clouds and waves seem to take on a life of their own – in a good way she hopes! – while she listens to Stamitz's Clarinet Concerto No. 10.
Lynne enjoys painting many different subjects but still loves the crash of a good wave.