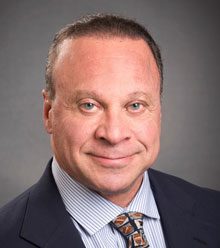 The University of South Carolina Beaufort has selected Robert (Bob) LeFavi, Ph.D., a career academic scholar, to become the Founding Dean of the university's Beaufort Campus. Dr. LeFavi comes to USCB from Georgia Southern University where he was Professor and Head of Health Sciences and Kinesiology, a department that served roughly 2,000 students.
As the Founding Dean of the Beaufort Campus, Dr. LeFavi will be responsible for developing key relationships with officials, community leaders and residents of the City and County of Beaufort so as to foster a deeper sense of engagement between the community and the university.
"Dr. Bob LeFavi has proven leadership skills to excel in his new role," says Eric Skipper, Ph.D., USCB's executive vice chancellor for academic affairs. "He understands the many facets of a comprehensive university and the importance of building relationships inside and outside the university."
"USCB has chosen to allocate resources here and commit to revitalizing the Beaufort Campus," Dr. LeFavi says. "I see this campus as a jewel. If I were a student—a high school senior—I would love to come here. The green space, the water access, being able to walk downtown, the new living quarters, the personal attention of faculty members, all of that makes this campus a real jewel."
Dr. LeFavi earned a Bachelor of Science in Health Education at the University of Florida in 1983, and a Master of Business Administration at Nova Southeastern University in Florida in 1986. He earned a Ph.D. at Auburn University in 1991.
He joined Georgia Southern University in Statesboro as an Assistant Professor of Health Science in 1990 and was appointed Director of the university's Research, Health and Performance Lab in 1991. He joined the faculty of Armstrong State University in Savannah, Ga., in 1993 as an Assistant Professor of Health Sciences. He was promoted to Associate Professor in 1998 and then to full Professor in 2003, a title he retained upon his return to Georgia Southern following its merger with Armstrong State University.
Dr. LeFavi was elected President of the Faculty Senate at Armstrong in 2010 and was selected to be Interim Department Head in 2014. Following a national search, he was appointed Head of the Department of Health Sciences the following year.
His academic interests may be grouped into three categories: exercise, science and sport; health promotion and wellness; and business and health care administration. In addition to teaching undergraduate and graduate-level courses, he has published more than 725 articles in the popular press ranging from business to health science to palliative care. In addition, he has published scholarly papers or presented his findings on more than 60 research projects in scientific journals and at conferences focusing on nutritional science, experimental biology and exercise physiology.
He has served as a consultant to the Federal Trade Commission and has provided expert analysis to The New York Times, The Washington Post, USA Today, National Geographic and other publications. He has also appeared on the CBS Evening News with Dan Rather, CNN with Paula Zahn and Inside Edition.
As an entrepreneur, Dr. LeFavi developed and managed American Fitness Systems, Inc., a multi-dimensional fitness center in Bulloch County, Ga. The center operated from 1991 to 2005. He also served as Executive Director of The Oasis Center, a not-for-profit health care counseling center in Savannah.
In addition to his academic degrees, Dr. LeFavi earned a Master of Divinity degree from the Erskine Theological Seminary, Due West, S.C., and a Doctor of Ministry degree from The University of the South (Sewanee). He is ordained in the Lutheran Church and the Anglican Church.
In his spare time, Dr. LeFavi enjoys traveling to Italy. He maintains dual citizenship with Italy and the U.S. He also enjoys providing consulting services to entrepreneurs starting new businesses and working out at a CrossFit facility. He serves as the liaison for the sister city agreement that links Hilton Head Island with Verona, Italy.
He and his wife, Sue, have been married for 34 years. They have three children.
For more information about the University of South Carolina Beaufort, contact Kerry Jarvis, director of marketing and public relations, at 843-208-8030 or jarviskc@uscb.edu.