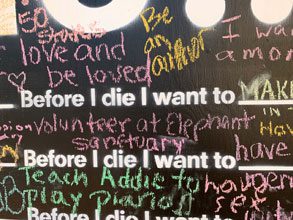 How Beaufort's newest public art project is causing people to think about their lives
By Mindy Lucas
It's the simplest of things really. Six words etched on what could pass for a grammar school chalkboard that stands in front of the Pat Conroy Literary Center in downtown Beaufort. 
                  Only the words seem to hang there as with the greatest of expectations.
                  Before I die I want to…
                  They call to you. Demand something of you. A commitment? Perhaps a whispered confession.
                  Some see it as a fun exercise. They walk up, select a piece of chalk and complete the thought.
                  Before I die I want to…
                  Learn to play the piano. Drive a bobcat. Become a pop star.
                  For others, it's something else entirely. The slow realization that they are not doing what they'd like with their life. Or that life is short. Or that dreams still exist.
                  Before I die I want to…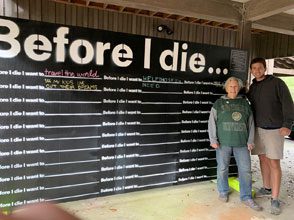 Travel the world. Know and fulfill my purpose. Love deeply and live fully.
                  What it's not is a bucket list, said Beaufort resident and rabbi TZiPi Radonsky, who brought the idea for the public art project to Beaufort. 
                  Not really, anyway. After all, a bucket list is something to be checked off. Think: See the Grand Canyon. Admire the Mona Lisa. Hitch a ride on a gondola.
                  "I think it's a spiritual experience," Radonsky said. "It's not a cognitive thing at all."
                  Radonsky got the idea for the "Before I die" project after reading about its creator, outdoor artist Candy Chang. 
                  Using a stencil and some chalkboard paint, Chang created the first "Before I die" wall on the side of an abandoned house in her New Orleans neighborhood. Not knowing what to expect, she posed the same simple, six-word phrase for anyone passing by and waited. By the next day, the wall was teeming with responses.
                  Since then, the project has grown into a global phenomenon with over 5,000 walls in seventy-eight countries and thirty-five languages. It now offers do-it-yourself starter kits for those, like Radonsky, wanting to bring the idea to their own hometowns.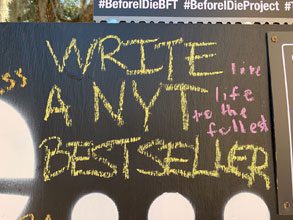 While most are done on buildings or permanent structures, Radonsky wasn't sure that was the way to go for Beaufort. She wanted to give lots of people, in all of the sea island communities, a chance to write on the wall. 
                  So after teaming up with grandson Drew West, the two began toying with the idea of something that could be moved. An art teacher at Whale Branch Middle School, West came up with the design for a stand-alone chalkboard, though he is quick to give his grandmother credit for the vision behind it. 
                  "It was definitely all my grandmother," he said, with more than a hint of pride in his voice.
                  West especially likes that the board will move around the area.
                  "It gives everyone a chance to express their ideas," he said.
                  And other family members pitched in too. West's brother, Ashby, helped to assemble and move the board, while West's fiancé, Bri Londono, promoted and shared the project on social media, making the project a true family effort.
                  With the blessing of the Beaufort Cultural Council and the help of local sponsors, the chalkboard made its debut at Beaufort's December First Friday.
                  Right away the chalkboard seemed to draw people in, said Radonsky, who called it a magnet. She watched as both young and old stepped forward to add to the board, making what may have once been private now something public, if only temporary.
                  Then she noticed something curious happening. 
                  While adults often paused or hesitated, children seemed to step right up or couldn't wait to add to the board.
                  "For the children, it was easy," she said, laughing. "It was amazing to watch."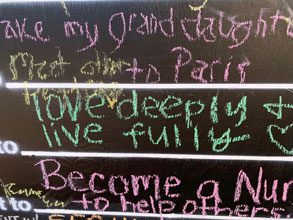 What may be even more amazing is how the idea came into being.
                  Remember Candy Chang? The outdoor artist who started what has become a conversation for thousands of communities?
                  Today Chang is an international speaker and TED fellow, in addition to an artist whose work has been shown in museums around the world. But the idea for that first wall, which ironically inspired so many to start thinking about their lives, actually came from a place of great sadness.
                  In 2009, Chang suddenly and unexpectedly lost a close loved one to death. Suffering from grief and depression, Chang began to think more about death and her own life.
                  Her loved one's passing brought clarity to the things that were meaningful to her, she said in an online TED talk that's been viewed more than 5 million times.
                  "In our age of increasing distractions, it's more important than ever to find ways to maintain perspective and remember that life is brief and tender," Chang says in her talk. "Death is something that we're often discouraged to talk about or even think about, but I've realized that preparing for death is one of the most empowering things you can do. Thinking about death clarifies your life."
                  Hearing Chang's story hit home with Radonsky who, at the time, had lost several close friends in a short period. Having worked and trained in hospice care, she was certainly knowledgeable about death and its various preparations, but among those friends who were dying or who were facing death, she noticed no one seemed to be talking about it.
                  "We are a greying country, and yet death still isn't something that's talked about," she said.
                  She went on to read several books on the subject, and while we, as a society, go out of our way to avoid the word let alone discuss the subject, there are many communities who have already begun helping people start what would otherwise be an uncomfortable conversation, she said.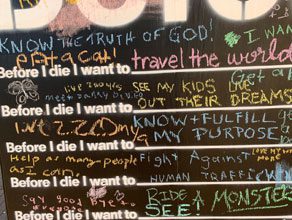 From symposiums to "death cafes," or social events where people gather, have tea and discuss everything from funeral planning to more spiritual concerns, many towns and cities have embraced the idea that there are benefits to talking about death and sharing concerns with others.
                  And while Radonsky recognizes that preparing for death is one thing, while living life or thinking about one's purpose is entirely different, the two still seem somehow connected.
                  Maybe the genius behind the "Before I die" wall is that it starts with the end in mind, and asks you to work backward until you arrive at what you really want to do with your life.
                  Or maybe it forces you to recognize that each of us has a finite amount of time.
                  "Let's just say I have 24 years left," Radonsky said. "And I want to make the most of those 24 years." 
                  How then do you spend that time, she goes on to say, adding that it causes you to think with more focus or attention. 
                  "I think it's important to keep all of that in perspective," she said. "Because really, we don't know when our final days or months might be."
                  So paradoxically, even though the idea behind the chalkboard started with the death of a loved one, it has become as much about living as it is about dying. As Radonsky stated in an earlier post, "It's about life and dreams and hopes often not expressed."
Want to add to the chalkboard?
The chalkboard will be on display at the St. Helena Library beginning the week of Dec. 16; at the Penn Center on St. Helena Island on March 1; at the University of South Carolina Beaufort's "Women's Wellness Weekend" March 18-25; at the United Church, 1801 Duke Street, in celebration of Martin Luther King Jr.'s birthday, Jan. 15 – 22, and April 1 – 8; at Beaufort Chiropractic, 1108 Charles St., TBD; at St. Mark's Episcopal Church in Port Royal, TBD; and at other locations throughout the Lowcountry in 2020. Contact Before I Die Traveling Wall at:BeforeiDieBFT@gmail.com. Find it on Facebook at "BeforeIDieWallBeaufort" and on Instagram @BeforeIDieBFT.