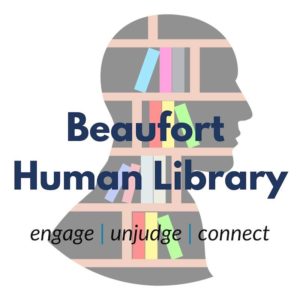 "Where oral history meets speed dating." The Beaufort Human Library project seeks to foster empathy and understanding across communities by offering the public opportunities to "check out" nearly a dozen Human Books who will be sharing their personal stories of overcoming and acceptance. These engaging conversations will cover topics including occupations, education, healthcare, gender, race, immigration, addiction, abuse, and law enforcement, among others. Ultimately the dialogues will focus on building bridges of understanding and acceptance, person to person, through storytelling.
The second edition of the Beaufort Human Library will be held on Sunday, November 13, from 1:00 to 4:00 p.m. in MacLean Hall, building 12 of the Technical College of the Lowcountry (TCL), at 104 Reynolds Street in Beaufort. Free and open to the public, the event is hosted by TCL; the nonprofit Pat Conroy Literary Center; the Beaufort County Library; Bluffton's Storybook Shoppe; the Diversity Awareness Youth Literacy Organization chapters of Beaufort Academy, Beaufort High School, and Battery Creek High School; and volunteer community organizers.
Participating Human Books include Alisha Arora, Imelda Golden, Devorah
Participating Human Books include Alisha Arora, Imelda Golden, Devorah Lee, Gwenn McClune, TZiPi Radonsky, Dana Ridenour, Zvezdana (Stella) Scott, Jan Stanfield, Joseph Taylor, Ifetayo White, and featured Human Book Lynn Markovich Bryant. Beginning the event, Markovich will share her story, Navigating Racism … from a White Woman Raised Black, in the TCL auditorium from 1:00 to 1:30, after which, all of the volunteer Human Books will be available to be checked out for 30-minute small group conversations from 1:30 to 3:00. No advance registration is needed. Volunteer adult Librarians and student Bookmarks will be on hand to help guest navigate the experience.
New to this edition of the Beaufort Human Library, TCL and high school student volunteers will also be reading thematically related picture books to their younger peers in the event's family-friendly Teddy Bear Picnic outside on the lawn of MacLean Hall, aided by the Storybook Shoppe children's bookstore and the Beaufort County Library.
Learn more about the Beaufort Human Library at  www.facebook.com/beauforthumanlibrary or at the Pat Conroy Literary Center website, www.patconroyliterarycenter.org.
The Conroy Center is located at 601 Bladen Street, and open for public tours Thursday through Sunday from noon to 4:00 p.m., or other times by appointment.