Right on the heels of Beaufort's tricentennial, the Parish Church of St. Helena celebrates 300 years.
The oldest building in Beaufort and one of the oldest continuously operating churches in the country, the Parish Church of St. Helena is celebrating its 300th anniversary this year. And on Sunday, January 22nd, the church will kick off this year-long celebration in spectacular style!
St. Helena's was established as a colonial parish of the Church of England, and in honor of this history, the Lord Bishop of London, himself, will be on hand for the opening festivities. (Beaufortonians may recognize Lord Bishop Richard Chartres, who officiated at the royal wedding last year.)
According to parishioner Jan Pringle, co-chair of the event, "Church Street will be closed to traffic, as the day begins with the ringing of the 1726 bell at 9:15 am. The walkway in front of the chur
ch will be lined with colonial costumed flag bearers, as a 'town crier' announces a greeting from Queen Elizabeth and the Archibishop of Canterbury. Parishioners and guests will surround ancient tombstones of many notables, including soldiers who fought in every war back through the American Revolution.  One of the signers of the Declaration of Independence, Thomas Heyward, was a parishioner at St. Helena's and has relatives who still attend the church today."
There will be a brief welcome, some special music, then parishioners and guests will enter the church to the sound of a bagpiper, who will later lead the procession over to the Parish House for the grand reception.
St. Helena's rector Jeff Miller, along with Lord Bishop Chartres, Bishop Mark Lawrence of SC, St. Helena's Bishop in Residence Alden Hathaway, former rector Frank Limehouse, and other dignitaries, will stand on the front of the church steps and welcome in its 300th year. The choir will lead the crowd in a couple of songs prior to processing into the sanctuary.
Lord Bishop Chartres will preach the sermon. The service will also include original music by English composer Malcolm Archer, written especially for this anniversary and performed by the St. Helena's choir with special orchestral accompaniment.
According to Pringle, "there will be a huge reception in the Parish Hall after the service."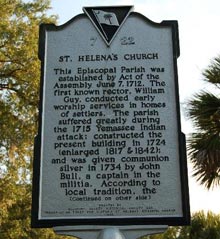 Proclamations will be read, including a "Statement for the Record" which Senator Lindsay Graham will present on the floor of the United States Senate.  "The church will be receiving congratulations from the President's office," says Pringle, "and of course, Mayor Billy Keyserling will give a proclamation from the City."
For more information about the St. Helena's Tricentennial celebration, visit www.sthelenas1712.org