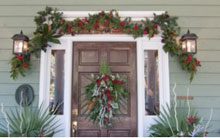 This year'€™s Homes for the Holidays tour will feature six beautiful homes in the Pigeon Point Neighborhood decorated by talented local designers including Sweet Bay, Scout Southern Market, Samantha Sullivan, Newtique Boutique, Macdonald Market Place and Buds and Blooms Landscaping.
The festive weekend kicks off Friday, November 17, with a magical Gala Evening in St. Peter'€™s Catholic Church Walsh Palmetto Room. Dance to the popular sounds of The Maxx Band and enjoy delectable treats provided by Southern Graces catering. There will also be a Silent Auction with amazing jewelry, unique trips, elegant and casual dinner parties, local art and a host of other bidding items. Tickets to the gala are $75.00 per person.
The Home Tours will be held Saturday, November 18 from 11 am until 3 pm and on Sunday, November 19 from noon until 3 pm. Tickets are $25.00 per person
Tickets are available online, at local businesses, St. Peter'€™s Catholic School Campus and on the Tour.
To purchase tickets and obtain more details please visit www.BeaufortHomesForTheHolidays.com Proceeds benefit St. Peter'€™s Catholic School.