What a fun time of year to be in the kitchen! I love preparing all of the savory goodies and sweet treats that I grew up with at Christmastime. This is the time of year for sausage balls, cheese straws, baby fruitcakes and yule logs. I've been feeling inspired to try some new sweets recipes. With a holiday party at our house on Saturday night, last week was the perfect time to experiment.
All of the goodies in this issue are yummy and very easy to whip up. They'd be fun and simple to make with children who like to play in the kitchen. While I served them as cocktail party desserts, they would also be excellent gifts for friends, neighbors and teachers. There's always more than enough to share. Have a very Merry Christmas!
Chocolate Peanut Butter Cracker Bites
1 (8.8-ounce) box Ritz Peanut Butter Bites
2 cup dark chocolate candy melts
Candy sprinkles
Melt candy melts according to package directions. Dip each sandwich cracker into melted chocolate, allowing excess to drip off. Place on foil-lined baking sheets. Decorate with candy sprinkles. Let dry until candy coating has set. Store in an air-tight container.
Coconut Crunch Cups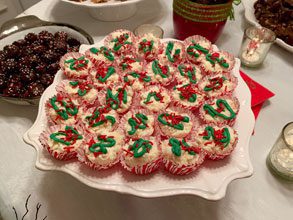 1 (12-ounce) bag white chocolate candy morsels
¾ cup rice krispies
¾ cup sweetened shredded coconut
Red and green candy melts, to decorate
Line a mini muffin pan with paper liners. Melt white chocolate candy morsels according to package directions; stir until smooth. Add rice krispies and coconut. Mix well to combine. Drop tablespoons of mixture into paper lined muffin pan. Drizzle with melted red and green candy melts to decorate. Let sit at room temperature for 2 hours to set. Makes 24 to 28.
Butterscotch Haystacks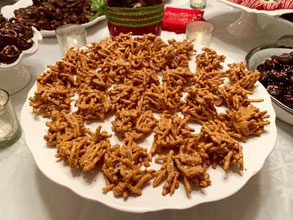 2 (11-ounce) bags butterscotch morsels
1 (12-ounce) package chow mein noodles
1 cup unsalted roasted peanuts
Coarse sea salt
Gently melt butterscotch morsels according to package directions. Add noodles and peanuts to a large bowl. Pour butterscotch mixture over noodles and peanuts and gently stir until well coated.  Use two small spoons to drop haystacks of the mixture on foil-lined baking sheets. Sprinkle with sea salt. Once set, store at room temperature in an airtight container. Makes 50 to 55.
Chocolate Caramel Pretzel Bites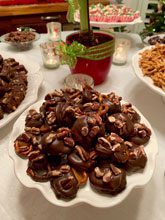 40 mini pretzels
20 caramel squares, unwrapped
¾ cup semi-sweet or dark chocolate morsels
½ cup chopped pecans
Preheat oven to 350 degrees. Line a baking sheet with aluminum foil. Lay pretzels in a single layer on prepared baking sheet. Cut each caramel in half. Lay a piece of caramel in center of each pretzel. Bake in preheated oven for 4 to 5 minutes. The caramel will be soft but not completely filling the holes of the pretzels. Cool pretzels completely. Melt chocolate morsels according to package directions. Dip each pretzel in chocolate. Do not cover completely. Place back on foil-lined baking sheet and sprinkle with chopped pecans. Let cool completely. Store in an airtight container. Makes 40.
Cinnamon Pecans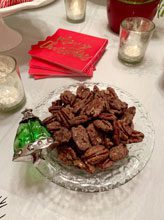 ¼ cup sugar
1 heaping teaspoon ground cinnamon
1 egg white, beaten
1 pound pecan halves
Preheat oven to 350 degrees. Mix sugar, cinnamon and egg white together.  Pour mixture over pecans.  Coat thoroughly.  Spread on a foil-lined baking pan.  Bake for 25 to 30 minutes or until crispy and dry, stirring every 10 minutes. Cool completely; store leftover pecans in a tightly sealed container.
The writer owns Catering by Debbi Covington and is the author of three cookbooks, Celebrate Beaufort, Celebrate Everything! and Dining Under the Carolina Moon. Debbi's website address is www.cateringbydebbicovington.com. She may be reached at 525-0350 or by email atdbc@cateringbydebbicovington.com.