More than 500 participants raise $60,000 to fight global water crisis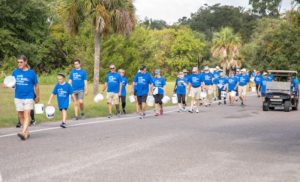 More than 500 people from across Beaufort County took to the streets, parks and trails in the fifth annual Beaufort County Walk for Water Oct. 9–10, raising more than $60,000 to fight the global water crisis.
Participants on nearly 30 teams representing neighborhoods, churches and businesses in Beaufort, Bluffton, Port Royal, Okatie and neighboring islands walked 3-mile routes to symbolize the walk millions of women and children in developing countries make daily to collect water that's often contaminated. The event raises money for Water Mission, a Charleston-based Christian engineering organization that builds safe water solutions in developing countries and disaster areas.
"Access to clean, safe water is something we all take for granted, but 2 billion people around the world aren't so fortunate," said Jim Pickard, Beaufort County Walk for Water committee co-chair. "The money raised by this walk will make a life-changing difference for generations to come."
More than a third of the money raised came from business, civic and church organization sponsors, according to co-chair Robert Lasher. "We owe a lot of our success to our sponsors' continued support. We had a record number of sponsors this year and couldn't have made nearly this big of an impact without them."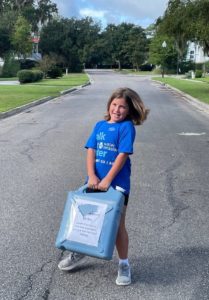 This year's sponsors included Ballenger Realty, Battery Point neighborhood, Beaufort Lifestyle Magazine, Beaufort Memorial Hospital, Beaufort Pediatrics, BJWSA, Capitol Coffee, Corrective Chiropractic, Eugene Rugala & Associates, First Presbyterian Church of Beaufort, Grounded Running, J.H. Hiers Construction, King Irrigation, Knights of Columbus, Lowcountry Presbyterian Church, LUX Medical Spa, Maginnis Orthodontics, Nürnberg Photography, Oyster Cay Collection, Presbyterian Women, Salt Line Construction, Sea Island Presbyterian Church, SK Signs, Southern Tree Services, St. John's Lutheran Church, St. Mark's Episcopal Church, Tidal Creek Fellowship and Unitarian Universalist Fellowship of Beaufort.
Since 2001, Water Mission has used innovative technology and engineering expertise to provide access to safe water for more than seven million people in 56 countries. Water Mission has 350 staff members working around the world in permanent country programs located in Africa, Asia, North, South and Central America, and the Caribbean. Charity Navigator has awarded Water Mission its top four-star rating 14 years in a row, a distinction shared by less than 1% of the charities rated by the organization. Learn more at watermission.org.