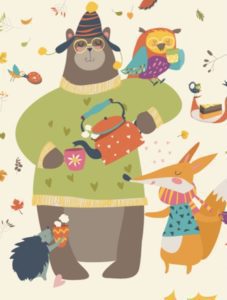 Beaufort High School's DAYLO: Diversity Awareness Youth Literacy Organization will host a family-friendly Teddy Bear Picnic read-aloud at Beaufort's Pigeon Point Park (1521 Pigeon Point Rd) on Saturday, November 20, from 9:30 to 11:30 a.m. The event is free and open to the public.
BHS student members of DAYLO, National Honor Society, and Spanish National Honor Society, along with USC Beaufort education majors, will be on hand to read picture books to children (Kindergarten through 3rd grade) and their families, accompanied by an audience of teddy bears and other stuffed animals. Light refreshments (juice boxes, mini muffins, and cookies) will also be provided for guests. Children are encouraged to bring their favorite teddy bear or stuffed animal to join in the fun.
Parents and families will have the opportunity to learn more about the importance of early learning literacy, fostering a love of reading in children, and celebrating the transformative power of storytelling in our communities.
Local literacy partners, like the nonprofit Pat Conroy Literary Center and Nevermore Books, have been invited to host display tables at the Teddy Bear Picnic as well, as a learning opportunity for all guests. For questions about this event, please contact Wendy Lacombe, Wendy.Lacombe@beaufort.k12.sc.us.
Founded by BHS student body president Holland Perryman in response to her experiences as the first intern of the Pat Conroy Literary Center, DAYLO is one of the largest student organizations at BHS, with more than 50 members. Using a book club model to engage in works celebrating diverse viewpoints and to learn and teach themes of social justice and inclusivity, DAYLO provides opportunities for student education and service, building a community of intellectually curious and empathetic readers dedicated to service learning and positive social change. DAYLO also fosters opportunities to improve literacy within our community, including read-alouds for elementary students and collaborations with the Conroy Center in hosting public conversations with authors representing diverse backgrounds.