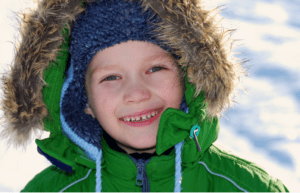 FWDG launched its 31st annual winter coat drive on November 1st. The event collects winter coats for children and adults throughout Beaufort County. The warm apparel items will be distributed for FREE to neighbors in need through three local partner non-profit organizations: Help of Beaufort, Bluffton Self Help, and The Deep Well Project of Hilton Head Island. Clean, gently-worn coats, hats, mittens, gloves, and scarves are accepted.
FWDG organizes all aspects of this event: promotion, collection, temporary storage, and transportation of the apparel. FWDG staff across the company rally to raise awareness of the project. Last year's tally was 997 garments, bringing the running total of collected warm winter garments in 30 years to more than 45,700.
DROP OFF LOCATIONS (Through December 31, 2021) 
FWDG: 745 Robert Smalls Pkwy, Beaufort, SC – In Foyer – Open 7 Days a Week; 843-524-8695
WHHI-TV: 32 Office Park Rd # 103, Hilton Head Island, SC 29928. 843-785-4545
Smart Company Kids ZONE: 108 Buckwalter Pkwy. Suite 2F, Bluffton. (843) 836-3701
More to come!
"Locals have been through a lot in the past year and a half. There are many families struggling to pay bills and that may mean fewer personal funds available for warm clothing," said Larry Mark, Founder and President of FWDG. "I invite all Beaufort County residents to dig into their closets and attics for gently-loved coats for adults and children, to help keep our neighbors warm this winter. Let's make this the biggest coat drive to date!"
About Help of Beaufort: Help of Beaufort provides mobile meals, clothing, and financial assistance. The organization is located at 1810 Ribault Rd., Beaufort, SC 29935. www.HelpofBeaufort.org. 843-524-1223
About Bluffton Self Help: Self Help of Bluffton's goal is to lead community advocacy, research and solutions by expanding our reach and our services to tackle the interconnected issues of poverty, education, transportation, and housing. The organization is located at: 39 Sheridan Park Circle, Suite 10,  Bluffton, SC 29910. www.BlufftonSelfHelp.org. 843-757-8000
About The Deep Well Project in Hilton Head: Deep Well is a volunteer organization that provides basic assistance in emergency situations. Deep Well receives no government-funding and over 90% of each donation goes directly to program services. The organization is located at: 80 Capital Drive, Hilton Head, SC 29926. www.DeepWellProject.org. 843-785-2849
About FWDG: Founded in 1972 by Larry Mark and his father Ernest, FWDG sells fine quality furniture, area rugs and mattresses throughout Beaufort County and beyond. The company remains family-owned and operated. www.FWDGonline.com. FWDG is located at: 745 Robert Smalls Pkwy., Beaufort, SC 29906 843-524-8695