A conversation with producer/director Jonathan Flora, recipient of BIFF's inaugural Santini Award
The filmmaker receives the inaugural Santini Patriot Spirit Award at the 2011 BIFF for the "portrayal of the American military, veterans, or their families in a feature film, documentary, or short [that] reflects the highest standards of service and sacrifice for the good of others."
Jonathan Flora can't wait to get back to South Carolina. The award-winning producer with Walt Disney Studios grew up in a military family and spent part of his high school career in Goose Creek.
And while he's excited to be the recipient of BIFF's first ever Santini Award he is also the director/producer of the feature-length documentary, Lt. Dan Band: For The Common Good. The film follows Academy Award® nominated actor Gary Sinise and his band as they entertain the troops and their families around the world, often under difficult circumstances.
Flora knows a bit about service, having spent twelve years in the U.S. Army's 82d Airborne Division. In 2009 he and wife Deborah formed Lamplight Entertainment to focus on producing films "that connect with the heart of our nation while conveying the rich and positive heritage of American ideals to both domestic and international audiences." Lt. Dan is the couple's first full-length project under the Lamplight banner and features a long list of celebrities, including Robert Duvall. Duvall played the title roll in the film version of Pat Conroy's autobiographical novel. Flora spoke to us by phone from his Los Angeles home as he pondered the strange synergy that seems to have drawn him back to the Lowcountry.
Jonathan Flora: I am humbled and flattered by this. Being a veteran I find it very interesting and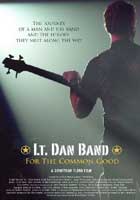 gratifying to find a way to kind of continue to serve long after taking off the uniform. I also find it a little fascinating and somewhat humorous because I remember the movie (The Great Santini) and I grew up loving it and relating to it – not because of the extremes of the Santini character, but because my father was in the military. To be able to come full circle now and knowing Robert Duvall and looking forward to hopefully meeting Pat Conroy, I just find this all pretty fascinating how it's all come together. I did promise Ron that I wouldn't show up on stage with a can of mushroom soup under my jacket and then "throw up" on his shoes.
(Laughter)
Mark Shaffer: I'd enjoy seeing that, and I'm sure Pat would get a real kick out of it, as well. Tell us about the Lt. Dan documentary and how you got involved with Gary Sinise.
JF: I met Gary at a film festival out here in L.A. and we spoke a bit. Then I saw him about a year later at the first G.I. Film Festival in Washington D.C. I'm on the advisory board for that and we gave Gary the first Spirit Award for all the obvious reasons. Gary and I were able to talk and share a few things. When we got back to L.A. we got together and I started hearing about all these things he does. He truly is the Bob Hope of this generation. I had no idea. So I kicked around some ideas with my wife. He went for it but he hesitated for a while because he does none of these things for publicity, as you know. I had to make it very clear to him that this was not to be a praise piece but to use the band as a vehicle to show all the work they do and also meet some of these great people along the way – our first responders and their families.
MS: How did you make that clear?
JF: I said, "Look, Gary, you're never going to go to Eaton, Ohio where I'm from. The town is so small they put the 'entering' and 'leaving' signs on the same post. But with this film, you can go there and if we can inspire people to do things then we're achieving our goal."
During this process I traveled to Kuwait and Iraq with him initially as part of the documentary, but by the second day we're hearing all kinds of things the media's not telling us. Not just about the military successes but what it means to the individual soldier to do the things they're doing – to see hope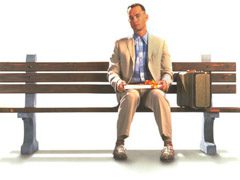 restored in kids' eyes, to see women experiencing freedom that they've never had before.
MS: How did you end up dealing with the tremendous logistics involved in this project? Did you end up shooting a lot of it yourself?
JF: No, I've got a fulltime gig – I'm a producer at Disney – so I used my vacation days. I followed Gary around for a little less than two years, and the reason was to show that this was not just some "thing" he does. He does this all year long, year after year. Gary has a short hiatus once or twice a year so he's squeezing these things in on weekends. What we see in the documentary is just the tip of the iceberg, a fraction of the things he does – not only with the band but as an individual.
I'd usually hire a couple of camera guys. The only stuff I shot was in Iraq because we were only able to take two or three people. Gary's mission on that trip was to get out where celebrities don't go 'cause those guys and gals don't get visitors.
MS: As you know Gary and the band played the Shrimp Festival here in Beaufort last fall and we had a few laughs about actors with bands. He's fond of telling people that no one has any expectations for an actor with a band.
(Laughs)
JF: Absolutely.
MS: But with the Lt. Dan Band it's a bit different.
JF: It is, but at the same time when I first started to know Gary and he's telling me about his band I reacted like anyone else. It's like anybody else you meet who says, "Oh, you should come see me play at the pub tomorrow night." And you're like, wow, I hope they don't stink because I don't want to have to lie.
MS: We're doing some great Springsteen covers…
(Laughs)
JF: Right. Right. Exactly. And then you show up and – holy cow – these guys are good. I was blown away. And when we get into the crowds it's obvious that the band's reputation precedes them and odds are most of these people have seen them before or they've heard about it. That's pretty cool when you're standing there in front of ten or fifteen thousand people just going nuts.
The most moving crowd response was at a Snowball Express event. They're an organization out of Texas primarily reaching out to military families who've lost a loved one. Here we are in this beautiful venue with about fifteen hundred people, and they're mostly widows and orphans – in the sense that they've lost their dads. Some of them have lost their moms. It was the most sobering, humbling experience that I've ever witnessed. There was a moment when the band was doing this song, "Hero," which takes on a whole new meaning when it's played to that crowd. I was standing off to the side of stage with headphones on talking to my camera guys and at this point we're all sort of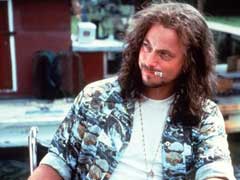 captured by what's happening. This woman was holding this little blonde haired girl about two years old and she looks over and mouths "Thank you" to me. And I felt so unworthy of that. I'm like, thank me? I'm just standing here trying to shoot a concert. Thank the band. Thank you for having made that kind of a sacrifice. This is where I figured out the core of the movie.
First responders are very savvy people. Their discernment radar is way up there. They know who's got their back and who shows up for a photo op. And when we were in Iraq I was happy for Gary to hear just how much he's appreciated.
MS: Unlike other actors who've been associated with iconic roles he's really embraced Lt. Dan and all that goes with it.
JF: Right. That's apparent in the movie. He comes from a strong military background although he never served. He started up Steppenwolf [Theater Company] in Chicago right out of high school. But even back then he was doing things for Vietnam Veterans and always reaching out. Then 9/11 happened and it went to a whole new level. [Band member] Kimo Williams tells a funny story about how on their first trip to Italy nobody recognized Gary as Gary, they all called him Lt. Dan. After Forrest Gump he knew that he was blessed to play such an identifiable, healing character.
MS: And here we are. You're bringing this film back to the place where Lt. Dan was born, if you will. The first scenes were shot right here.
JF: To be able to bring the film and be honored this way is very humbling. It's synergistic in a lot of ways. I really didn't know what I was getting into when I made the movie. You have hopes that it might mean something to people, but to be able to come back to Beaufort and the home of Forrest Gump, close to where my dad was stationed is just very humbling.
MS: This is the first full-length documentary for your Lamplight production banner. What's next?
JF: We've optioned some life stories that we think are incredible. One is Col. Bud Day, the most decorated Air Force officer ever. He served in World War II, Korea and Vietnam. He's one of those pilots whose reputation everyone knew about. You knew about Chuck Yeager and you knew about Bud Day. He was shot down in Vietnam and was a POW for nearly six years. It's an amazing story.
We're also doing a football movie that follows a group of firemen in New York. They've got a semi-pro team and it will follow their rebuilding year after 9/11.
MS: Perhaps you'll consider shooting one in South Carolina. We could use the work. I know our new Governor's been invited to attend the festival and dialogue with the filmmakers about the benefits of a healthy film business – something we used to have. But as you know, the last administration did just about everything it could to discourage the business. It's not a healthy film environment.
JF: No, it's not. I know Georgia's been making some moves, and North Carolina. It's gotten very competitive. Even Michigan is converting some of those old auto plants into sound stages. California's got runaway productions leaving the state because they've made it so hard to shoot here. I'd much rather go to South Carolina for six weeks and shoot a film. If there's a great story that needs to be told there, I'd be interested. I'm wide open for that.
Go here for a complete schedule of BIFF events