An intoxicating recollection by Mark Shaffer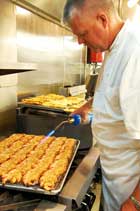 "The food speaks for itself, a little bit of salt and pepper and a little bit of love."
– Executive Chef Will McLenagan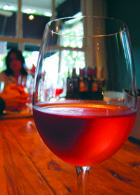 Will McLenagan has the look of a man about to slide behind the wheel of his dream car for the very first time. In essence, that's exactly what the Executive Chef for Plum's is about to do. After the restaurant's complete re-fit this past winter, he's got a brand new state of the art kitchen. Tonight he's taking it out for the first major shakedown cruise serving 80 people simultaneously, something he never considered with the old kitchen (see the accompanying interview).
This is Plum's annual culinary homage to the people who plant, grow, raise and catch the good stuff in the Lowcountry. Nearly everything on the plate tonight is local. The produce was handpicked on St. Helena this morning at Seaside and Dempsey Farms, the shrimp are fresh caught out of local waters. The wine traveled a bit further but the themes of sustainable farming and highlighting the small independent producer still apply. Tonight, all of Chef Will's creations are paired with boutique Italian wines, most from Santi Vineyards, a family run operation since 1843 near the ancient city of Verona. Rick Caudle of Wildeman Imports presents the wines for the evening. He's just returned from a visit to Santi and says winery was a natural choice for the event. "Santi's known for using only sustainable agriculture," he explains. "They literally do everything they can to let the soil work into the wine – no pesticides or chemicals, just the natural vineyards. So eat, drink, enjoy. Mangia! Mangia!"
First Course
Blue Crab Gazpacho
Vino: Santi "Infinito" Rose of Bardolino
The Infinito is not yet available in the U.S. Caudle packed up a couple of cases and checked them through as luggage for tonight's dinner. "Y'all are very special to have this wine tonight," he says. "It's from the small village of Bardolino, made with big red grapes in a uniquely special style."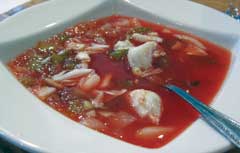 Chef Will's taken the same approach to the gazpacho. Traditional gazpacho comes from the southern Andalusian region of Spain and is a raw tomato-based soup served cold. At first glance this certainly looks like the usual thing but with big, juicy white lumps of crab swimming around a vivid ruby base. As soon as the bowls hit the tables, the buzz factor in the room jumps a notch. Once again Chef Will's done the unexpected. The menu simply reads "Blue Crab Gazpacho." St. Helena is known for its tomatoes. 1 + 1 = 2. After a half dozen spoonfuls it's still a puzzle. There's a lot going on here – a culinary fresco of color, texture and flavors. Layers of sweet and savory mingle with a subtle heat at the back of the palate. The rich sweetness of the crab comes shining through. I've never tasted anything quite like it. Then again I've never had a gazpacho made with watermelon before. There's something vaguely Asian about it. Chef Will later describes it as a palate cleanser, "a very clean tasting soup." I would simply call it elegant.
The Santi Infinito Rose is equally elegant with deep notes of ripe berries and a crisp finish – a perfect summer barbecue and brunch wine. It's neither lost nor overpowered by the complexity of the soup, but rather enhances it. In fact, it's hard to put this glass down and move on. But then I often have this problem.
Second Course
Tempura Fried Zucchini
Palm Sugar Cured Prawns
Yuzu Aoli
Vino: Santi "Vigneti di Monteforte" Soave Classico
Once again Chef Will applies an Asian spin to Lowcountry summer staples and comes up with something unique. The fresh Dempsey Farm zucchini is thinly sliced lengthwise, dipped in tempura batter and flash fried in the kitchen's brand new deep fryer. The tempura crust is nice and crunchy with just enough
seasoning to brighten up the squash's earthy flavor. Like all the vegetables, the freshness is evident in every bite. This wasn't picked a week before its time and trucked across the continent soaking up diesel fumes. The quartet of bright pink prawns are dusted or dredged in palm sugar and grilled. The sugar's caramelized and infused the shrimp with a smoky hint of something like butterscotch. The Yuzu Aoli – from an Asian citrus fruit – adds an extra dimension of sweet and tart. Like the Gazpacho, first impressions are misleading.
The same can be said for the wine. "Soave got a bad rep in the U.S. back in the '70's and 80's when it was basically jug wine," says Caudle. "Not bad wine, just not very exciting. But when done properly, this grape can just blow you away and stand up to some of the greatest white wines of the world. That's what we have with this Santi single vineyard Soave. It's just stunning."
The Vigneti calls up a lightly oaked Chardonnay, but without committing the California sin of leaving you chewing a mouth full of splinters. This is an exceptional wine with character to spare, a proper amount of fruit, a modicum of butter and maybe just a hint of pepper at the end of a long luxurious finish. Again, a deceptively excellent set of pairings.
Third Course
Myers Farm Top Sirloin
Roasted Tomato Compote
Grilled Vegetables, Cauliflower Puree
Vino: Santi "Solane" Valpolicella
We shift gears into the Red Zone for the main course: the Lowcountry debut of Myer Natural Beef out of Montana. "It's free of hormones and antibiotics," says Plums, Inc. Executive Chef Jim Spratling who's added the beef to Plum's sister restaurants, Saltus River Grill and Bistro Patois. "It's also a cruelty-free operation. The cows get a special vegan diet and special treatment. They're not stressed. It's sort of similar to Kobe beef that way, but it's not expensive. And this is the best top sirloin I've ever had. You do not need a steak knife for this piece of beef." I can vouch for that. Or as my dining partner and fellow dedicated carnivore observed so reverentially, "This meat is so full of flavor when you sink your teeth into it, you hallow the cow." Amen and hallelujah. Chef Will's treated it with
appropriate veneration seasoning it with just a bit of salt and pepper and topping it with a brilliantly tart, concentrated tomato compote. The grilled vegetables are delicious window dressing for the dish. The cauliflower puree is a light and savory alternative to potatoes that I will try at home. But the beef, grilled to bloody perfection, sings a most astonishing aria with the big Italian red.
"A couple of things make this wine unique," says Caudle. "It's a Valpolicella Classico Superiore Reposso. The fun thing about Italian wines is that the more names on the bottle, the better the wine. In this case the wine's proved its greatness." Apart from the other designations on the label, Reposso is key. This means the superior grapes have been put through a secondary fermentation. "That's what gives the wine its great depth, richness and elegance without any tannic after effects," he explains, "but it still has the depth to pair with rich food." It does indeed with a nose of plum and cherry, a hint of leather and a deep, full lingering finish – an absolutely perfect partner for the beef.
Dessert
Cool Summer Melon
Mint Crème Fraiche
Vino: Pellegrino Passito di Pantelleria
The final touch on the evening pairs the simplest dish – fresh local cantaloupe drizzled with mint crème fraiche – with the most complex wine offering.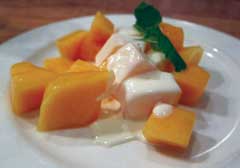 "It's from the little island of Pantelleria near Sicily, and the Pellegrino Winery," says Caudle. "It's made from the Zibibbo grape, similar to the Moscato. They put these grapes on mats and dry them for two months under the sun and then squeeze that one little drop out of every grape and start making a wine. It takes a quarter of an acre of grapes to make a single bottle."
The melon is ripe and sweet and tastes like summer. The crème fraiche ads a palate cleansing minty freshness to the finale while the Passito explodes on the palate with intense lingering notes of dried apricot and currant like concentrated bursts of summer sunshine. It is a pitch-perfect close to the evening as we stand and raise our glasses to the house.
"Chef Will and his staff did a phenomenal job. Everything was perfect," observes Caudle. "You can tell because we've been done now for 30 minutes and only two people have left the restaurant. That's always the sign of a great wine dinner."
Up Next
Plum's next event is a beer dinner, August 10th featuring Stone Breweries. A portion of the proceeds will help cover expenses for severely injured veterans and caregivers attending the Lt. Dan Weekend during The Beaufort Shrimp Festival in October. Get more at www.ltdanweekend.com
Visit Plum's online at www.plumsrestaurant.com
Learn more about Myer Beef at http://meyernaturalangus.com and the Santi Winery at www.frederickwildman.com. Santi wines are distributed by Southern Wine.
Email Mark Shaffer at backyardtourist@gmail.com