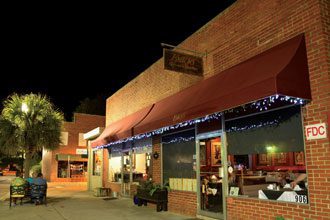 Story and Photos by Mark Shaffer
Myrtle Beach, 1977: Jimmy Buffett's "Changes in Latitudes,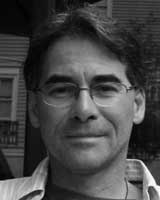 Changes in Attitudes" is the soundtrack for the summer. "Margaritaville" floats on the ocean breeze. A little movie called Star Wars packs theaters and I'm working at a famous seafood restaurant on the Strand. I'm supposed to be busing tables, but mostly I break dishes, or that's how I remember it. But in spite of all the crashing and yelling, I fall in love with the restaurant business. I love it still and I owe that to a lesson learned that summer, and that lesson was that I did not belong in the restaurant business.
            Nevertheless, I gleaned a few things. Among them, chefs have secrets and these secrets are called recipes and these recipes become dishes. In the decades since I learned this, both Luke Skywalker and I got old and Buffett's playing "Margaritaville" to 3rd generation Parrotheads. The dining industry's changed, too. We've come to think of chefs like entertainers and rock stars, often defined by a very narrow field of specialty. Writer/Director/Actor Jon Favreau nailed this phenomenon in his 2014 film "Chef." He plays celebrity chef Carl Casper, who's so burned out on his own menu he decides to throw it all out one night in a radical attempt to reignite his passion for cooking. His backer, Riva (played by Dustin Hoffman), sees things differently:
            Riva: Look, if you bought Stones tickets and Jagger didn't play "Satisfaction," how would you feel? Would you be happy?
            Carl Casper: (confused) No.
            Riva: No! You'd burn the place to the f*****g ground! My advice to you is to play your hits.
            You get the idea. We all want the hits. Hell, I'm a huge Stones fan. I've heard "Satisfaction" a million times, but I'd still feel cheated if they didn't play it if I paid to see them. I get Riva's point. And that brings us to 906 Port Republic Street and the point at hand. Emily's has been around for a long time. Part of the reason for both its success and longevity is due to the hits that keep people coming back week in, week out, year after year. Owners Tommy and Mary Winburn take pride in this and their 4.5 stars on Tripadvisor rates among the highest in town. A big reason for all of this is Chef Mike Long. He's fine with playing the hits, but he's damned determined to make his own, as well.
            Our table for this feast includes Lowcountry Weekly Publisher and Editor Jeff Evans and Margaret Evans, Everyday Gourmet Debbi Covington, and my wife Susan. Mary Godley of Southern Wine and Spirits joins us for advice on pairings. Chef Mike's menu includes some new seasonal dishes and he's promised a few surprises along the way. But first up are a pair of standards, the heart and soul of the menu.
            Shrimp & grits is your basic all-purpose Lowcountry comfort food. It's good for all three meals and brunch on Sunday. Like most Southern cooking, what started out as poor folks f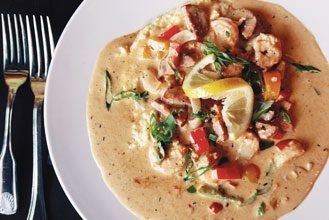 ood eventually rode a trendy culinary wave right into some of the finest white linen restaurants around. It is not only ubiquitous to the region, but also the source – or victim – of endless tinkering and variation. I once had a plate of shrimp & grits at a local restaurant without a single shrimp in it, apparently an experiment in minimalism carried to extremes. Such an aberration would never be tolerated in Chef Mike Long's kitchen. He's homegrown and making the most of the natural bounty of the Sea Islands is a mission.
            Emily's bills its award-winning version as "Not your typical Shrimp & Grits, a little on the spicy side." That is a fair assessment. There is no shortage of big, beautiful wild-caught local shrimp. The grits are smooth, rich and creamy and so is the sauce with just the right amount of heat on the back end.
            "I love that kick," says Jeff. "And the sausage is really good with the shrimp."
            "There are a lot of layers in there," says Susan. "The sweet peppers are nice."
            "With that spiciness," says Mary, "a nice Riesling would work with this – the sweet to offset the heat. They have a dry and a sweet on the list. Either one, depending on your taste."
            A moment of silence as everyone seems to hit upon the same thought.
            "But that sauce," says Debbi, "would be good on—"
            The table answers in unison, "Anything!"
            It's a good laugh, but true. I'd eat an old shoe if you smothered it in this stuff.
            "Sauces are pretty important here," says the Chef. "A lot of what I do involves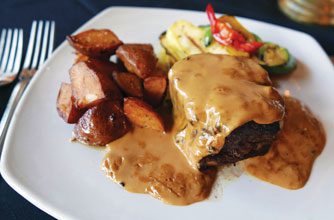 sauces."
            The epitome of this is the restaurant's top seller, the Steak Au Poivre. This beef fillet comes in cuts of 8 or 12 ounces, pan seared in butter, broiled to temperature and smothered in a green peppercorn, cream and cognac reduction. The dish is finished with a sauté of fresh seasonal veggies and Greek style roasted potatoes that deserve almost as much attention as the beef.
            Someone simply mutters, "Wow."
            "Does that beef look good or what?" asks Margaret.
            "Yes it does, but those vegetable are gorgeous," says Debbi. "That just looks like summer to me, when you start to see all the beautiful local produce on the plate."
            While Jeff works on slicing the beef into equal portions (all eyes on him), I sample the veggies.
            "It would take me three days to finish off that piece of meat," says Susan.
            "Honey, I am a carnivore," deadpans Debbi, "I could knock that sucker back in a heartbeat."
            "A rich beef dish like this screams for Cabernet" says Mary, "and they've got some beautiful ones to choose from, but actually one of the Argentinean Malbecs would be nice. They roast huge pieces of beef – asado – and that's all they drink with it."
            The fillet practically melts in the mouth, as decadent an indulgence as you'll find in these parts. We sop up every drop of sauce with the equally excellent potatoes. The secret? They're roasted in special cast iron skillets reserved for and seasoned by that sole purpose over many, many years.
           Giddy from red meat and rich sauces we soldier on.
THE NEW LINE UP
Shrimp, Portabellas & Wild Boar Sausage over Fettuccine in Sherry-Onion Jus
Pan Seared duck Breast Salad with Arugula, Fresh Strawberries, Candied Pecans & Brie
Fried Green Tomatoes with Tomato-Bacon Jam, Fresh Mozzarella & Balsamic
Sesame Seared Tuna with Raspberry Dijon Wasabi & Candied Radishes
            "Oh, my God, that's good." I can't place who said it, but that serves as spot-on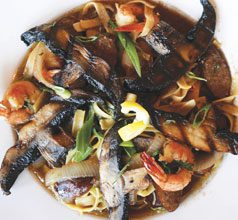 review of the fettuccine dish.
            "Three for three on the sauces," says Debbi.
            Jeff goes straight for the sausage. "Oh, man. That sausage is great."
            "The portabellas give it a real earthiness," says Susan. "You can taste the forest."
            The shrimp are sweet and firm. The pasta soaks up the sauce and brings the dish full circle – forest, field and sea together in a bowl.
            "What are we drinking with this?"
            "Chardonnay, chardonnay, chardonnay!" says Mary. "Or a pinot noir if you like a lighter red. A sauvignon blanc would overpower it."
            The Duck Breast Salad sparks a brief debate on the proper pronunciation of pecan (which remains unresolved). The duck is not overly rich and the natural spiciness of the arugula combines with the sweet of the berries and pecans to make for a light, bright summer dish. The Sesame Seared Tuna and Fried Green Tomatoes also offer some lighter choices without sacrificing flavor.
            "I love the presentations," says Debbi, ever the one to point out that we eat with our eyes first. The tuna opens up like an exotic pink flower, atop a bed of crisp green seaweed salad and sweet candied radishes.
            "Good tuna's one of my favorite things on earth," says Jeff.
            "Me too," says Debbi.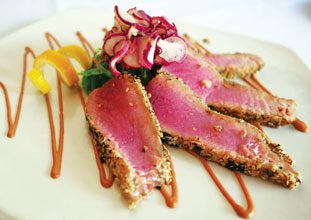 "The radishes have a sweetness that really works."
            "A little tuna, with some seaweed, radish and a bit of that sauce," says Susan, "is the perfect bite."
            "A rose would be perfect with this, too," says Mary.
            Mike's take on fried green tomatoes is essentially his riff on a classic Lowcountry summertime staple: tomato pie.
            "It's basically the whole dish deconstructed," he says.
            The point is that by reconstructing it bite by glorious bite in this way might just spoil you for the real thing.
            "This looks so simple but it's really kind of amazing," says Margaret.
THE BIG FINISH
Fried Wild Shrimp & Waffles with Fresh Blackberries
            Like a true showman, Chef Long's saved the Big Reveal for the final act. It literally wows the table into gasps of awe and disbelief.
            "Is that even legal?" asks Margaret.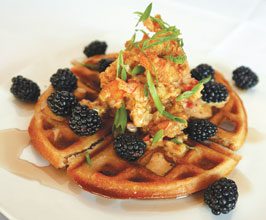 "It's almost too pretty to eat," says Jeff. "But…"
            Mary says simply, "Champagne," and Susan immediately orders a split. The dish disappears with shocking speed.
            "It's something I've wanted to do for a long time," says Chef Long, "but I just got the waffle machine in yesterday."
            "So this was the first?" I ask.
            "The very first one."
            "Wows!" all around.
            "I've got a little tinkering to do with the recipe, but basically that's how I wanted it," he says. "It's a coastal variation on chicken and waffles. I figured why not use our beautiful local fried shrimp?"
            Mike Long is not an easy guy to read. Around Emily's he's known for having two expressions: serious and slightly less serious. So, when he finally joins us from the kitchen (to spontaneous applause) with a big smile on his face, it's a pretty special moment. It calls up another scene from Chef that springs to mind at this point. In a last-ditch effort to reconnect with his culinary roots Carl Casper buys a food truck and drives cross-country with his 10 year old son, Percy. After a bit of a bumpy start, the boy becomes an able apprentice. But Casper soon sees that this summer gig with dad is still basically about making sandwiches and seeing new places. Then comes a moment after a long, exhausting day when everything clicks and Carl senses the same spark in his boy he's trying to find in himself. "I may not do everything great in my life," he tells the boy, "but I'm good at this. I manage to touch people's lives with what I do and I want to share this with you."
            Is that "Satisfaction" I hear in the background?

EXTRA HELPINGS
Watch Chef Mike Long prepare Emily's signature Steak Au Poivre exclusively at www.LowcountryWeekly.com
Read more about Emily's at Life Behind Bars
Emily's Restaurant & Tapas Bar
906 Port Republic St.
Beaufort SC
843-522-1866
Restaurant 4pm –10pm Daily (tapas menu before 5)
Bar 4pm – until daily
http://beaufortrestaurant.com
Tripadvisor rated 4.5 stars based on 514 reviews