A dynamic new partnership breathes new life into a Frogmore landmark…
Story and Photos by Mark Shaffer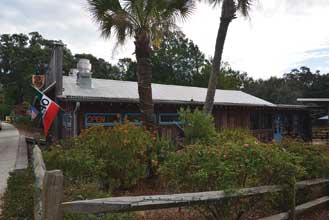 "We want to make this a destination, worth the trip for the food, the scenery, the beautiful sunset view. It's all about enjoying the marsh and the smells and the wildlife. It's about sitting back, relaxing and staying a while instead of rushing in and rushing out."– Chef/Owner, Will McLenagan

"We want to give people that Southern feeling. Take your time. Enjoy. We're not going to mind. We're here to make people happy."– Owner/General Manager, Cris Morrison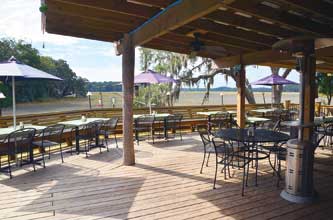 The afternoon is perfect. A light breeze ripples through the marsh grass, the first hint of autumn evident in a faint browning at the tips. A snowy egret stands poised to strike, a shock of white backlit by the arcing of the late afternoon sun. A few ibis stalk over the pluff mud in search of fiddler crabs. The wind carries the scent of the tidal flats – not the thick stench of summer decay – but the heady perfume of renewal and the promise of change.
Change seems appropriate as we gather beneath a sprawling live oak on the deck of the Foolish Frog. The building, with its weathered planks and low-slung tin roof, looks as if it might have floated up out of the marsh, pushed to the road's edge by the tide of a harvest moon. In fact it was once the local post office until original owner Beekman Webb bought the place. Beek, as locals know him, specializes in the meticulous restoration of historic properties and this was a passion project. Just about every piece of the Frog was sourced from his legendary treasure trove of very old things.
These days there are new owners under the tin roof. And while little has changed in the appearance of the restaurant, what's coming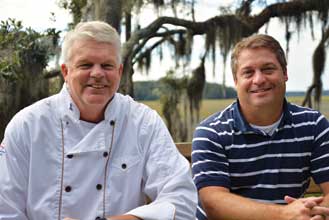 out of the kitchen is a different story. Will McLenagan and Cris Morrison have a long history in the local restaurant scene. Will's one of the most accomplished and respected chefs around while Cris' management skills are unparalleled. When the opportunity to form a partnership in the Frog presented itself even the reluctant chef ("I never wanted to be an owner") couldn't turn it down.
Chef Will specializes in preparing fresh seafood including his famed Maryland style crab cakes (no fillers here!), fire grilled steaks cooked to perfection, smokin, finger licking good ribs, yardbirds, pasta, salads and a huge selection of appetizers.
– thefoolishfrog.com
FEAST OVER THE MARSH
We're a compact, hungry group of four for this Feast: myself, publisher Jeff Evans, editor Margaret Evans and caterer/Everyday Gourmet columnist Debbi Covington. We've gathered at a marsh side table on the expansive deck to sample some of Chef Will's specialties.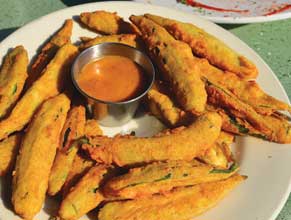 We start with a pair of unique appetizers, the Cracked Okra with Island Spiced Trinidadian Sauce and the Crawfish & Shrimp Yum Yum Ya Ya with Fried Grit Cake and Andouille. The okra is hand picked just up the road a piece at Dempsey Farms. It's lightly battered, seasoned, and flash fried. Debbi's a big fan.
"It's fabulous," she says. "Some of the best fried okra in town. It's always hot and not overly breaded and the flavor of the okra really comes through. This is what okra is supposed to be."
"I'm not sure I really ever knew what okra was supposed to be," says Margaret.
"And you claim to be from Alabama?"
"I've never really cared that much for okra, but this is really special,"says Jeff. "The sauce is terrific."
"Nice combination of flavor and heat."
"You can't get things too hot for me,"says Debbi, "but the okra's so good, you don't even need the sauce."
This is true. But I still really dig the sauce.
The Yum Yum Ya Ya , Chef's wickedly original spin on Shrimp & Grits, is both question and answer:
"Yum yum?"
"Yah yah!"
There's a consensus opinion at the table on grit cakes: while the concept is sound, the execution of success varies widely.
"This is really light and buttery," says Jeff.
"Usually with fried grit cakes you don't get the flavor of the grits," says Debbi, "but that sweet buttery flavor really comes through with these."
"I'm pretty picky about my grits, particularly grit cakes."
"I'm not," says Debbi. "I love all grits. Think about it: you get your favorite starch and then fry it. How can it be bad?"
Good question.
Part of Chef Will's extensive classical training comes by way of Southeast Asia. The Frog's Vietnamese Chicken Wings are a dead giveaway (tossed in lemongrass ginger chili oil and wok fried). It's evident in the delicate construct of the sauces, the combination of ingredients and insistence on fresh, bright flavors (Lapsang Souchang Tea Rubbed Scallops anyone?). And it even shows up in his famous salads.
"The Asian Tuna Salad is my all-time favorite," says Debbi. "I get it almost every time Vince and I go for lunch. It's wonderful! I've even tweeted about how great it is. The tuna is perfectly cooked and the presentation is beautiful. I really like the Ginger-Lime Vinaigrette and the crunch of the nuts. One of my favorite salads in town."
For the entrees Chef Will sends out a combination of seafood choices including his Famed Maryland Crab Cakes. Yeah, that's right, famed.
SOUND BITES:
The Grilled Mahi Mahi LaFayette: served with a tasso, Tabasco pepper jelly and crawfish maque choux on fried grit cake with seasonal veggies.
Debbi: The fish is perfectly done, not over-cooked. It's wonderful. And the portion size is very generous.
Margaret: I love the sweetness of the corn and the sauce. It's such a compliment to the fish.
Me: Maque Choux. It's traditional Cajun dish, I think. He's got crawfish in his.
Debbi: Crawdads.
Margaret: I love the crawdads. Must be a Southern thing.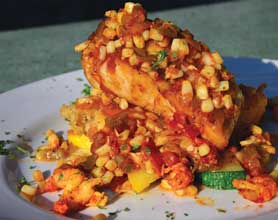 Jeff: The Mahi's light and flaky, not a real fishy fish. Very nice.
Me: I can usually take or leave Mahi, but this is something else.
Shrimp Saga Blu: local shrimp, diced tomatoes, basil, garlic, Saga Blu Cheese, white wine with a splash of cream over angel hair pasta.
Debbi: If you've ever seen a wheel of Saga Blu, it's actually a brie with veins of blue running through it. And it is good.
Jeff: Oh, man that's good.
Me: That's just decadent.
Debbi: But the cheese doesn't actually overpower the shrimp.
Me: He's working a very delicate balance here. It looks like it shouldn't work but it absolutely does. I always love that kind of surprize.
Jeff: And once again, the shrimp aren't over cooked. They're perfectly sweet and tender.
Margaret: Very rich and creamy. Excellent.
Chef Will's Famed Maryland Crab Cakes: "No fillers here, just good ole'lump blue crab sauteed to golden perfection."Served with garlic parm mash potato.
Jeff: This is pure crab. I don't think there's any filler at all.
Me: That's the line on the menu.
Jeff: And the mashed potatoes are really good. And I'm not crazy about mashed potatoes.
Debbi: You're not a Southerner. If you're a Southerner you need mashed potatoes, grits, macaroni & cheese. These are the things you like.
Margaret: You wish you didn't, but you do.
Debbi: "Crab Cakes" don't do this justice. This is just a hunk of love – pure, beautiful crab.
Me: They're "famed," you know.
Jeff: They're not overseasoned.
Margaret: Pure unadulterated, unmitigated crabby goodness. Crab unplugged.
Me: I like that.
THE BOTTOM LINE
The Foolish Frog may have a casual, laid-back Sea Island atmosphere, but what's coming out of the kitchen, the service and attention to detail makes some of the area's pricier fine dining establishments look like the local "Lobster Garden." And that makes the Frog a de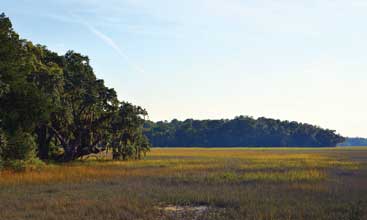 stination indeed.
TABLE NOTES
• Fresh & local is the mantra. The produce comes from local farms, predominantly Dempsey. And Chef Will and Cris go out and pick whenever possible.
• Foolish Frog is the exclusive local purveyor of Frank Roberts' locally cultured Lady's Island Oysters.
• If it doesn't come to the table with a label it's made in-house from scratch.
• Chef Will brings in whole sides of beef, butchered in house.
• Cris insists on a fine dining approach with the wait staff. There are line-ups prior to each service.
• No, you can't have the crab cake recipe.
THE 411
THE FOOLISH FROG
846 Sea Island Parkway, St. Helena Island (on the marsh directly across from What's In Store).
Full bar with seasonal taps, specialty cocktails and a well-crafted wine list (good selection, great value).
Open year round, Monday through Saturday, 11am – 5pm for lunch, 5pm – 10pm for dinner and Sunday for Brunch 11am – 5pm and dinner 5pm -9pm.
The deck is set up for outside dining to enjoy the gorgeous marsh views and sunsets.
Live Entertainment Wednesday through Saturday on the deck.
Reservations: Phone 843-838-9300
www.thefoolishfrog.com
Complete catering is available for your special event.
Mark Shaffer's email is backyardtourist@gmail.com