Oil Pastel Paintings by Chris Clayton at SoBA Galle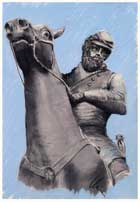 ry
The Society of Bluffton Artists (SoBA) will present, "There He Stands," a collection of pastel works by the recently elected President of the Society, Chris Clayton, August 2 – September 12. Clayton came to America from England in 1967 to work on the Lunar Landing program and he continued in that field designing aircraft engines. During his engineering career, his love of art compelled him to attend the University of Cincinnati Fine Art and continue fueling his love of fine art.
Clayton's introduction to fine art took place many years earlier in England. When he was about thirteen, his art teacher took him to an exhibition in Manchester England. He had never been to an art gallery and on this occasion the paintings on display were those of Vincent Van Gogh. That experience had a profound effect on him. Even though he had a thirty-year pause in his fine art career, Clayton always knew he would find that focus again. He worked for some time in oils, acrylics and pen and ink and then discovered pastels. That medium supports his style of painting. His art moves more to minimalism and has been described as "reductionism".
His passion for history and a particular interest in the War Between the States lead him to create a series of new works for his show at the SOBA Gallery, "There He Stands," in honor of Stonewall Jackson. In "The Blue and the Gray" and "The Peach Orchard at Gettysburg", his imagery and minimal approach presents a unique vision of those battlefields and their heroes.
The public is invited to a reception for the artist on Sunday, August 8 from 3 p.m. to 5 p.m. at the Gallery where refreshments will be served. The gallery is located on Boundary Street in old Bluffton and is open Mon. through Sat. from 10-5. Call 843-757-6586 or visit the SoBA web site at www.sobagalleries.com for more information about the organization and participating artists.