After a complete make over the waterfront icon is still the same as it ever was and more like it always should have been.
Story and photos by Mark Shaffer
(additional photos by Riann Mihiylov Photography)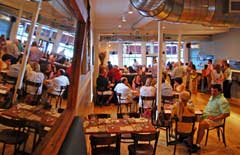 When I told my sister that Plum's had undergone a major expansion and renovation, she gasped. Like hundreds – maybe thousands – of seasonal visitors, she's been a regular for most of the restaurant's 22 years. The mere thought of any sort of change to the beloved waterfront icon simply smelled of desecration. I have since assured her that nothing could be farther from the truth. Relax, Sis. They got it right. But it took a real leap of faith.
Owner Lantz Price has had his eye on the space directly behind his flagship restaurant for years. When the Shipman Gallery closed its doors late last year, he simply couldn't pass up the opportunity to make Plum's into the kind of place he'd always envisioned. In an eight-week frenzy the 143 year-old building was gutted, stripped to its bones, re-imagined and re-fitted. The result is a space that feels very much like it might have always been this way. The old space is more airy and more. The bar is bigger and beautifully handcrafted from wood reclaimed during the renovation. The redesigned kitchen is state of the art. The new space may open directly onto Bay Street but the Raw Bar right is right off of Bourbon Street. A tub of iced-down oysters stop passersby in their tracks, tongues lolling. Ten bucks gets you a juicy dozen on the half, shucked to order. You'll want one of the craft brews on tap to help wash 'em down. Maybe two.
The recent summer wine dinner – a celebration of locally grown food brilliantly paired with boutique Italian wines – was equal parts shakedown cruise and coming out party for the new Plum's. A couple of days later I sat down with Price and Executive Chef Will McLenagan to talk about the re-fit and the reaction to it.
Wine Dinner/Menu
Mark Shaffer: Let's start with this second annual Locally Grown Wine Dinner –
Lantz Price: You were here, right?
MS: Absolutely. I didn't see you.
LP: I was on the way – for 18 hours.
(Laughter)
(Price's flight from Boston to Atlanta was delayed due to mechanical issues and was eventually transferred to another plane. Just as he made it to Atlanta that airport was shut down because of severe weather.)
MS: You missed a hell of a meal.
LP: So, I'm told.
MS: Will, you obviously don't do this every week. What goes into putting an evening like this together?
Chef Will McLenagan: The first thing is putting the menu together and the menu depends upon the kind of kitchen you have to work with. So, the menu is pretty much designed around the kind of equipment we have to work with. If we're frying something I have to make sure we have a large amount of fryer capacity as well as the grills and ovens.
LP: Because we're not staggering orders, we're doing 80 people at the same time so he's got to really consider his equipment.
CWM: And this particular dinner featured local farmers – Dempsey and Seaside. So we had to incorporate the farmers into the menu with an idea of using the fresh produce with our local shrimp season and keep everything as local as possible. Almost every ingredient that went into [the menu] was all the farmers' produce and seafood.
My style of cooking has evolved from more Asian to really going with the Lowcountry ingredients we have here. I'm still learning a tremendous amount about the local culture. I get a lot of that from the ladies who work in the kitchen. They've lived here all their lives and a lot of the food's come down through their families from generation to generation.
MS: So once in a while somebody suggests you try something and you go with it?
CWM: Yeah. I'll take something they might have told me about and I'll twist it around. Like the zucchini which we did tempura style and used the Japanese Yuzu (which is a citrus sauce) in the Aoli, and then we came up with the Palm Sugar Cured Prawns.
MS: Really different spins on local stuff, but the Gazpacho – the Blue Crab Gazpacho – was in a league of its off. That had everyone talking.
CWM: I always like to surprise people. I wanted to do a gazpacho. A classic gazpacho is tomato-based. I wanted to do a watermelon-based. If you're eating on the porch and you just walked in from a mile away, that's the soup to eat because it's going to cool you down. And it's real fresh. It kind of shocked people a little bit. That's why I wanted to keep it a secret from the wine guy (but didn't). Nowadays you just can't do that with all [the concern over food] allergies.
LP: Was that was a palate cleanser, the gazpacho you started with?
CWP: Yeah. It's a real clean-tasting soup. That's the best I can describe it. You could go right from that to the Japanese dish and then from the Japanese dish to the heartier dish with the Myers Farm beef. We wanted to emphasize the Myers Farm Sirloin because that's on our menu and I wanted to showcase our menu as long as we had a captive audience: this is what we can do and this is sort of our menu style at night when we do a lot of specials.
LP: At our meetings we've discussed ways to stay local, to feature the "bounty of the season" kind of theme and establishing relationships with farmers. Some people have other farmers. We've chosen these farmers because we know them. They're either regular customers or they've grown up with people who work here. And there's the idea of reducing the carbon footprint, of keeping things as local as possible and keep the gas from being spent to bring stuff from Mexico all the way up here.
MS: The Myers Beef isn't local but they are at the vanguard of the growing trend toward natural beef. It's not too common around here.
(Note: All Myers Natural Angus is Certified Humane, fed an all-vegetarian diet without the use of antibiotics or added hormones.)
LP: We got this new wood grill over at Saltus. It's really an awesome grill and since we got the grill we just wanted to change our whole beef idea. We started researching and found that Myer's fits in with the way we want to be. We're trying to be ethical, we're trying to incorporate better flavor. We don't mind spending a little bit more [on ingredients] because the customer appreciates that. People are avoiding meat with [steroids and] antibiotics, so the Myer's program lent itself to our style. And once we got it going at Saltus it was obvious that we had to bring it over here.
CWM: We're also trying to be more health conscious. That's the way the three restaurants [Plum's, Saltus River Grill, Bistro Patois] are going, now. We've adapted to a lot of our customer's special needs due to allergies or health concerns. Plus we're able to create dishes right on the spot.
The Renovation/Raw Bar
MS: After 22 years, the restaurant just went through a massive renovation. The kitchen's a big part of that and even with 80 people being served all at once during the wine dinner, everything seemed to run like clockwork.
CWM: It's fabulous – the difference between night and day. We're able to do more now. We've got a lot more equipment.
LP: It's newer.
CWM: Everything's new back there.
MS: Just before the wine dinner you had the look of a guy who's about to step behind the wheel of a Ferrari for the first time.
(Laughter)
CWM: That's nice.
LP: For the first time we're able to make decisions based on things going from the back to the front rather than from the front to the back. Before everything was a retrofit. We found that we were finally able to make this building flow. We squeezed the kitchen back a bit, you can see the water from Bay Street, and finally it wasn't a retrofit.
CWM: It's got a great flow to it. The whole restaurant does.
LP: And this building really needed flow; it needed air flow, it needed everything. And the wine dinner was the first shining moment for that – seating 80 people at one time. We would have never considered that in the past.
CWM: And we could have done more. We could have easily done 100.
MS: Does that have you thinking about the next one?
CWM: Oh yeah. We have a beer dinner coming up August 10th.
LP: With Stone Breweries.
CWM: So, we're actually looking for about 100 for that night.
MS: A huge part of the renovation was to open the restaurant up to Bay Street with my favorite addition: the Raw Bar. How's that working out?
CWM: Fantastic. We started out with our local Beaufort oysters. People came in and started trying them and the word got out. Our seafood guy at Sea Eagle Market actually had to put a couple of extra guys to work harvesting oysters just for us. And that expanded. I think I was buying something like 5,000 oysters a week.
MS: Singles?
LP: Singles. And going through them.
CWM: Then the people who were eating them here were going to his market and buying them because they liked them so much. It kind of trickled everywhere. Other restaurants started serving local single oysters, which they haven't done in the past. They've always served clusters.
LP: We sold 17,000 oysters on the half shell the first month we opened – either steamed or raw.
CWM: It's a true raw bar, not an addition to a bar, but a real raw bar.
LP: And we wanted to stay casual with it because the Saltus program is different. It's boutique oysters from around the country and the world. This is just the opposite. It's the true New Orleans style. Just throw it down your throat or slather it with cocktail sauce, eat a couple dozen, hang out and drink a beer. We get [oysters from] Apalachicola (Florida), North Carolina and locally any time we can. Obviously the local season's over right now.
MS: The expansion pushed through what used to be the Shipman Gallery (which closed last year) right onto Bay Street. Was this something you'd wanted to do for a while?
LP: I've wanted to be offered that front space for 20 years. We've always wanted it. It couldn't have happened at a worse time, but it was the best thing we could've done. It was the middle of winter – that was the only good thing about it. And we had a great contractor. We demolished the front space while the restaurant was still open and then we just went to town and got the job done. We closed on January 11th and opened on March 7th. We didn't really know what we were getting into. That's what the contractor kept says: "In a perfect world this is what we're going to do and this is how it's going to get done, but we have no idea what we're going to see when we really get into it." Now you can see the original ceilings.
(Even the view flows: The building actually sinks substantially from Bay Street to the famous porch on the Waterfront Park. This afforded Price and Co. to literally design the seating in an invisible tier so that the water can be seen from the new front of the house all the way through to the porch.)
LP: One of the most important things in the whole design when we all sat down was that [when customers] walk through that door they need to be able to see the water. Period. Everything was compromised for that. Even the kitchen was stretched a certain way because of that.
MS: What sort of reaction have you gotten from some of your long time out-of-town regulars?
LP: Most of them sort of walk down the [old exterior] hallway oblivious until they open the door and it's like (astonished look) "What the hell happened?" I think that's my favorite part. And I'll give a tour to anyone who wants to listen. Everything's got a story. My dad and I rebuilt the top of the bar and the tables. We spent a lot of time in the woodshop together, which is something we both like to do. We knew the process was going to be stressful, but I told everybody to try and enjoy it as much as possible.
CWM: Oh yeah. We had a good time.
LP: I was very stressed out. Financially, it was a big, big jump for me. It was dangerous.
MS: The economy could hardly have been worse.
LP: It was a terrible time in the economy and a terrible time of the year because there's no cash flow then. Not the right time to be spending a lot of money. The only good thing was the knowledge that Plum's was iconic and we knew we had a chance once we got it open again that we could – absolutely – have a great restaurant that already had a brand. We had a lot of faith in Chef Will's abilities to produce this great food and everyone else's ability to do what they do and do it well.
CWM: The menu hasn't really changed all that much. We kept most of the old favorites.
LP: We've tried to create the theme of casual Lowcountry in a New Orleans fashion. That's why we added the Po-Boys and the different oysters, including Oysters Beaufort – our take on Oysters Rockefeller – and oysters are on the menu all day long.
CWM: And the steamed shrimp. But you'll still find the deli sandwiches and the beautiful salads – all the old favorites are still here.
LP: We didn't want to shock anybody. I didn't want people to come in and go "You changed everything?" I want them to come in and feel like this is the way it should be.
CWM: We've heard that from longtime customers who come in and say, "Wow, this is what it always should have been. This is the way it always should have looked."