Mark Shaffer reviews a recent Wine Dinner at Plum's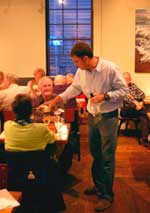 For a few weeks each Spring something strange happens in the Lowcountry. Perfectly normal people from all walks of life are suddenly afflicted with a kind of crazed culinary lust, if you will. They begin to queue up at restaurants milling about before the doors open like a pack of movie zombies, clawing at the plate glass, muttering the word "softshell" over and over again. Indeed, people I've given up for dead during the winter months suddenly reappear Lazarus-like when the first vague rumor of softshell crab whispers down the river. It is the surest sign of spring in the Lowcountry, a promise as intoxicating as the thick perfume of jasmine and tea olive and just as brief – the promise of the Holy Grail of local seafood, the softshell blue crab.
For the uninitiated, the blue crab molts as it outgrows its shell, literally backing out of the old exoskeleten. For a short while the crab is literally soft and spongy, the meat is somehow sweeter and – once properly cleaned – the entire crab is completely edible. For the short few weeks the crabs are in season, softshell aficionados will gorge themselves in a prolonged feeding frenzy at local restaurants. And nowhere is this delicacy more revered or better treated than at Beaufort's own Plum's.
Plum's owner Lantz Price recently invited The Lowcountry to his venerable waterfront restaurant for a sort of crustacean bacchanal, a softshell-themed wine dinner prepared by Executive Chef Will McLenagan with wine pairings by Emily Clarke of Grassroots Wines. The stars of this four course event are fresh, early softshell crabs plucked from local waters by Gault Seafood of Lady's Island and a dessert of strawberries from Dempsey Farms of St. Helena Island hand selected by Davey Dempsey.
First Course
She Crab Bisque
Bradgate Chenin Blanc/Sauvignon Blanc
The dining room is packed and buzzing, even the bar is full for this evening's meal. A storm front blows out to sea, painting a dramatic backdrop across the huge picture windows framing the Waterfront Park and the Beaufort River. The restaurant has undergone the always slightly miraculous transformation from casual, laid-back lunch spot to elegant, intimate dining room. Candles flicker against white linen as Lantz introduces Emily who, prior to each course, offers up the background of the wine. Grassroots Wines specializes in the unique and unusual, wines you definitely won't find languishing on a supermarket shelf. The name implies the mission: to find well-crafted wines from small, mostly organic producers the world over.
One of my favorite pretentious wine snob moments in "Sideways" comes when Paul Giamatti's Miles detects a note of – dare I say? – asparagus as he sniffs a glass of white. This Bradgate blend of Chenin and Sauvignon Blanc is rife with it, but in a good way. It has Chaucerian character – deep and complex, just the thing to stand up to Chef Will's She Crab Bisque, which is a balancing act on it's own. The bisque is not so heavy as the usual take on She Crab Soup. This is on the lighter side, but with generous amounts of roe and meat with the proper dash of good sherry to accentuate the natural richness of the crab. Not too heavy, not to thin, but just the thing to whet the appetite for what's to come. The Bradgate, a South African boutique wine, cuts the bisque nicely with a kind of pagan earthiness that seems appropriate for the occasion. What hints at being too forward on its own is perfect with the bisque – a wine for food.
Second Course
Plum's Crab Tower with cucumber, avocado and gazpacho vinaigrette
Domaine de Ballade Cotes de Gascogne Blanc 2007
The Crab Tower is a delicate construct of texture, flavor and allure – essentially a variation on a California Roll minus rice – it is clean, fresh and light, quintessentially spring. The gazpacho vinaigrette is perfectly bright and works nicely with the French white. Emily tells us the Cotes de Gascogne hails from the same part of southern France as Le Chevalier Charles de Batz-Castelmore, better known as D'Artagnan and the inspiration for Alexandre Dumas' most famous Musketeer. The wine is appropriately young and fearless with a nose of pink grapefruit and a crisp, clean finish that marries well with the avocado without overpowering the crab. Emily calls it "a classic French porch wine," made mostly with the Columbard grape, a fruit known for its fine acidity. I would recommend a well-chilled bottle or three to compliment any Lowcountry porch sitting experience.
Third Course
Pan-fried Local Soft Shell Crab over Carolina succotash with smoked bacon, hominy, sweet white corn and red peppers
Le Drunk Rooster Chardonnay 2007
Ah, the main event – and a challenging wine pairing. The successful preparation and enjoyment of softshell crab is an exercise in simplicity. The key is to avoid overwhelming the crab. That can happen with a side dish, a seasoning or the wine. Both Emily and Chef Will are on the same page. Chef's approach is a dish stripped down to bare flavor. The whole crab is lightly battered, seasoned and sautéed then presented on a bed of Carolina succotash, a delightfully wicked combination of sweet, rich, creamy and smoky all at once. The crab is crispy, light and sweet. The shell is barely detectable and it's not the least bit greasy. The wine is an un-oaked French chardonnay from the Languedoc-Roussillon region along the Mediterranean coast. Again, there are notes of citrus but much less forward than the Gascogne. It all makes for a hell of a combo: the succotash lays down the bass line, the crab takes lead horn, and the Drunk Rooster does a nice job on percussion.
(Note to self: MUST HAVE SUCCOTASH RECIPE!)
Dessert
Dempsey Farms Fresh Strawberries with crème fraiche
House Lemoncello
There are few things as perfect as the first strawberries of spring and few strawberries as perfect as the first fruit from Dempsey Farms picked by an actual Dempsey. The Chef lets the berries speak for themselves: luscious as lips, tart, sweet and deeply crimson against a dollop of crème fraiche. The chilled Lemoncello (essentially lemon-infused grain alcohol) is Lantz's own recipe. "Just sip it," he cautions. "It's got a little kick to it. Actually it's got quite a kick to it." Before dessert is finished at least two spontaneous and vastly different renditions of "Happy Birthday" break out.
The strawberries are unmatched and the Lemoncello is a perfectly dangerous accompaniment, two distinctly different types of tart and sweet swinging together like Fred and Ginger.
Emily makes the rounds a final time, answering questions about the wines, taking orders. Lantz – who's been running food, pouring wine and generally chatting up the clientele – takes a knee by our table to see how we're doing and get an opinion on the lemoncello. I ask for the recipe. He gives me a brief but detailed dissertation on the entire process.
"How about that succotash recipe?" I ask.
"More lemoncello?" he grins.
Plum's next wine event will be a "Locally Grown" organic wine dinner sometime in June. Find out more at www.plumsrestaurant.com and visit Grassroots wine online at www.grassrootswine.com Email Mark Shaffer at backyardtourist@gmail.com