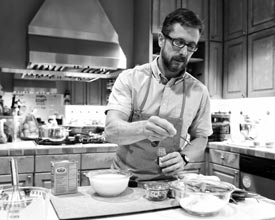 Southern Living's Top Cook Heads to

Habersham
By Mark Shaffer
Photos courtesy of Time, Inc.
For untold decades the Southern Living Test Kitchen has churned out recipes, perfected techniques and tortured equipment all for the benefit of the magazine's dedicated readers. With the advent of the digital age anyone can go online and get step-by-step instruction on how to make creamy grits, crispy cornbread, fluffy biscuits and just about anything else you can think of that's good to eat south of the Mason Dixon. Running "The South's Most Trusted Kitchen" is one of the most coveted culinary positions in the nation and one Chef Robby Melvin approaches with a certain academic sensibility.
Melvin set out to be a college professor. The Birmingham, Alabama native studied English at Ole Miss where he cooked his way through school in the kitchens of Oxford. But everything changed when he returned home for a History degree at UAB. The Birmingham culinary scene was booming thanks largely to internationally known chefs like Frank Stitt (Bottega, Highlands) and Chris Hastings (Hot and Hot Fish Club). Melvin worked for both of them before landing his current gig at Southern Living. He's looking forward to his first visit to the Lowcountry for Bottles & Barrels June 14 & 15 at Habersham. He's set to judge the Cast Iron Chef competition and supervise a lavish Southern Sunday brunch. I spoke to him by phone from the test kitchen in Birmingham.
Mark Shaffer: It's been a little over a year since you became Test Kitchen Director. How's the experience so far?
Robby Melvin: It's going great. It's a dream job. I've been in the culinary industry many years and I feel like I've finally found my place.
MS: What's a typical day in the kitchen like?
RM: We arrive in the mornings and immediately start thinking and talking about food. We're responsible for the conception, development, testing, photography, and the online information for the food department. We do it all, from the concepts to the development of each recipe to the testing and perfecting of each recipe straight on through to the photo styling. As we're talking one of our top people is styling a big photo shoot.
MS: Just curious, what are they styling?
RM: We're doing a quick fix supper section that goes in each issue. We're styling that and a slow cooker story. I can't really say anymore. They don't like us to give out too much information about upcoming issues.
MS: You had us at "slow cooker." You're not always stuck in the kitchen. You get to take the show on the road and work with chefs around the South from time to time.
RM: It's a great opportunity to go out and represent "The South's Most Trusted Kitchen." Southern Living is such a legendary brand, I'm just honored to do it.
MS: You're headed to the Lowcountry for Bottles & Barrels in Habersham. This is your first trip to the Lowcountry?
RM: I'm embarrassed to say that as long as I've been in the food business I've never been to the Lowcountry. I'm ashamed (laughs).
MS: Habersham's a great location for this event.
RM: Well, it's a Southern Living Inspired Community. This whole thing is designed around celebrating all things Southern, of course. And our magazine. I'm doing a couple of cooking demos. The theme of the weekend is bacon.
MS: As it should be.
RM: Absolutely, every day (laughs). So, we'll do a couple of demos involving bacon and we'll work some Mondavi wine in because Rob & Lydia Mondavi are there and big sponsors. I'll also be judging a high-end bacon cooking competition.
MS: Aside from the event at Habersham do you plan to get out and sample some Lowcountry cuisine?
RM: It's my goal. I'm going to try. I try to pad my arrival and departure with a little extra time. I'm dying to get over to Charleston. I've got some good friends who cook there and I've never been to their restaurants. I'm almost ashamed to say that.
MS: I'm guessing Sean Brock (Husk) is on the short list.
RM: Sean's on the list. He's a good friend. I've eaten at Husk Nashville many times. And Mike Lata at FIG's is fantastic, as well.
MS: Charleston's become a wildly popular culinary destination, Birmingham's booming, Atlanta's, well, on fire. Guys like Sean Brock are rock stars. Are we fine dining Southern food to death with over saturation?
FM: I don't think so. These are food scenes that have been going on for a while. I don't think anyone in any of these towns you've mentioned in this great Southern food scene have tried to make it into a scene. It's simply people doing good, honest creative work and it's caught fire. And when it starts to lag a bit someone steps up and keeps the engine running. Nashville's blowing up. Charleston's blowing up. Atlanta's always had a great scene.
I look at it a little differently. I see these amazing culinary pockets all around the South as having always done their own thing. It's what they do.
MS: Ever had a great southern meal outside of the South?
RM: (Pause). You know, I haven't. (Laughter)
I don't want to sound tacky about it – I respect all foods – but I was out in California not too long ago and we went to a well-known, respected place and they knew there were going to be some Southerners around. Well, you can't really try to do Southern food, you just have to do it. You have to understand it. You have to know it. I'm not necessarily saying you have to be from the South, but you have to understand it and that takes time. I don't know a ton about Indian food. But I'd never just cook a bunch of Indian food because there folks from India coming over. I'd have to spend time on it and learn to respect and understand it.
MS: Southern food means seasonal favorites. This time of year my perfect plate's going to be loaded with local caught shrimp, and fresh sea island produce. What's on your's?
RM: Man, this time of year we're patiently awaiting the humbling abundance of great peaches from Georgia and Alabama. We're blessed to have some of the greatest dirt on the planet here in Alabama and in the South in general. We can't wait for the tomatoes, the squash, and all the varieties of peas.
MS: It all goes back to good dirt in the end, doesn't it?
RM: It does. It really does.
Learn more about Chef Robby Melvin and visit "The South's Most Trusted Kitchen" online at www.southernliving.com and book your tickets for Bottles & Barrels online at www.bottlesandbarrelssc.com.