Sweetgrass at Dataw serves up the Sea Islands
The Lowdown
Location: Dataw Island Marina (directions below)
Atmosphere: "Bright and inviting; feels like a family's comfortably worn beach house where you're equally at home in shorts and flip flops or dressed up for a night on the town."
Cuisine: "A Lowcountry bistro with good food, simply prepared from scratch. Inventive takes on standards such as deviled eggs topped with crab, black-eyed pea hummus and warm banana pudding."
Alcohol: Full bar, excellent value wine list (most available by the glass), good selection of imported & domestic beers, specialty cocktails
Hours: Serving lunch and dinner, Friday – Tuesday from 11:30 a.m. – 9:00 p.m. and brunch specials on Sunday. Closed Wednesday and Thursday
Reservations: Recommended for Saturday and Sunday evenings several days in advance, 843-838-2151
Website: www.sweetgrassdataw.com
Etcetera: The house specialty cocktails are all named for boats in the marina. We highly recommend the Dance Aweigh a clever blend of mango rum, ginger ale and fresh limejuice. At the end of a blistering hot day a couple of these will restore your humanity.
Prologue: A Leap of Faith
Jeff and Lauren Tillapaugh weren't really looking to open a restaurant, so naturally that's what happened. Living in upstate New York (Jeff's from Albany, Lauren grew up near Atlanta) they'd long eyed a move south to warmer climes. They were also eager to start a business – something in special events, Lauren's area of expertise. In the meantime, her parents bought a house on Dataw Island, a resort community and former cotton plantation near Beaufort.
"We had been visiting for several years and absolutely fell in love with Beaufort," says Lauren. "It just got into our blood." They began to look for a business opportunity. Little did they know the opportunity would find them. Strange attractors went to work and gradually the puzzle pieces began to align in unexpected ways. Word got out (as word will in Beaufort), and eventually the Tillapaughs got a call from the Dataw Marina. Management was looking to retool the sputtering restaurant operation and with a fresh approach and Lauren's background looked interesting.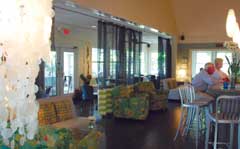 "I was working as Director of Marketing and Events for a small luxury hospitality management group in the Finger Lakes wine country," she says. "I'd gotten my masters in Hospitality Management at Cornell so I had experience in food and beverage but not in directly owning or managing a restaurant. Jeff's background is in education. But we said 'Okay, we'll try it.' It was a leap of faith, but it felt like the right thing to do."
Taking on the restaurant also meant coming up with a concept that would appeal to residents of the resort community, the boaters and marina crowd and – most importantly – one that would attract off-islanders. "We wanted it to feel like your family's beach house," says Lauren, "something that's been in the family for generations, and the different generations have brought things to it. It has a definite vintage feel, yet it's very contemporary in a way." Another important aspect was to make the Sweetgrass experience a personal one. "We try to talk to all of our guests," she says. "We've gotten to know a lot of the Dataw residents well. I think they've sort of adopted us."
"People are just ecstatic when they walk through the door and see the magnificent change," says Chef Nadine Awoyemi. The Sea Island native is as easy going as a marsh breeze on a balmy day. She weathered the previous incarnation (described with a sly smile as "more of a hangout") and is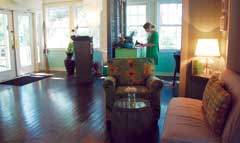 delighted to have command of the kitchen this time around. "She's been in this business her entire life and takes so much pride in what comes out of the kitchen," says Lauren. "She really gets this business and is so excited to come out and talk to customers and hear what they have to say. She pretty much floats back to the kitchen after that."
For Chef Nadine who's "cooked up one coast and down the other" nothing beats the eats here in the Lowcountry. Fresh local ingredients are the rule and just about everything that comes through the kitchen doors is scratch made. Chicken salad starts with a chicken in a pot as God intended and every salad dressing is house made. "About the only things we don't make are the ketchup and mustard," she quips. The Chef's philosophy is simple. "I want a sandwich to be just as good as an entrée." She also keeps seasoning to a minimum. "I enhance the flavor. Enhancement is my thing," she says. "So are quality and consistency. It's very important to maintain high quality, and it has to be consistent every time. "
The Moveable Feast Convenes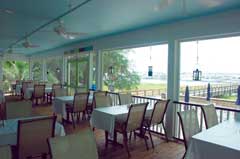 Boat Drinks ("So how would you make a Busted Flush?")
We meet in the bar for a glass of wine and some pre-feast conversation – a sizing up of the joint, if you will since this is the first time through the doors for most of us. The place definitely has that vintage beach house feel Lauren mentioned. The room is literally wrapped in a view of the marsh and marina. The polished plank flooring, old-fashioned ceiling fans and subtle variations of blue and green bring an easy, comfortable ambience to life. The place was built for sunsets. We simply must have a drink.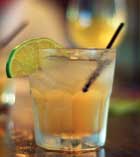 Sweetgrass is most definitely part of the marina. It's easy to imagine certain seagoing types knocking back a drink or two at the bar (see the accompanying Life Behind Bars for more). Should Travis McGee ever move The Busted Flush up the Intracoastal, he might be found sipping a Plymouth gin at the bar in the company of a beautiful, lonely woman with a past and in need of a "Salvage Consultant." Lauren sends over a round of Dance Aweighs (named for her parents' boat). Glasses are raised. The feast is on.
Snacks
Deviled Eggs
Southern Antipasto
Shrimp Fritters
Hot Cheesy Crab Dip
Carolina Cheese Board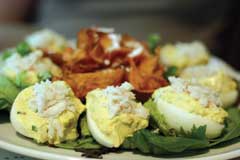 We knew we were in trouble when the deviled eggs hit the table. "These are my sister-in-law's recipe," says Lauren, "made with bacon and chives, topped with crab meat and served with our house made sweet potato chips." This is not your mom's church supper deviled eggs. These eggs haven't been to church in a while. This is the deviled egg equivalent of crystal meth or crack cocaine – They're bad eggs but in such a very good way. In the modern vernacular: OMG. Best. Deviled. Egg. Ever. This is a unanimous opinion at the table. They are rich beyond belief and bursting with flavor. Impossibly, nothing – not even the crab – is overwhelmed by any of the other ingredients and the wispy thin sweet potato chips are perfectly flash fried and sprinkled with a hint of powdered sugar – a crunchy herald of many good things to come.
The Southern Antipasto platter is loaded with a colorful offering of fresh vegetables, pickled onions and ham served with garlic toast and hummus. But instead of the usual chickpeas for the hummus, Chef Nadine uses black-eyed peas to put a southern spin on an old standard. According to one Feaster the grilled garlic toast topped with hummus and a slice of pickled onion is "insanely good, the perfect cocktail bite."
The Cheesy Crab Dip (also with garlic toast) is cheesier than a Nicolas Sparks novel. It is also loaded with sweet lump crab meat and poses a serious threat for the "double dippers" looking to scoop up all that molten goodness on the toast. The Shrimp Fritters are golden fried orbs packed with local shrimp and lightly seasoned. The Carolina Cheese Board features generous portions of Clemson University Blue Cheese, award-winning Chevre from the goats of Split Creek Farms in Anderson and homemade Pimento Cheese, the caviar of the South. This all comes with fresh bread, pecans and local honey – a killer combination with any of the cheese selections. No one's allowed to remove the cheese board until every crumb's been jealously consumed.
By the time the last of the snacks makes the rounds the Feasters are uncharacteristically stunned, dazed by such a concentration of quality and flavor in a flight of starters.
Table Talk:
(Random comments between bites)
"That Cheesy Crab dip is dangerous. I could eat the whole thing by myself."
"Pace yourself. We have a long way to go."
Soup & Salad ("Who knew a cucumber was so special?")
Cool Curried Cucumber & Chive Soup
Asparagus, Beet & Goat Cheese Salad
Homemade Dressings: Cool Cucumber, Sweet Cinnamon Vinaigrette, Rudy's Vinaigrette
The cold soup is neatly presented in a cup and saucer for those who prefer sipping to slurping. The fresh cucumber is pureed with a little sour cream for texture and to offset the slight heat of the curry and white pepper with which Nadine has enhanced the mix. A squeeze of limejuice perks it a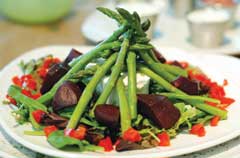 ll up. I will never look at cucumbers quite the same again.
The salad is all about color and flavor and texture. The wedge of exquisite Split Creek Chevre sits on a bed of fresh greens beneath a haystack of blanched asparagus and surrounded with roasted beets and a ring of diced red pepper. Beets tend to be one of those veggies people either relish or loathe, kind of like the collected works of Quentin Tarantino. While I personally feel that canned beets are a sin against nature, when roasted they are something special indeed. The combination of a simple, (often maligned) root vegetable, salt & pepper, olive oil and a hot oven is pure alchemy.
Nadine's homemade dressings are wonderful, but the sweet cinnamon vinaigrette is a standout – absolutely unique.
Table talk:
"Try sipping the soup straight from the cup. You get more from the flavor and texture."
"That's incredibly refreshing. Perfect for a hot day."
Lunch ("You'd never leave this place hungry.")
Crab Quiche
Homemade Reuben
Sea Burger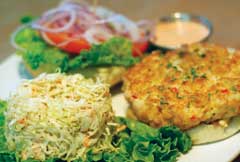 "We don't do small portions," says Nadine. "We don't skimp on the food." The monster Sea Burger is ample proof. Nadine's take on the ubiquitous shrimp burger found all over the Lowcountry makes some taste like dry wall. This one comes right, served on a Kaiser roll with thick sliced tomato, shaved red onion and accompanied by Nadine's spicy sauce and signature coleslaw. But there's something else going on here, something she's not giving up.
"She does use something in the binder besides a tiny bit of peppers and onions," admits Lauren.
"But it's a secret?"
"It's a secret," she confirms.
Later when mercilessly pressed for the secret Nadine just laughs.
"It's got Gullah love in it. That's what it is." We were looking for something more…substantial.
I tend to shy away from Reubens in the South in much the same way I might shy away from fried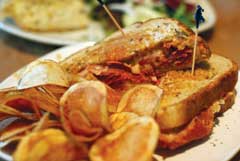 chicken in Brooklyn, but this proves the exception. The corned beef is – wait for it – house made and that makes all the difference. And it's properly sliced thin to maximize the flavor, piled high on good rye bread and slathered with Nadine's thousand island dressing. Our staff authority on all things Reuben approves wholeheartedly. And while a feeding frenzy quickly develops around the Crab Quiche (off the charts), I have to take a moment to ponder the absolute perfection of Nadine's homemade potato chips. This is a deceptively difficult thing to achieve. Just ask yourself how many times you been served soggy, limp chips even in places where such a thing should result in culinary excommunication. As for the Crab
Quiche please refer to "Deviled Eggs" above.
By this point Jeff Tillapaugh's made the drive back from his day job south of the Broad where he is Director of Recreation and Fitness at USCB's Bluffton campus. He immediately jumps into food and beverage mode chatting with customers, bussing tables, running food and helping out at the bar.
Table talk:
"There's an awful lot of crab in this quiche."
"It's practically all crab. And this crust is old school – really light and flaky."
Dinner ("Thank you for taking so little.")
Sweetgrass Scallops
Off-the-Ranch Lasagna
Harbormaster's Platter
Crab Cakes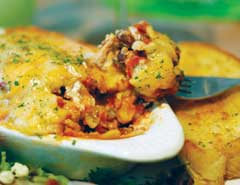 The Lasagna requires the invention of a new term. ItalaMexaTex is the best we can come up with on the spot. Our brains are slowed by the diversion of blood to our digestive systems. Lauren describes it as "alight southwestern chicken lasagna." "Light" and "lasagna" don't usually end up together, but it's a consensus opinion. It is one of the most popular dishes on the Sweetgrass menu, owing a bit more to tamale pie perhaps that lasagna. It is among the table's favorites when we finally push away.
The seafood entrees are all impeccably prepared and cooked, not as common as one would expect even in the seafood rich Lowcountry. Nadine's crab cakes are packed with crab (sense a pattern here?) and served with those delicious roasted beets and fresh English peas spiked with mint. The latter is a simple flash of seasonal brilliance. A tomato basil remoulade is a savory compliment to the delicate sweetness of the crab while the mint in the peas brightens up the palate.
Table Talk:
"Even with so few ingredients in such simple dishes, there's a lot going on in every bite."
"The food's not fussy. Nothing's compromised or overwhelmed."
Scallops are my kryptonite. Done just right I'll reveal secrets I've never been told for a plate. Done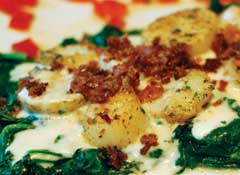 wrong (and I mean that in every way imaginable) they are tragic, a senseless waste of one of the sea's great delicacies. "These are perfect," says our other self-professed Scallopite. "You can literally taste the ocean." These are seared, served over sauteed spinach in a white wine sauce and topped with crumbled bits of crispy bacon – fiendishly good.
The Harbormaster's Platter should come with a disclaimer: Abandon hope, all ye who plan on dessert. The Sweetgrass answer to your basic seafood platter renders the usual even more so. This behemoth can be ordered fried or grilled. Ours is grilled – a risky proposition in some pla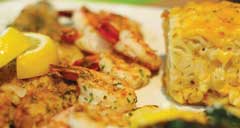 ces. Not here. Everything is perfectly cooked, even the flounder. The platter is loaded with fresh flounder, shrimp, a generously portioned crab cake and comes with two sides – beautifully grilled squash sprinkled with Clemson Blue Cheese and a giant slab of Nadine's Mac & Cheese.
Table Talk:
"The flounder's so full of flavor. It's right out of the water. You can taste the freshness."
"Holy cow, I shouldn't even look at this mac & cheese. Oh what the hell."
Sweets ("Stretchy fabric is good!")
Mama Green's Banana Pudding
Pluff Mud Cake
Benne Sundae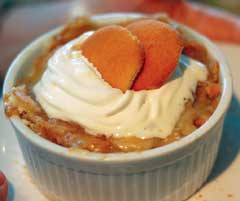 I usually get off the bus at "Dessert." Sweets just aren't my thing (usually), but I'd heard too much about Mama Green's Banana Pudding to let it pass by untouched. This desert is a lot like Santa Ana at the Alamo, it shows no mercy and takes no prisoners. A decadent combination of rich custard, vanilla wafers, sliced ripe banana and homemade whipped cream, this is the sort of nanner puddin' I highly recommend Elvis fans pack along on their next Graceland pilgrimage. Elvis loved himself some nanner puddin' and this stuff will raise him right out of the ground like a cold war ICBM. Thank you, thank you very much...
The Pluff Mudd Cake (milk chocolate-cinnamon fudge cake with chocolate pecan frosting) generates a large number of muted groans and gasps and has since been officially labeled as "dangerous" by the chocoholics in the group. Other feasters proclaim the Benne Sundae made with local Berry Island ice cream and Chocolate Tree Caramel sauce to be "among the best ice cream deserts ever. Period." I was forced to verify this after the fact. Mama Green's Puddin' finally did me in and I was forced to seek refuge at the bar.
When you go:
From the base of bridge in downtown Beaufort: take the Sea Island Parkway to St. Helena Island for 6.1 miles. Turn left at the light onto Polowana Road. The entrance to Dataw is one mile on the left. Have your driver's license ready to present at the gate for a visitor's pass. The marina is three miles in and left on Marina Road.
Get menus, maps and more at www.sweetgrassdataw.com
Read Life Behind Bars and go online at www.lcweekly.com for extras.
Mark Shaffer's email address is backyardtourist@gmail.com